Caroline Jager, who received a marketing degree in May from Harbert College, was named Student of the Year by the American Advertising Federation.
Jager, who has interned this summer at Intermark Group in Birmingham, worked diligently on a team to create a research presentation and pitch for Porsche USA. "As the account service intern, I acted as a liaison between departments and was heavily involved in analytics and public relations," said Jager.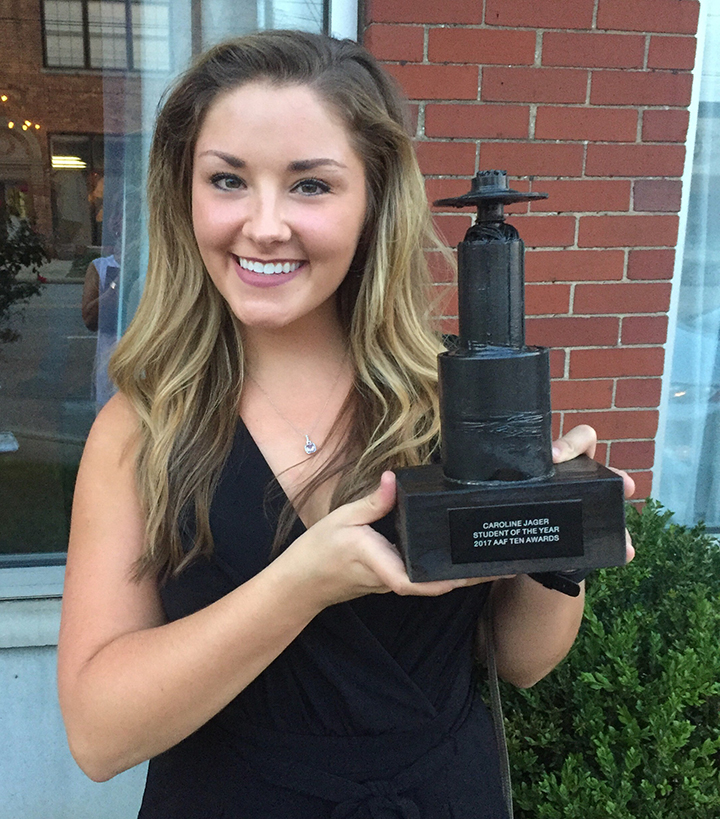 "Evaluating each other's strengths and weaknesses helped us work as a team and communicate effectively. Our success can be attributed to everyone doing their part and having our eyes set on the same goal."
Work on the project helped land Jager the award.
"Receiving the award was encouraging," said the Birmingham native. "Knowing how important my education is, I always pushed myself and put in the extra time it took to do well. Professionally, this award displays that I am diligent and eager to learn as I begin my career."
Jager will begin her full-time efforts at Intermark as an assistant account executive once her summer internship is complete.
Jager, however, is no stranger to business. In fact, she began Sweet Caroline's – a dessert/sweets retailer – when she was 15. "I spent my freshman year as a hotel and restaurant management major because I wanted to open a brick and mortar (location)," she said. "Although I no longer want to run Sweet Caroline's as a full-time business, my passion for baking is still there. I plan on continuing to cater cupcakes for weddings, parties, showers, etc."
She credits a pair of marketing professors at Harbert College, Michael Kincaid and Jeremy Wolter, for "pushing me outside my comfort zone, challenging me to think critically, and always having their office doors open when I needed advice," she said. "They were the strongest influences in my time at Auburn and they set excellent examples for the professional that I strive to become."