Over his 39-year-career, John Jahera's research has been cited 2,167 times – including 850 in the past five years. It's no wonder the Lowder Professor in Finance at the Harbert College of Business is considered to be among the elite business authors by the SSRN (Social Science Business Network).
Jahera's work – which includes numerous studies on corporate governance, corporate finance and banking -- ranks within the online research repository's Top 10 percent of the most downloaded authors over the past year.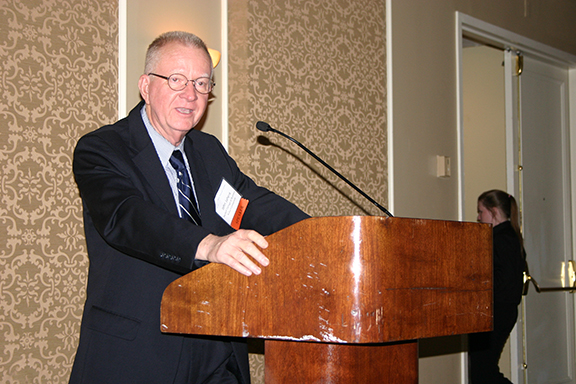 To Jahera, whose articles have appeared in elite publications such as the Journal of Financial Research, Journal of Law, Economics & Organization, and Journal of Banking & Finance, it's all about research with a purpose.
"I'd like to think that I'm doing something that has some relevance to the business community and to the academic world," said Jahera. "When you get an article accepted, there's a measure of satisfaction, but there's also a measure of satisfaction when that article makes an impact. Also, when you get to this stage of my career, I do it because I enjoy it.
"If you publish an article in the No. 1 journal in finance and five years later you look and no one has ever cited that article, then I'd say there wasn't much value to that article. Research should be used by others in some form or fashion. The number of downloads via SSRN is a measure of that. Someone out there thinks enough of it to read it and it might have an impact that can help them in their research."
In 2014, Jahera teamed with Jim Barth, Harbert College Eminent Scholar in Finance, and Jitka Hilliard, Associate Professor in Finance at Harbert College, to review payday lending institutions nationwide, including rates and demographics. The report was delivered to state and federal government agencies to consider new regulations.
"That's an example of how the academic world can impact the real world of regulators and business," Jahera said.
Aside from his work as an author, Jahera serves as co-editor of the Journal of Financial Economic Policy and is in the editorial board of Corporate Finance Review, Review of Pacific Basin Financial Markets & Policies and the International Journal of Business and Finance Research.