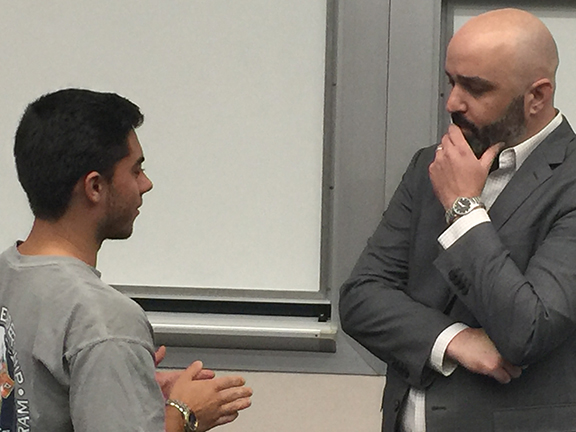 Producer James Kelley, owner and founder of Wire Road Studios in Houston, Texas, visited Auburn University Monday, Sept. 12, and Tuesday, Sept. 13, speaking at a campus forum and in accounting classes as part of the Harbert College's Business of Music Series.
Kelley, a 2005 College of Liberal Arts graduate, has successfully built relationships with major record labels, including Sony Music Entertainment, Universal Music Group, and Warner Music Group. Kelley's studio has worked with artists such as Beyonce, Aaron Lindsey, and Ludacris. It received a Platinum Record for work on Beyonce's self-titled album, and a Gold Record for its work with Trey Songz's album, "Chapter V." His business has diversified from music to include audio for radio, television and film.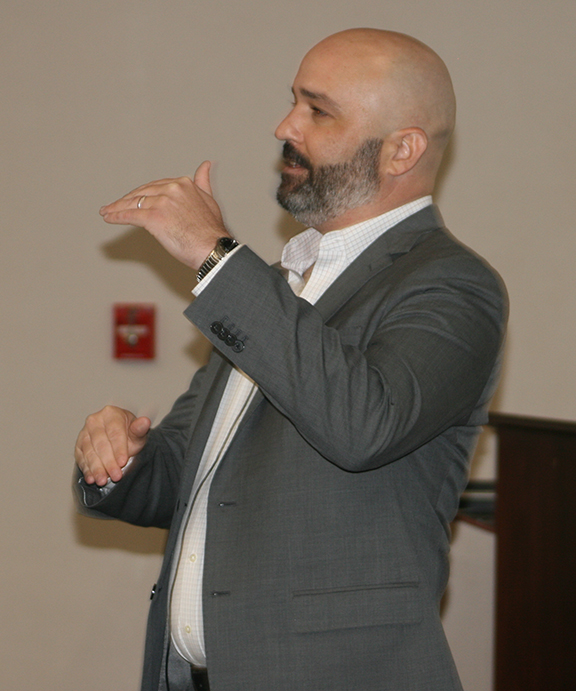 Wire Road Studios, founded in 2008, has been recognized by Auburn University for the past two years as one of the fastest-growing alumni-owned companies in the nation. In fact, Kelley was named Young Entrepreneur of the Year at Auburn University's first Entrepreneurship Summit in April of 2013. And, yes, the name "Wire Road" is a tribute to a local thoroughfare.
Kelley took time out of his schedule to answer a few questions:
What's the key to building relationships and maintaining them in your business?
Kelley: It's a people business. With a recording studio, you can look online, see the pictures, the studio looks great, their equipment is fantastic, the staff looks like it has a lot of experience -- but it's a people business and they want to be with somebody they like to work with. Throw the credentials out the window. Do I like you as a person? That's a big thing because in the music industry, which a lot of people may not be familiar with, there are people that don't have an exciting personality or can relate. There are artists that can be sensitive, so it's molding your personality to what that person's going to be. When it comes to the labels, you flat out have to do great work. You're going to form a bond with them. Our facility can obviously speak volumes as well, but if you don't cater to exactly what it is they expect then they'll be gone.
What's the key ingredient for success that any young entrepreneur must have?
Kelley: Willpower and energy. No matter what startup you may get into, there's always a starting point. It's never easy and it never gets easy for years. I worked six, seven days a week for three straight years simply because I didn't have employees around me at the time. It took a long time to get staff in place. There were a lot of late nights. It takes a lot of willpower, but more than that – you've got to have faith in yourself and you've got to love what you do. It's one thing to have a business idea that, on paper, can look lucrative. But if you don't believe in whatever product that it is, it's going to fail in time.
What barriers did you have to push through early in the business and how did you overcome them?
Kelley: It's very expensive to run a recording studio. As with any other business, you've got employees and property taxes going up every year. One of the biggest challenges of the beginning for me was 'what is realistic?' 'How do we build a business that is actually going to pay for itself?' You had to be creative. We had to diversify to things that may not have been in the original plans. The dream is the music industry. 'Let's record bands and make a bunch of money.' Well, it doesn't quite work like that in the music industry. You can't be just a recording studio any longer. That's why we got into audio production – radio, television, film. There are always going to be new ideas for revenue streams. The only way to keep something like that afloat is to be creative.
Why Houston?
Kelley: I grew up in Houston. Also, it's so much bigger than people realize. What I saw was an opportunity that not only was this a major city, but I saw the potential for the music community being much larger than people give it credit for. Everybody thinks Nashville, L.A. and maybe Austin. I saw a very big, untapped resource happening with the music scene. With eight million people, whether or not you have a rich culture of music, just with those numbers alone statistics are going to tell you how many bands there might be, aspiring vocalists and musicians there's got to be out there. I collected a lot of market data. It was black and white on the paper, saying that if you are going to build a recording studio then Houston is the best place to do it.
How does Wire Road Studios differentiate itself from other studios?
Kelley: Like I said, it's a people business. We connect with all of our clients. We believe in our clients' music and we feel like we are a partner with a lot of our clients. But where we really differentiate is our simultaneous success in audio production in radio, television and film. That doesn't sound like much to an outsider, but if you know anything about recording studios, this is quite unique to be this successful in both avenues at once. Traditionally, studios were built one way or the other. You either built it for music production, or you built it for audio production. They are two very different markets and two very different business structures. To marry those under one roof in one recording studio with equal success is quite paramount.
In what ways is the industry changing?
Kelley: The music industry is always changing. I need to come back and have a two-hour lecture on my thoughts about streaming and the future of the industry. Things were so convoluted for the past 10-15 years with digital coming in and the Napster phase of the early 2000s and the early MP3s. Apple enters in around 2003 with iTunes and what was revolutionary about that was they came in at a time where pirating was popular with Napster, they made it kind of cool again to start buying music – but for the first time you could purchase a single without having to purchase the entire record. There was some good and some bad with that. As far as labels, they were probably not happy that you could buy a single and not the whole album. That was the beginning of people paying for music again. It's taken a long time since 2003 to get where we were and how streaming is now the major player in the market. Music is more popular now than it's ever been and it's more accessible than it's ever been. With paid subscriptions increasing, your average consumer is spending more money now on music than ever, which is an interesting trend because a lot of people see doom and gloom in some aspects of the music industry.
What did your Auburn experience do for you?
Kelley: I learned who I was at Auburn. Not only was there the education – I had great teachers and great classes – but my time here broke me out of my shell, taught me how to think bigger and outside of myself. A lot of my business ideas happened while I was a student here. This is where I really discovered my passion for a lot of the music industry. If there is one biggest takeaway about where I was when I started Auburn and who I was when I left, is I started as a child and I left grown up.