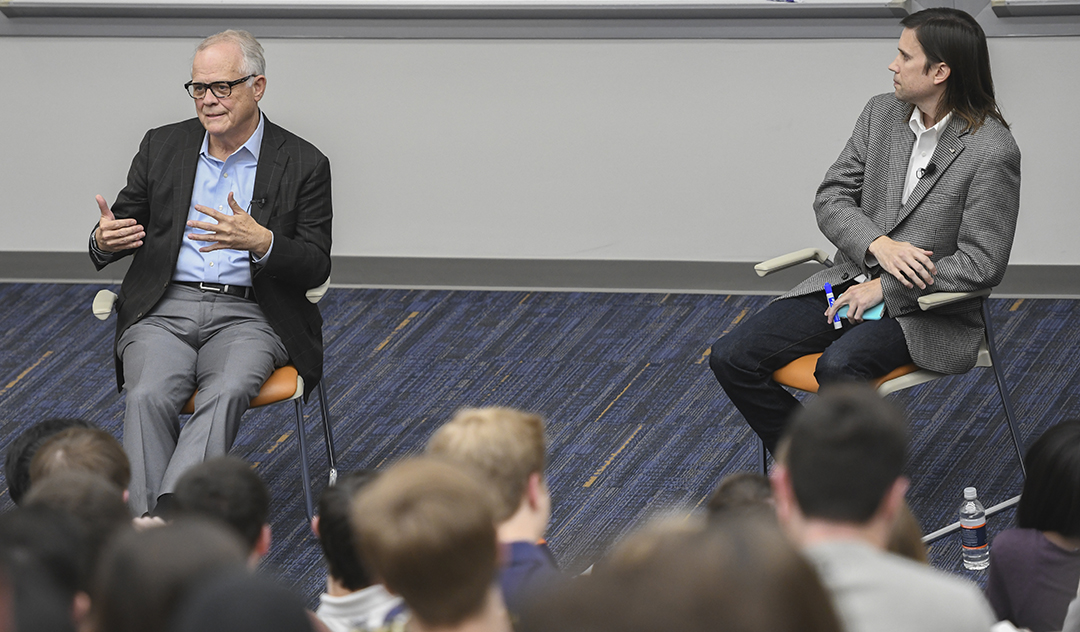 Joe Forehand had an epiphany 10 years into his career at Andersen Consulting. He was a new partner in the firm known today as Accenture, and suddenly oversaw 150 employees.
"The light bulb came on when you have that many people you're responsible for," Forehand said. "No longer could I know what everybody is doing every day. That was actually liberating to some extent because you learn not to be a micromanager. There is something about wanting to know what's going on with your team, but once you've reached a certain point – you realize that a leader's first obligation is to be a teacher. At some point, you've got to be a great teacher and trust people."
Forehand, a 1971 Auburn engineering graduate and former CEO and Chairman at Accenture, spoke Monday before a standing-room only crowd of almost 300 Harbert College of Business and Ginn College of Engineering students at Lowder Hall.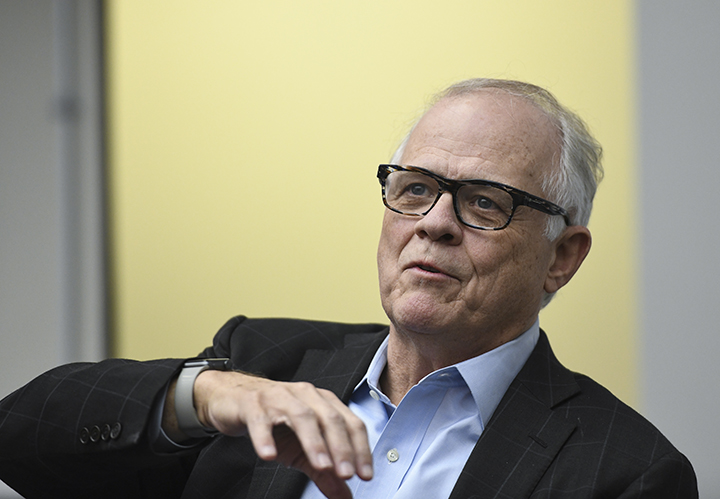 The event, "Consulting as a Career," was moderated by E. Barden Smedberg, a supply chain instructor at the Harbert College and former Accenture executive. There, Forehand offered tips to students and spoke about strategies. Most of all, he spoke about leadership.
"Part of being a leader is being approachable," said Forehand, who oversaw Accenture's workforce increase from 66,000 when he assumed the role of CEO in 1999 to 103,000 at his retirement in 2006. "If you're not an approachable person, then you build a wall between yourself and people that matter. If you're not a leader who accepts bad news, then pretty soon you will hear only good news. It's never good when you only hear good news. You never want to be in a situation where people are telling you only what you want to hear, or what they want you to hear."
Forehand offered three traits of a good leader: competence, confidence, and caring. A good leader is also a good listener, he said.
"I did not try to be the center of the universe and not learn from others," he said. "Don't always try to be the smartest person in the room. A team sport is a lot more fun than just being a rock star. Collaborate. Celebrate others' successes. Embrace the notion that it's a team sport wherever you go. It's that type of culture that makes most organizations excel, or not."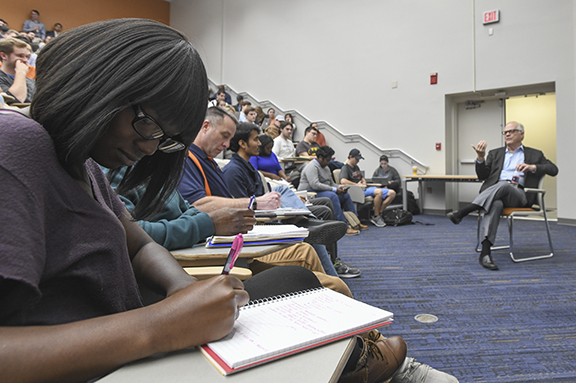 Another aspect of leadership, Forehand noted, was the ability to create value and identify greater opportunities for the organization. Accenture's net revenue rose by 98.5 percent during his tenure.
"We always had this sense of a healthy paranoia. We wanted to innovate," he said. "We wanted to be out front. We wanted to be able to serve our clients in ways that our competitors didn't. And when our competitors copied us – we moved on to the next thing."
Forehand, along with his wife, Gayle ('70, accounting), is serving through March 8 as Executives in Residence in the Harbert College of Business and Ginn College of Engineering. Business and engineering students and staff have had the opportunity to learn key, career-related messages during their stay.
To students, Forehand closed, "Whatever you decide to do … the way you grow is to get outside of your comfort zone," he said. "If you're not doing that, then you're not recalibrating who you are, who you can be, and what you aspire to be."
Media contact: Joe McAdory, jem0040@auburn.edu, 334-559-3467