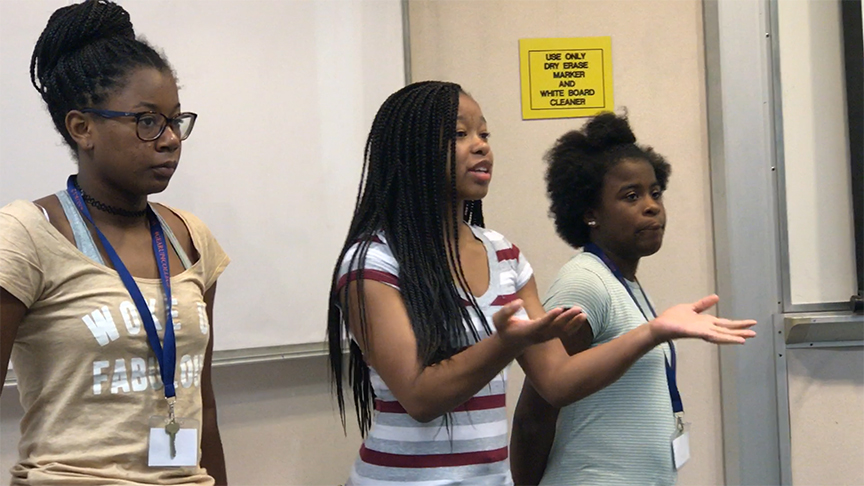 Fifteen high school students learned how to create a product, market that product, analyze potential competitors in the marketplace, and how to pitch their ideas to investors at the second Junior Tiger Cage Entrepreneurship Camp, July 23-28, at the Harbert College of Business.
The students, part of Birmingham's Gear Up program, learned lessons from Harbert College staff, actual entrepreneurs, and spent four days developing business plans for their own hypothetical products. Campers were introduced to why entrepreneurship is important to the U.S. economy and the overall impact it has on jobs and innovation.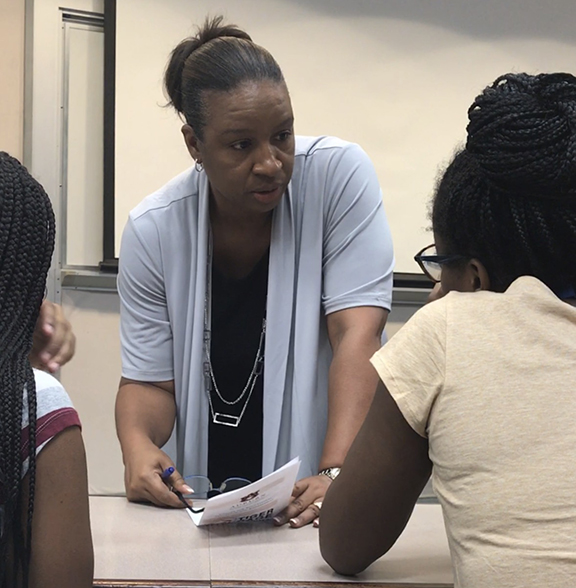 "We started getting them to focus on issues that they were facing – what are some of the challenges that they see and start working on solutions for them," said LaKami Baker (left), Managing Director of Harbert College's Lowder Center for Family Business and Entrepreneurship, who said it was important for the students to address needs through products that could be introduced into the marketplace.
"We can get young people to start thinking entrepreneurially and think about greater possibilities rather than just going with the status quo all of the time," she said. "They developed business ideas, came up with a way to solve the problem, and do research on potential customers and the market."
Students broke off into five teams of three and had four days to develop a business plan and presentation. Friday, July 28, teams pitched their ideas before faculty and industry professional judges, including Dave Ketchen, Eminent Scholar in Management at Harbert College, Cary Chandler, Director of Business for the Auburn Research and Development Foundation, and Tanisha Stephens, an entrepreneur and owner of Intown Imagery of Opelika, Ala.
"It's been a short week. They had four days to come up with an idea, develop a solution, and put together a presentation," Baker said. "It has been a big task for them. But I'm excited about what they have done."
Teams introduced plans for enhanced skin care products, an application that helps one choose hair styles that fits their needs, audio devices that connect to hardhats for construction workers, a microwaveable lunch box for school children, and a hover board that also serves as footwear.
Lawson Kidd, Noah Harvil and Christopher Samuel marketed the app "Pro Stylez", targeted toward young males who might need help choosing their next hairstyle. Harvil opened the presentation by asking members of the audience, "Anyone ever had a bad haircut?"
"We came up with the idea by brainstorming," said Kidd, who said that four days at Junior Tiger Cage Camp made him "less nervous" speaking in front of a crowd. "One of these days … we can't just let all of the big companies take over. There needs to be a balance of the new generation coming in and having fresh ideas for the world."