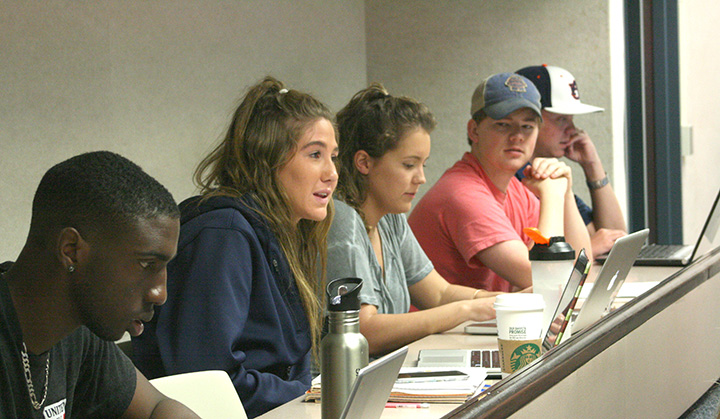 Katie Frerking proved her toughness on the basketball court by playing through injuries this season while leading the Auburn women's team to the brink of an NCAA Tournament bid. The junior forward is also tough in the classroom. The marketing/accounting major in the Harbert College of Business doesn't accept anything less than an 'A' and was named to the SEC Academic Honor Roll.
"I love to learn," said Frerking, from Johns Creek, Ga. "I call myself a nerd, but I really like school. I've always told Coach Flo (Terri Williams-Flournoy) that she'll never have any problems with me not going to class or anything like that."
But how does a student-athlete juggle workouts, practice, road trips, games and academics? "It's definitely something that you have to make a conscious effort to do and keep your priorities in line," she said. "School has always been my No. 1 priority and obviously basketball has paid for my school and I love playing basketball, but there are some times where I just have to make an extra effort to study.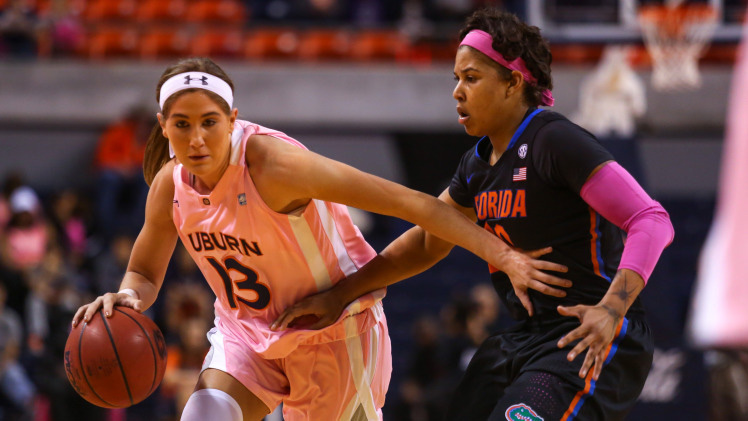 "When we go on road trips, every little chance we get I'm studying or reading. We typically get there the night before, so if we get there at about 7 I'll be in my hotel room studying probably for two or three hours and depending on what we have the next day, I'll try to study between shootarounds and the pre-game meal. I guess I'm an over-achiever."
Frerking, who recently picked up accounting as a double major, emphasized that Williams-Flournoy "has high expectations for all of us" in the classroom.
Business, however, wasn't Frerking's first choice at Auburn. "I actually started in pre-med," she said. "I decided it wasn't what I wanted to do, so I sat down with my dad (Bill) – who is probably the smartest person I know – and we talked about it. He said, 'Tell me what you like.' The more we talked about it, he thought that marketing would be what I wanted and he was right."
Frerking's study habits didn't get in the way of her basketball performance this season. She averaged 12.1 points per game (second best on the team) and was named SEC Player of the Week honors in February after scoring 18 points and grabbing 10 rebounds in a win over Florida, and scoring 17 more in a win over Ole Miss. She did all this fighting nagging quadriceps and hamstring injuries.
"My leg is always completely wrapped up," she said. "When it comes to the games, my adrenaline kicks in and I don't think about it. I want to play, so I really don't care if I'm hurt. If I can do it, I'll find a way."
Soon, she and her teammates could have the chance to play on the biggest stage of all should the Tigers earn an NCAA bid, Auburn's first since 2009.
"It's so exciting," Frerking said. "Making the tournament has been our goal from the beginning of the year. I am excited to have a chance to get outside of the SEC and play teams from other parts of the country because I think we can really go and make some noise."
The Frerking family is no stranger to sports or professional marketing. Her sister, Lauren, plays volleyball at Georgia Tech, and her brother, Andrew, plays football at Baylor. Katie's mother, Susan Frerking, once worked for the Kansas City Chiefs organization, handling season ticket information and planning events. "I'd love to work in sports," Katie said. "My dream job would be to work in an NFL or NBA front office."
Katie added that she wouldn't mind following in her mother's footsteps more than just professionally. "I always wanted to be just like my mom," she added. "I obviously want to work and be successful, but at some point I want to have a family and be a mom. Growing up, I always thought that she was the prettiest person in the world and the best person ever. My whole life, I wanted to be like her."