Dave Ketchen, Harbert Eminent Scholar in Management, earned one of the 14 SEC Faculty Achievement Awards presented in 2018. The award is presented annually by the Southeastern Conference to one faculty member at each institution.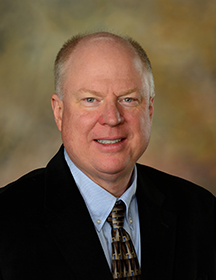 Ketchen, a respected educator and proponent of student entrepreneurship, has published 231 articles and has been cited 28,828 times.
Ketchen took time to answer a few questions about his career and award:
Q: What motivates you most every day about coming to work at the Harbert College of Business?
A: This might sound trite, but in a nutshell it's the chance to enhance others' lives. A professor's job provides a unique opportunity to benefit many different folks with students and companies at the head of the list. I try to make the most of that opportunity.

Q: You are among the university's most prolific researchers. What fuels that fire to not only gain more knowledge through research, but share that knowledge with others … knowledge that can be applied to industry?
A: In high school, I developed a love for the great philosophers throughout history. These people asked big questions and thought deeply about possible answers. People like me that study business are amateurs compared to Aristotle and the like, but we can embrace their thirst for building new knowledge and sharing it with others.
Q: Do you cherish a particular published paper in the past year? What was it about and what type of impact can it have on business?
A: A 2017 article in the Strategic Management Journal written with Harbert College assistant professor Michelle Zorn on lone insider boards of directors is a personal favorite. In a lone insider board, the chief executive officer is the only employee who is a board member. More than 70 percent of companies staff their boards in this way, often based on the belief that doing so will prevent CEOs from engaging in self-serving shenanigans that undermine company performance. We found that companies with lone insider boards overpay their CEOs, have lower profits, and are more likely to restate earnings than their peers who have two or more executives on the board. This article was covered by The Wall Street Journal and Forbes so there's a good chance that companies will take notice and think twice about how they staff their boards.
Q: What basic lessons should a student expect to learn from Dave Ketchen?
A: I try to help students to develop critical thinking skills and to appreciate the value of interpersonal relationships. If a person can analyze situations effectively and thoughtfully build relationships with other people, success becomes a lot more likely.
Q: What does the SEC award mean to you personally and was there a specific skillset, or other professional accomplishments, that might have put you over the top?
A: Our campus is full of highly accomplished faculty so receiving the award is gratifying. The Harbert College has had back-to-back winners with Jim Barth taking the award in 2017. Usually campus-wide awards go to people in the hard sciences and taking two in a row says a lot about the great things happening in our business school. I would love to see us three-peat in 2019. People tend to romanticize about skills and I think simpler explanations often work better. Emily Dickinson once said, "If you take care of the small things, the big things take care of themselves." It's a true statement and it explains why football coaches spend so much time in practice on blocking and tackling. I've always found that the more I pay close attention to the basics, the more good things happen.