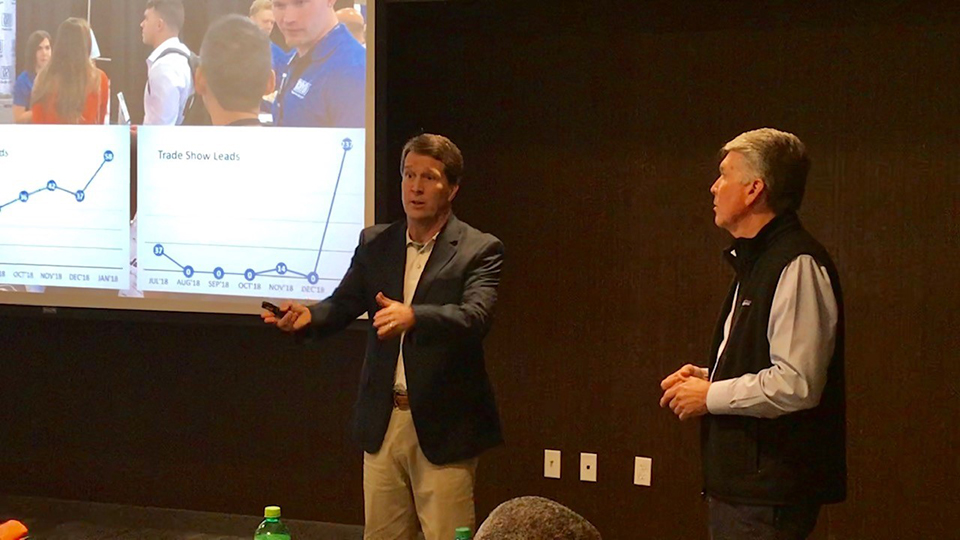 Entrepreneurship week is here!
Five startups will compete for a share of $50,000 Wednesday at 4 p.m. in the Auburn Regional Alabama Launchpad finals, kicking off a week of events, galas, and entrepreneurship-related competitions at the Auburn Hotel and Conference Center.
"We feel like there are companies competing this year that have a much better chance of making it – having their startup succeed," said Lou Bifano, Director of Entrepreneurship Strategy at the Harbert College of Business, which is co-sponsoring the event with the City of Auburn and Auburn Research and Technology Foundation.
Finalists pitching before seven industry professional judges are: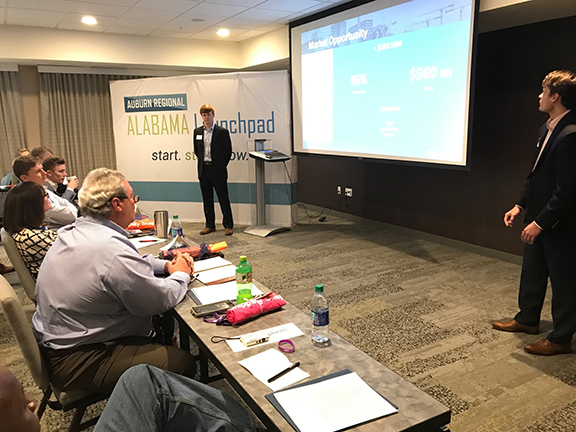 * Flashtract, Auburn – A construction billing and payment automation application (Ben Conry, Blair Chenault, Alex Chenault, and Garrett Raab)
* Generational Systems, Auburn – An affordable metal 3-D printing solution (Michael Knotts, Jerry Knotts, and Daniel Robinson)
* Levers, Tuskegee – A life management application (Malachi Ards and Henry Moses)
* Snippety Snap, Auburn – A public cell phone stand with integrated mobile application (Courtney Haun and Olivia Cook)
* CryoXcel, Auburn – A rejuvenating, cold-therapy product (Jason Mann and John Mann)
"There are different ways that you can have economic growth in the state and some of it is existing companies being successful," Bifano added. "But if you look at the states across the country that have the largest growth in terms of jobs and companies that are successful and generate enough revenue and profit that can contribute to the local economies, I think you find that there are states that foster and have a lot of entrepreneurial activity going on."
The event, held within the conference center ballroom is open and free to the public.
"If you're interested in supporting economic development and job growth in this region and in the state of Alabama, you should come and see what some of the entrepreneurs and innovators are trying to do," Bifano added.
A "Junior Tiger Cage" event featuring student teams from Auburn High School will precede the Launchpad finals.
The Auburn University Entrepreneurship Summit begins Thursday at the Hotel and Conference Center with the annual Auburn University Entrepreneurship Hall of Fame gala. There, Pharmacy Management Services founder Stan Harrell (Hall of Fame), RESICAP co-CEO Andy Capps (Entrepreneur of the Year), and Vinehouse Nursery CEO and Director Khiari McAlpin (Young Entrepreneur of the Year), will be honored.
Sponsored by the Harbert College of Business, four Auburn University student-led teams will pitch their business ideas before industry professional judges Friday at 9 a.m. in the annual Tiger Cage. Finalists this year are: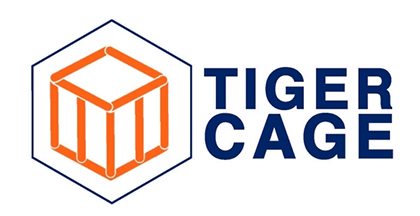 * ParaSky – Produces augmented reality in flight cockpit (Dan O'Leary, engineering management; Fehmi Capanoglu, occupational safety and ergonomics; and Baha Yakupoglu, electrical and computer engineering).
* Alabama Boat Club – Provides customers with boats they can use rather than own (Chad Matthews, entrepreneurship and family business).
* Precision Performance Insoles – A device placed within insoles that maps foot structures (Jordan Coker, engineering).
* Flashtract – A construction billing and payment automation application. (Ben Conry, civil engineering; Blair Chenault, engineering).
The Entrepreneurship Summit concludes Friday as 50 business owners (Auburn alumni) are recognized for success at the annual Top Tigers Awards Luncheon.