Supply chain management senior Lauren McGlon was one of five students nationally – and the first in Auburn University history – selected for the prestigious AWESOME Excellence in Education Scholarship.
AWESOME (Achieving Women's Excellence in Supply Chain Operations, Management, and Education) is the supply chain's most active and prominent organization focused on advancing women's leadership in the industry. As the scholarship recipient, McGlon recently participated in the Council of Supply Chain Management Professionals (CSCMP) EDGE Conference in Nashville, Tennessee.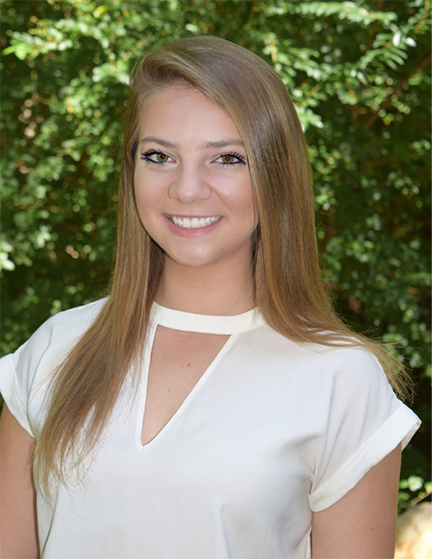 "It was a privilege to be able to represent Auburn University's supply chain program and introduce its name to the list of AWESOME scholarship recipients," said McGlon, who is also pursuing a minor in sustainability. "I can attribute where I am to many strong women, both inside and outside the program, so being a part of an organization that promotes women's leadership is a great honor."
Beth Davis-Sramek, Gayle Parks Forehand Professor in Supply Chain Management at the Harbert College of Business, considers McGlon as an "exemplar" student who is "engaged with wanting to learn and absorb as much as she can."
"Lauren is laser-focused on what she wants to do," said Davis-Sramek, who nominated McGlon for the scholarship. "She's ambitious, she's got a great work ethic and she is exactly the kind of student that any organization would like to have on board. She's a great leader in terms of highlighting women in the program and women in the college.
"She is naturally intelligent and naturally curious. She is going to be one of those continual learners who doesn't see ceilings for herself. She is completely confident in her abilities and has a great sense of who she is and a sense of direction that she can do anything."
The CSCMP Edge Conference provided McGlon with direct exposure to a variety of topics, industries and innovations that "cannot be replicated in the classroom," she said. "Attending the conference allowed me to see where the supply chain industry is going, while fostering relationships with industry leaders from all realms of supply chain management."
McGlon is no stranger to industry, either. This past summer, she interned at Freeport-McMoRan, the second-largest producer of copper in the world, at its headquarters in Phoenix, Arizona, in global procurement.
"I was privileged to be surrounded by strong leadership that helped me gain confidence in my supply chain abilities," she said. "This confidence has been translated to my supply chain courses, allowing me to approach projects and assignments from a more strategic, holistic point of view."
Auburn's Supply Chain Management program, which requires internships for graduation, recently earned a national No. 3 ranking by Gartner.
"One of the many benefits of Auburn's internship requirement is that students are able to discover which area of the supply chain is best for them," added McGlon, who hopes to one day pursue an MBA. "My internship and past experience with other areas of supply chain confirmed my desire to pursue a career in supply chain strategy development and implementation."