Want to learn about disruptive leadership and how it impacts business practice? The Raymond J. Harbert College of Business' Office of Professional and Career Development will host Legends and Leaders – a series of panel discussions featuring six industry executives -- all Harbert College alums -- this Wednesday and Thursday at 6 p.m. in Lowder 113-A.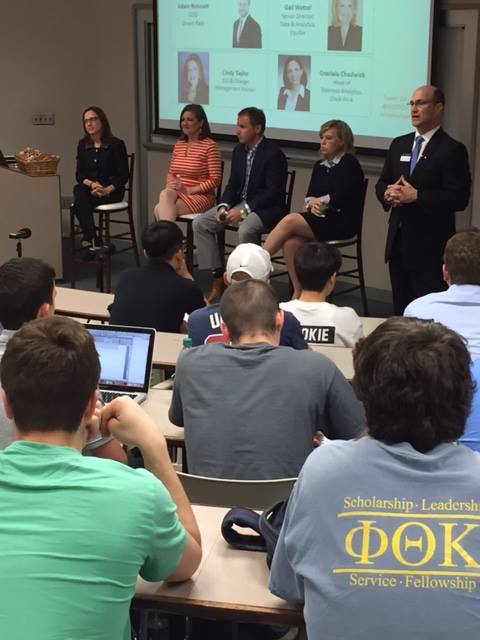 "Legends and Leaders brings the Harbert College of Business' teachings to life by organizing conversations with thought leaders on important business topics," said Jan Moppert, Director of Harbert College's Office of Professional and Career Development. "Our students learn about the real practice of business, beyond the theory. The insight they receive helps them discover new career paths, receive additional tools for their career gamebooks, network with leaders, and gain a multi-dimensional view of professionalism and what it takes to succeed in the business world."
Both nights focus on different aspects of disruptive leadership. Wednesday's event, "Breaking the Glass Ceiling: Creating the Way for More Women in Leadership," coincides with Auburn University's continued 125 Years of Auburn Women celebration, and will be moderated by Janet Parker, Executive Vice President for Corporate Human Resources at Regions Bank.
Panelists include Cindy Rogers, retired Senior Executive Vice President and Head of Operations and Technology at Regions Bank, Cindy Taylor, Owner, CyberRisk Solutions and former Chief Operations Officer at Oxford Industries, and Patsy Roberts, Group Executive over TSYS Enterprise Common IT Services.
"The first night will feature female leaders who have broken through the glass ceiling and can offer inspiration and advice for college women who aspire to be C-suite leaders, and males who will be mentoring and working alongside the future women leaders," Moppert added.
Thursday's event, "Leading Effectively and Creatively Through Change" will be moderated by Mark Forchette, President and CEO of Delphinus Medical Technologies. Panelists include Alan Rabb, Vice President for Finance (USA Operations) at Coca-Cola, Darryl Rosser, Executive Chairman of the Board, Camino Modular Systems, and James Dimonekas, President, Worth Group.
Panelists' will share their experiences for roughly 30 minutes before event moderators open questions to the audience. Students are encouraged to visit with panelists afterward.