Eight executives shared views on industry and corporate culture, Nov. 8-9, before dozens of Harbert College of Business students at "Legends and Leaders," an event hosted each semester by the college's Office of Professional and Career Development.
Aubrey Edge, President of First Coast Energy, heads a growing number of convenience stores in Florida. Once we referred to convenience stores as something else – gas stations. "What we do now and what we've had to morph into is so different than what it was 25 years ago," said Edge, who sat on the panel, "Leading Effectively and Creatively Through Change." "We compete with supermarkets, Walgreens, and Dunkin Donuts. That's who we are now. We're in the retail business. If you're not changing – you're going backward and slowly dying."
Instead of slowly dying, hurting companies scooped up by private equity firms are challenged to rebuild. That's precisely what Darryl Rosser, CEO of Camino Modular Systems and veteran of the private equity world, instills in firms he's led.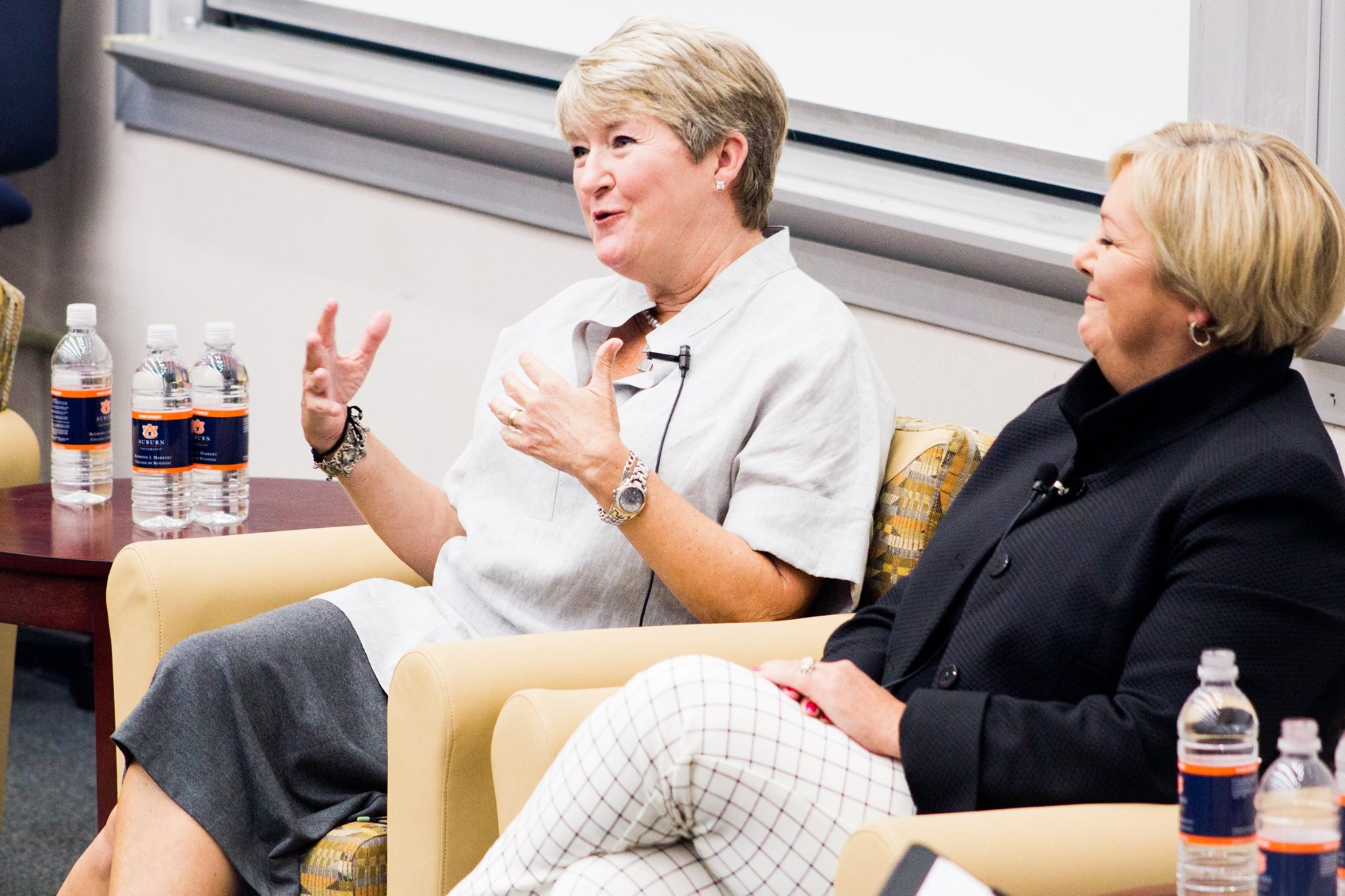 "You've got to establish expectations within 30 days (of the acquisition)," said Rosser. "Usually, if you have an underperforming organization, they might have cut back on expenses for a while. The office might be a little outdated. I'll go in and within 30 days rip out all of the carpet, paint the walls, put in new light bulbs, and people's heads spin. You're making multiple statements there. Number one, we're going to be professional in all that we do. Secondly, we're going to be fast. Third, it's a new day – the day of doing it the old ways are no more."
Rosser noted it was important to identify individuals who are "change agents" within an organization, and then identify those "you are working against … and then make some tough decisions."
Disruption doesn't always happen because of a company's economic performance. Sometimes, unexpected factors play a role. Cindy Rogers, retired Senior Executive Vice President and Head of Operations and Technology at Regions Bank, explained.
"When 9/11 happened, we didn't have a lot of time," said Rogers, who sat on the Nov. 8 panel session, "Breaking the Glass Ceiling: Creating the Way for More Women in Leadership." "You have to decide how you're going to get your customers served in a world that had just changed. You have to be calm. You have to be confident. Other people are going to throw disruption at you throughout your career."
Cindy Taylor, owner of CyberRisk Solutions and former Chief Operations Officer at Oxford Industries, said, "My business is disruption." She described her working environment after the dot-com crash in 2000 and how her career arc enabled her to help companies that were disrupted by technological change or internal dynamics.
"I started getting sent to customers who were experiencing problems or who were behind schedule," she explained. "I spent the next several years going from one failing project to another failing project. It taught me a tremendous amount about business change, transformation, technology and disruption. We would offer them systematic ways to improve and get back on track and we would get them to a better place. It's really satisfying when you're able to address the problems and the business challenges and you have the capability to leave them in a better situation."
Working in a male-dominated environment wasn't easy, either.
"There have been many meetings I've walked into where I've been the only female in the room," she said. "There's been many times where you just have to take your seat at the table and make no apologies for it. As your career progresses, you get more used to that. I've been in meetings where I've been totally overlooked and physically passed over. The challenge for me was I had to stop thinking like the girl from Atlanta and I had to understand and learn about cultures and then figure out how I'm going to work with them and figure out what we needed to do for our customers."
Alan Rabb, Vice President for Finance at Coca-Cola's U.S. operations, said corporate culture change is one of the most difficult things to deal with – but he has a strategy.
"Slow down," he told students. "Stop. Do a lot of listening. You have to understand why things are changing the way they are, the rationality behind it, and then you communicate it. What I found is powerful is that you learn from the people you work with and you take the ideas that they have and implement them into the organization."
Other panelists included Patsy Roberts, Group Executive over TSYS Enterprise Common Services and James Dimonekas, President of the Worth Group. Janet Parker, Executive Vice President for Corporate Human Resources at Regions Bank and Mark Forchette, President and CEO of Delphinus Medical Technologies, moderated the events.