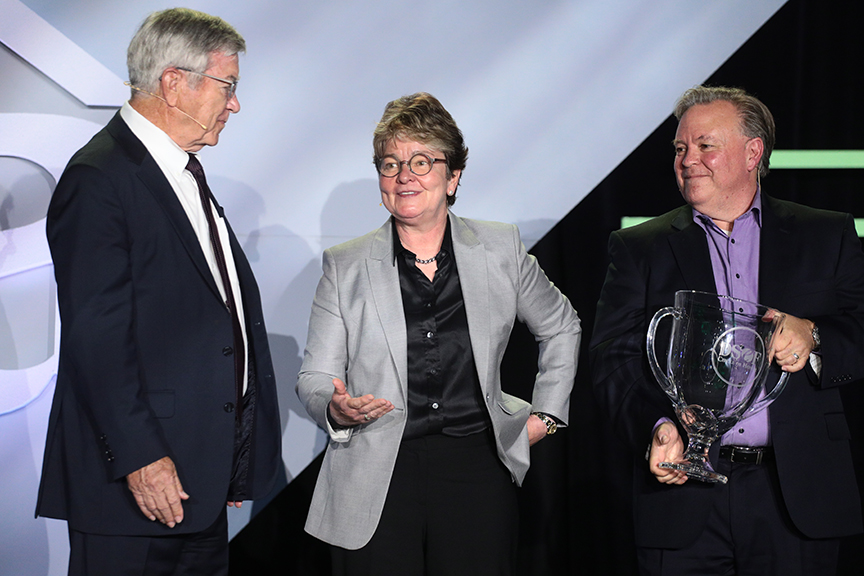 Harbert College Marketing Chair Dr. Linda Ferrell was one of three academic professionals inducted into the Direct Selling Education Foundation (DSEF) Circle of Honor – the association's highest commendation – at the Direct Selling Association Annual Conference on June 3 in Austin, Texas.
Created in 1988, the DSEF Circle of Honor recognizes direct selling industry leaders and academics who have made extraordinary contributions to the Foundation through personal efforts, involvement, and commitment to the mission and purpose of DSEF.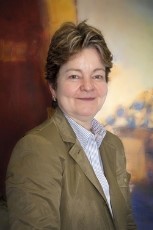 Ferrell (pictured above with Robert A. Peterson, Chair in Business Administration at the University of Texas, and Gary Huggins, DSEF Executive Director) joins an elite group of Direct Selling Foundation Circle of Honor inductees that includes Mary Kay Ash (Mary Kary Cosmetics), Doris Christopher (Pampered Chef), Stan Fredrick (Mannatech, where Ferrell served on their board of directors), and Richard DeVos (Amway).
Serving as a guest panelist in a plenary session at the annual convention, Ferrell, who sits on the DSEF Executive Committee and Board, was prepared to speak on changes in e-commerce before nearly 800 direct selling executives. The recognition was a complete surprise and she was not expected to be presented with such an honor. "It was challenging to function on the panel once I received the induction because it was so meaningful to me," said Ferrell, who joined Greg W. Marshall, Professor of Marketing and Strategy at Rollins College, and Victoria Crittenden, Professor of Marketing and Research Scholar at Babson College.
Ferrell said, "The opportunity to work with great global and smaller businesses is very enriching and comes right back into the classroom. There are more than 200 academic fellows working with direct selling firms to learn more about their exceptional products, great marketing and excellent strategies to connect with consumers. Currently, two Marketing Department faculty are working on academic research with Initial Outfitters in Auburn."
Ferrell has published research in the Journal of theAcademy of Marketing Science, AMS Review, Journal of Business Ethics, Journal of Public Policy & Marketing, Journal of Business Research, and more. She also co-authors several leading textbooks, including: Introduction to Business, Business Ethics, and Business and Society.
"For decades, Linda has brought significant value to the Foundation and the industry through her expertise, thought partnership and extensive networks," said Gary Huggins, DSEF Executive Director. "Since 2016, when DSEF introduced a three-year plan to deepen our relationships with the academic community, she has worked tirelessly to help us grow our Fellows program, publish direct selling-related research, include direct selling in textbooks, and help shape the vision for the Foundation of the future."