Be available to others. Be wary of driving after midnight. Always wear your seat belt. And most of all, be a great friend who will help prevent those closest to you from putting themselves into dangerous situations.
Those are just a few of the lessons shared with Harbert College of Business students by Mike Lutzenkirchen, father of former Auburn University student-athlete Philip Lutzenkirchen. The younger Lutzenkirchen, a standout tight end on the Auburn football team, was killed in a car accident in 2014. His father spoke to business students Friday morning at the college's annual Leadership Summit.
Mike Lutzenkirchen, founder of the Lutzie 43 Foundation and an Atlanta businessman, offered tales of his son's compassion toward others and the grim story of the football hero's final hours.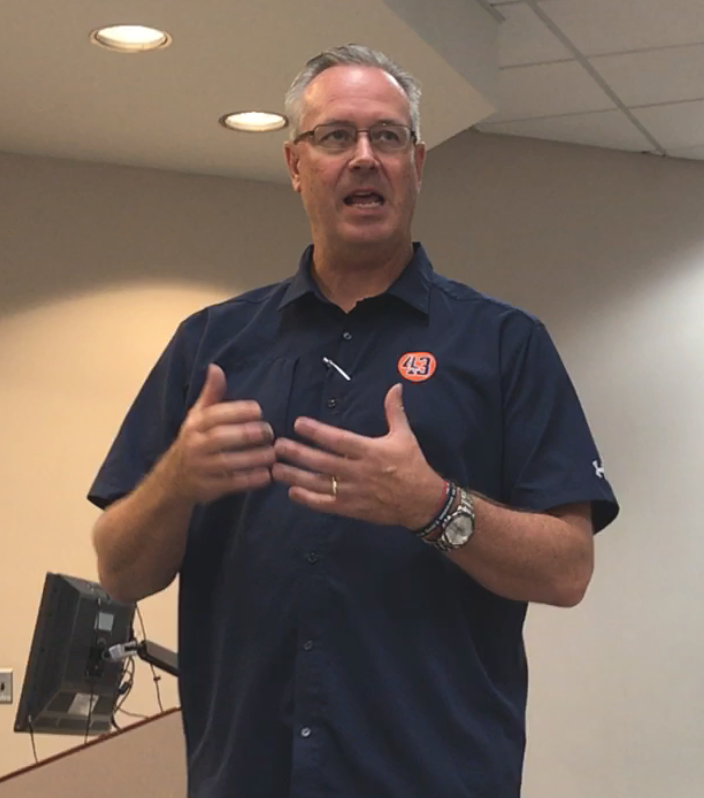 "What legacy are you leaving?" he asked students. "Every day you walk on campus, you put your brand out there for other people to see who you are. You don't need a platform to do something for others. What you do will determine your legacy."
Though Philip Lutzenkirchen is often revered for memorable touchdowns from 2009-2012 – particularly the winning score in the 2010 Auburn at Alabama game, it's what he did off the field that made his father proudest. For starters, Philip Lutzenkirchen made himself available – a word his father expressed several times.
For example, 10-year-old Bailey Moody, who enjoyed basketball, was diagnosed with a cancerous tumor in her right leg and faced the choice of amputation. At the time, Lutzenkirchen was enjoying spring break in Florida with a few teammates – but stopped his vacation to visit the child in Atlanta.
"What did you say to her?" Mike Lutzenkirchen asked his son. Philip wouldn't disclose his advice, though it was revealed by Bailey's father, Patrick Moody, six weeks after Philip's funeral.
"Philip said, 'I can't tell you what to do Bailey, but you told me through our conversations that you believe in God. Why don't you pray? So he prayed with her," Mike Lutzenkirchen recalled. "He asked, 'Who cares what you are going to look like? You're special. You're not going to look weird or odd.' He said, 'You can still be an athlete.' Later on, Patrick told me that Philip meeting with Bailey that day gave her the confidence the following Wednesday to have the radical surgery."
Today, Bailey is an active athlete.
Mike Lutzenkirchen spoke of the only time his son was disciplined by Auburn coaches. Why? He was five minutes late to practice his junior year (2011). "Coaches (Gene) Chizik and (Gus) Malzahn berated Philip and asked 'why were you late?' Philip said, 'it doesn't matter why I'm late. I'm late, so what's the penalty?'"
The penalty was pushing a three-foot 2x4 via bear crawl from one sideline to another … 10 times. He failed to mention that he spent that morning at a children's hospital in Birmingham, his father said, visiting kids undergoing cancer treatment. "That's who he was. That's a servant's heart," he said.
Mike Lutzenkirchen then reiterated that "Philip made himself available to others."
After an injury-shorted NFL career, Lutzenkirchen found himself working at a financial institution in Montgomery in 2014. The weekend of June 26-28 changed everything.
"He did something that he'd never done in his life," Mike Lutzenkirchen said. "He was going mudding." His son met acquaintances at farm near LaGrange, Ga., where they spent the weekend.
"They got in the vehicle at 2 in the morning because one of his buddies had to have a can of dip," Mike Lutzenkirchen said. "Rural LaGrange. One place open. Windy roads, no shoulders and no street lights. Philip finds himself in the backseat of that 2006 Chevy Tahoe. Philip probably didn't know he was there."
Records indicate the Tahoe charged through a dead-end stop sign at 77 mph., and careened into a ravine. Philip and two other passengers were killed. Mike Lutzenkirchen said his son's blood-alcohol level was .377 (the legal limit is .08), though he was not the driver.
"These kids are all about your age and have about five to seven years of driving experience. I've got 30-plus years of driving experience and I shouldn't be on the road after midnight," he said. "There's nothing safe on the roads after midnight."
The only passenger in the accident who wore a seat belt survived. "Do you always wait until all of your passengers put their seat belts on?" Mike Lutzenkirchen asked. "How many don't wait? You just take off. We've got to be great friends. Go back to your parents and say, 'please wear your seat belts, mom and dad. I love you. I want you to be here.'
"I challenge you tonight to get in front of your mirror. Ask yourself what one thing you need to change in your life. 'I need to slow down my drinking. I need to be a better friend. I need to be at class on time. I need to challenge my parents to wear their seat belts.' Then I want you to step back and ask, 'what one friend is doing something that I know they shouldn't be doing, and I'm not doing it, but I'm willing to step back and say 'I'm not going to let you do that anymore.' That's hard, because that's pure pressure. Then I want you to get in front of that mirror again and ask, 'am I available?'"