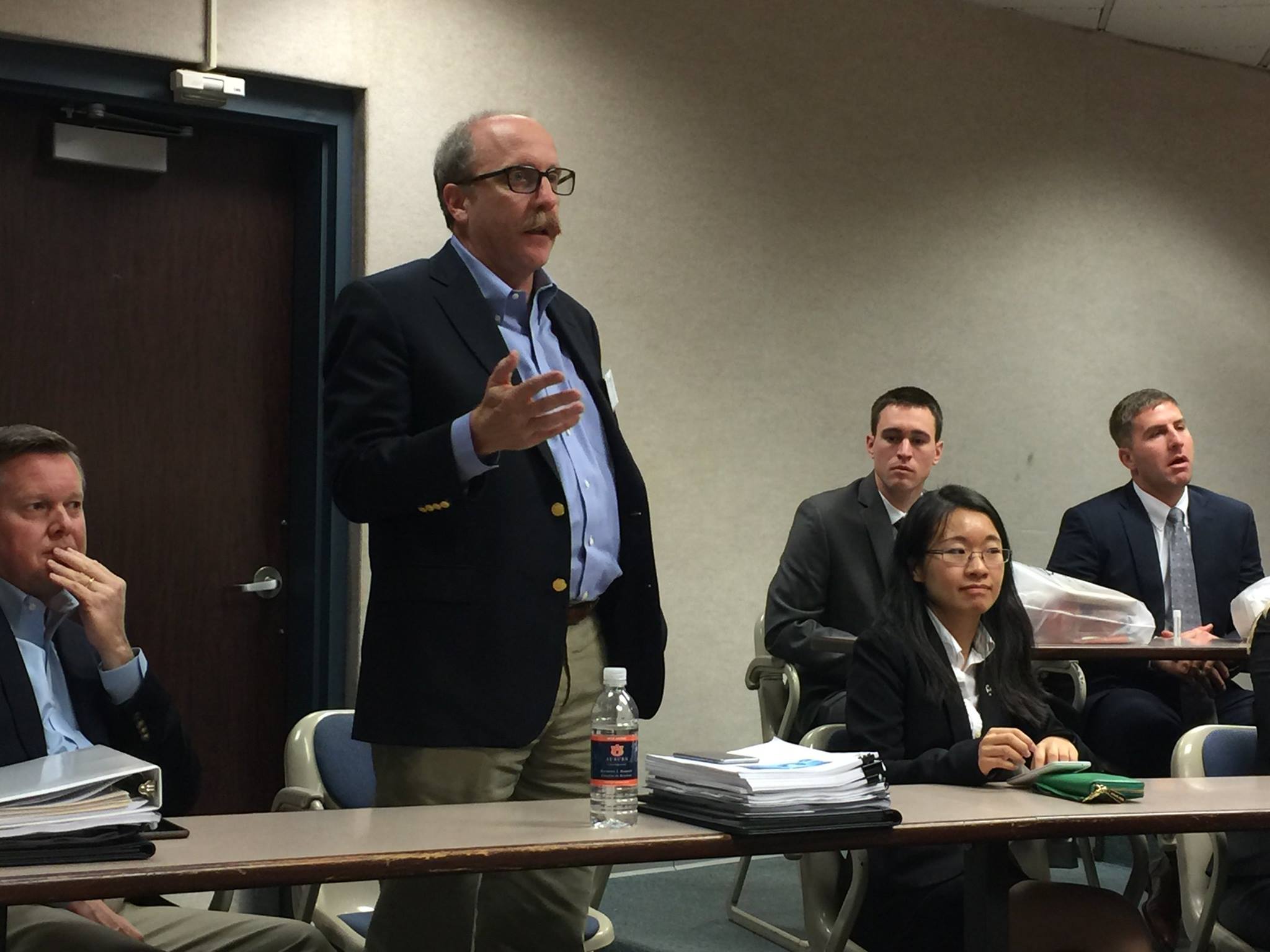 Steve Wilkens stood before a crowded classroom and praised teams of Harbert College graduate students for their ingenuity and for ideas that could make his company "millions."
"We were pleasantly surprised with the volume and the quality of their work, and what it's going to do for us from a market perspective," said Wilkens, Pitney Bowes' Senior Vice President for Digital Commerce Solutions.
Pitney Bowes was one of six businesses to participate in the Harbert College of Business' annual Capstone Project, where resident and non-resident MBA students are asked to resolve real-world problems being confronted by companies. Eighty-two students divided into 12 teams received assignments in August, developed written reports -- complete with financial analysis -- and presented their findings to corporate judges on December 4.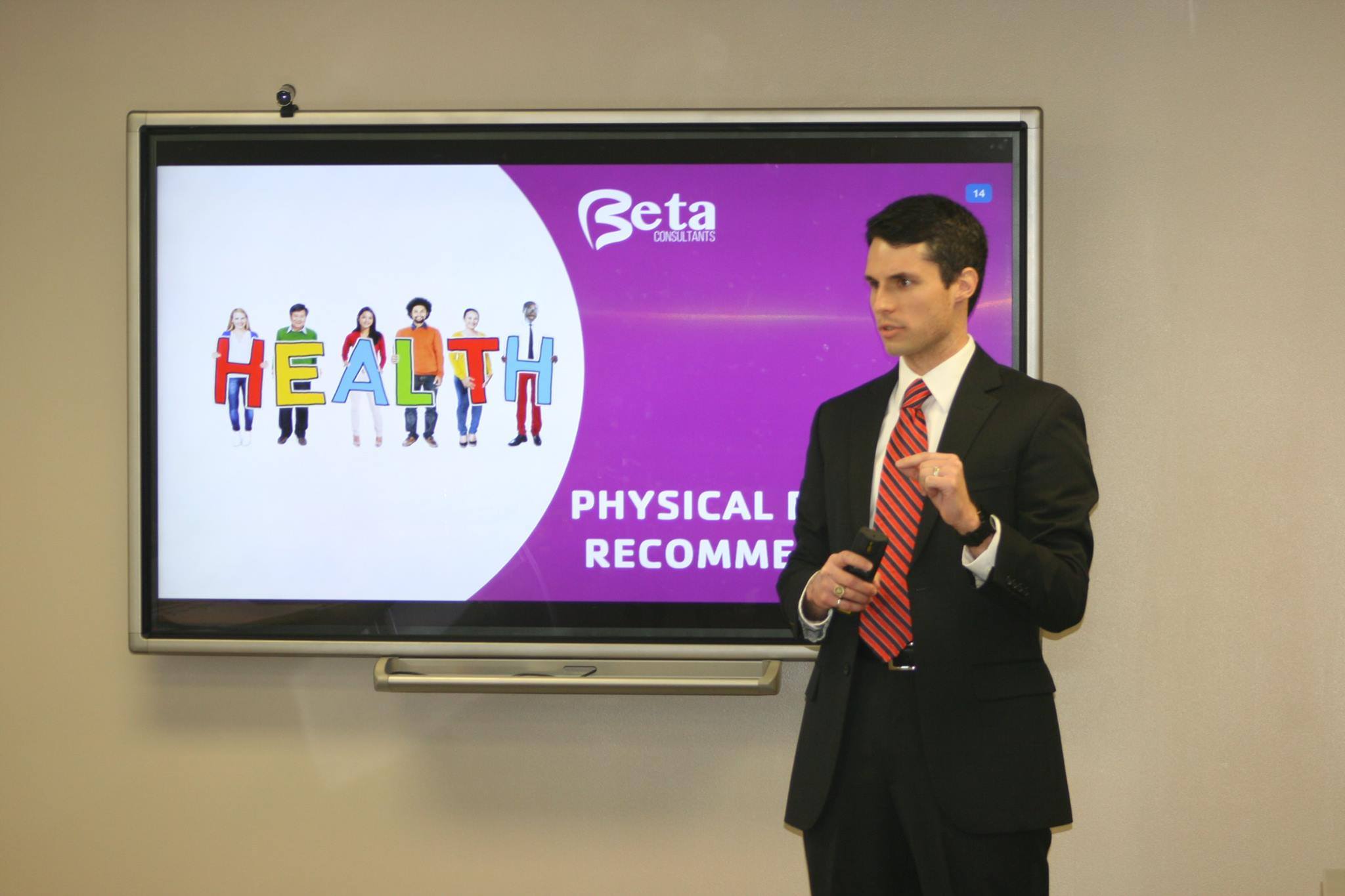 Other industry partners in the Fall Semester Capstone Project included Back Forty Beer, T-Lish, Heartstrings, YMCA of Huntsville, and Baptist Health of Montgomery.
Pitney Bowes recently acquired a business that is being integrated into its portfolio to provide personalized interactive video as another means of communication with customers. But what are the target markets for this, how can they be reached, the revenue potential and investments we would need to make and what are the risks? Three teams were asked to best identify the answers to these questions. They did not disappoint.
"We asked them to look outside of what we're doing and broaden the approach, think global and come up with additional markets that we could go after," Wilkens added. "We thought we'd see five or seven ideas and maybe two or three would be worthy."
Instead, they were given 21 opportunities, 17 of which David Burton, Senior Director for Strategic Consulting at Pitney Bowes, said "made a lot of sense."
"We wanted a fresh set of eyes to look at other potential markets that we could sell these solutions into and that's exactly what we got from the group," said Burton. "Some of the industries we would have eventually thought of on our own – not only did they dial us into these industries faster, but they dialed us into a couple of them in unique ways that I know we wouldn't have thought of. You look at an industry and say, 'There's potential there and there's money to be made, but what's my pitch?' They helped us get down that road in determining what that pitch is and how we'll approach the market, and that's going to help us get the revenue faster."
The Capstone Project, in its fourth year, continues to serve as a win-win proposition for industry partners and the Harbert College MBA Program.
"They (students) are expected to deliver the companies value, identify where they can improve business performance," said Gary Page, Harbert College Executive in Residence, who identifies and recruits companies as clients for the college's MBA students.
"The students benefit from a real-world experience. That's the underlying objective. In our MBA program, our students are required to do a real-world project in a team environment."
Peter Stanwick, Associate Professor in Management who teaches the Capstone class added: "Since three teams of MBA students are assigned to each client, a critical benefit for the clients is that they are given three professional quality written reports which they could use immediately to enhance their financial and competitive position. In addition, the clients are given the opportunity to observe, first hand, the high quality of Auburn MBA students which could be beneficial to both parties by giving the potential opportunity to hire Auburn MBA students which would further enhance the client's future growth opportunities."
Auburn alum Sarah Savage, President and CEO of Leadership Huntsville, teamed with the Capstone Project in 2014. "The Auburn MBA students brought a fresh perspective to our organization, giving us objective feedback on our organization's role in our industry," she said. "Real-world experience is essential in today's competitive marketplace. Students with broad experience will make bigger contributions and give a better ROI to their employers."
More photos from December's Capstone presentations and awards ceremony can be found here: http://on.fb.me/1nj4JNm