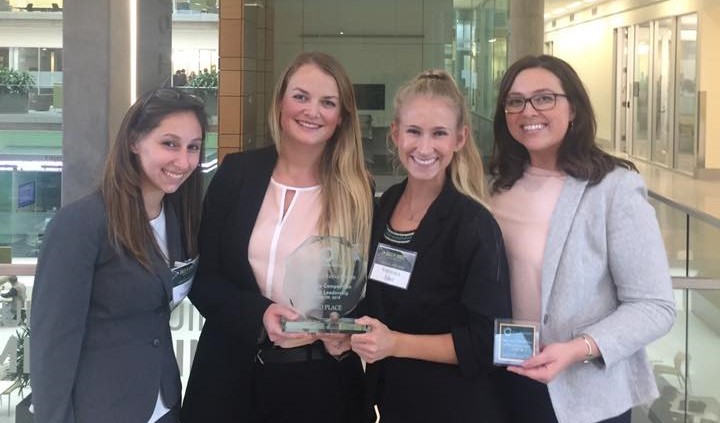 Auburn MBA placed third in competition against some of the nation's top graduate business programs in the 12th Annual National MBA Case Competition in Ethical Leadership, held November 8-9 at Baylor University in Waco, Texas.
Representing Auburn's Harbert College of Business were full-time MBA students Julia Domanico, Veronica Eder, Francisca Norregaard and Caroline Harrell. The team earned $1,000 for its finish in the two-day competition. Harrell, a second-year MBA student, received one of three "Best Presenter" awards.
"It was an incredible honor to represent Auburn University and the Harbert College of Business and show what our MBA students are capable of," said Harrell. "It's an intense experience, but we had fun and worked well together. I'm proud of what we accomplished."
Teams were assigned a case on the first day of the competition and given roughly 24 hours to formulate recommendations for presentations to judges. This year's topic centered on the ethical leadership opportunities of Google, specifically addressing how the company can move forward in an ethical manner within its business practices and the societies its impacts.
"This is our eighth year competing and our second best finish," said team coach Dr. Peter Stanwick, associate professor in Harbert's Department of Management. "Auburn took second overall in 2015. The level of competition from year to year is incredible, as MBA programs from around the country bring their best and brightest to this very prestigious competition. I'm incredibly proud of the work of this team in developing a well-formulated presentation."
Rounding out the three finalist teams, were Brigham Young University, which took first place, and the University of Georgia. Other schools competing in this by-invitation-only event were Baylor University, Iowa State University, Kansas State University, Louisiana State University, Oklahoma State University, Texas Christian University, University of Illinois, University of Minnesota and the University of Pittsburgh.
The annual competition is intended to advance the development of ethical leaders through experiential learning and to recognize and promote MBA students and their programs. It is part of the Dale P. Jones Business Ethics Forum held annually at Baylor.