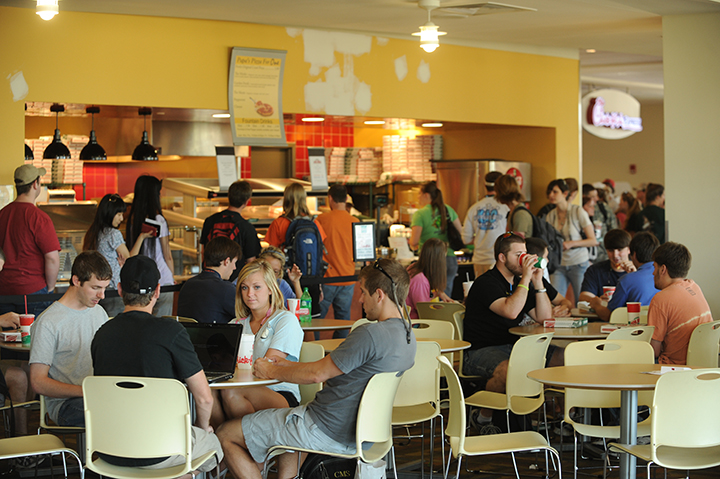 Location and food quality drive students to some on-campus dining options at Auburn University. Wait times, however, drive some away. Many students want more hamburgers and less chicken. Females, however, want healthier options, but they also tend the snack more.
Students in Dora Bock's marketing research and analytics class shared these and other findings about where students are eating at Auburn and what attracts them to eat at different dining locations to help Tiger Dining better serve their needs. The semester-long project included focus groups and surveys of more than 500 students.
On Friday, April 29, the class shared its data with Glenn Loughridge, Director of Auburn University Campus Dining, which offers students nearly 40 on-campus dining options, features popular chain venues like Chick-fil-A, Starbucks, Papa John's, and Chicken Salad Chick. Tiger Dining recently opened the nation's first on-campus gluten-free restaurant, Plains2Plate, located at Lupton Hall.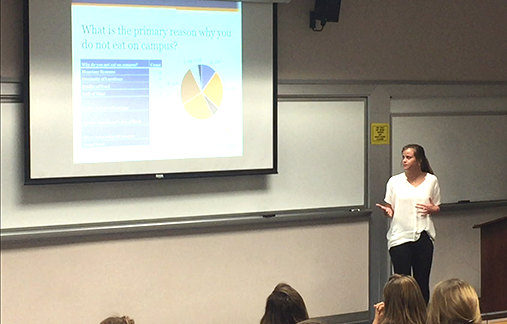 "The students did an excellent job presenting the information in an understandable format and were at their best when we did the question and answer at the end," Loughridge said. "I would say they provided more usable data than expected and that they did so in a constructive and collaborative manner."
William Sallustro, Resident District Manager for Chartwells, which holds the contracts for most dining locations at AU, was also at the presentation.
How did the class draw its conclusions? Research, research, research.
"Research is an integral part of marketing, and I was excited to learn real world skills from this project," said Kaitlin Robb, a junior from Clemson, S.C. "Being able to do a project that involved preliminary research, creating a survey, analyzing data, and presenting to a client is an opportunity that more college students should have. We were responsible for meeting deadlines, presenting accurate information, and creating a professional presentation. We were able to see the process from beginning to end, which means that in the future if I'm ever tasked with a similar project, I will know what to expect."
Key to this research were the focus groups, involving more than 120 students from a variety of locations across campus.
"Focus groups were an integral part of the research process due to the face-to-face presence we had with the participants," Hopewell said. "The focus groups provided valuable insight into the students' thoughts because they were able to thoughtfully respond to the various questions we asked. It was also helpful to come back as a class and identify trends that occurred in multiple focus groups."
Robb noted that focus groups give respondents an opportunity to "elaborate on their answers."
"Sometimes an answer is not so simple -- as yes, no, or even satisfied/unsatisfied," she said. "Focus groups also allow researchers to create more surveys and know what areas to research further."
Of 529 surveyed respondents, 352 reported that they dine on campus either multiple times per day or two to three times per week. Taste quality, location and wait time were the top three reasons why any given restaurant is chosen, according to respondents.
According to the survey, the best way for Tiger Dining to communicate with students, either the opening of a new restaurant, estimated wait times, or a daily special, is by the creation of an app, or via Instagram.
"I had always thought that dining trends among students would be obscure and uncorrelated from student-to-student," Liz Hopewell, a senior from Oneonta, Ala., said. "Through this project I learned that there are similar trends among genders and grade classifications that can go into marketing strategy for Tiger Dining. Some of the trends that I found most interesting were: seniors disinterest in a new sandwich restaurant, students' interest in promotional emails, and frequent snacking among females."
With the project, Bock, assistant professor in marketing at the Harbert College of Business, said her students, "Learned the importance of qualitative and quantitative research designs and how to develop a survey to reach a client's objectives.
"They gained critical thinking skills to determine the correct statistical analysis for a given research objective," she said.
Loughridge said the information provided will allow Tiger Dining to focus its efforts best where they are most valuable to students. "Much of what they reported were things we knew had some bearing on student sentiment, however understanding how those issues rank in importance will help shape our strategy going forward."