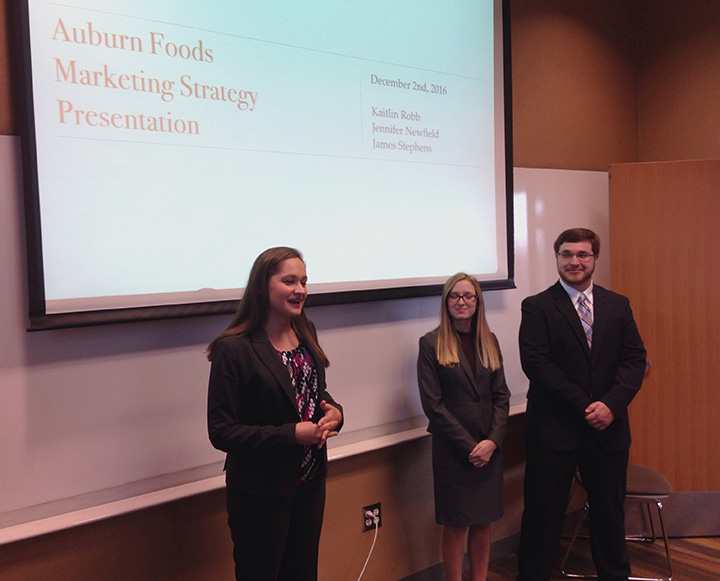 Students don't necessarily associate with "local" food, but their ears perk up when they hear the word "fresh," which is often the same thing. That's just one of the findings three marketing students at the Harbert College of Business found this semester as interns for Auburn University Campus Dining on a communications project designed to increase students' knowledge and understanding of local food on campus.
The marketing campaign "Auburn Foods" is Tiger Dining's drive to brand foods that are raised locally and served on campus.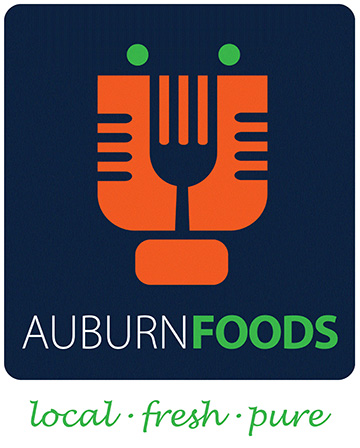 "Students want fresh food," said Kaitlin Robb, a senior from Clemson, South Carolina, who led the team who surveyed 200 Auburn University students. "They want food that has a short distance between where it was produced to where it got on their table. But you can't just tell students to buy local, because students don't respond to that."
The team, including James Stephens, a senior from Huntsville, Alabama, and Jennifer Newfield, a senior from Castle Rock, Colorado, presented their findings to Tiger Dining staff in a 60-minute presentation on December 2.
"The team then did an excellent job interpreting their collected data and creating a comprehensive marketing strategy for our Auburn Foods campaign," said Glenn Loughridge, Director of Campus Dining. "Their presentation shared the methods and reasoning that guided their research. It also gave specific recommendations regarding implementation of the campaign including a variety of slogans, designs and mock-ups with associated prices, points of contact, and suggestions for best use and placement of promotional products. To summarize, we received a complete, actionable marketing plan.
"The team wasted no time starting the project conducting extensive background research. Tours of the Aquaponics system at the E.W. Shell Fisheries Center and the Lambert-Powell Meats Lab gave the team a closer look at some of the foods that are both grown and consumed on campus. Not only did the students review the facilities, but they also asked specific, detailed questions about the aquaponics and meat processing systems to ensure they had a complete understanding. They also reviewed dining programs at comparable universities to gauge the overall impact of millennial and Gen Z students' passion for local foods and controlling what is put into their bodies."
The team hopes to better educate students about fresh and local food choices on campus through marketing efforts such as a series of videos, including one that highlights students working at the fisheries. "By telling a story and giving this background and life to this local food initiative, we're not saying 'buy local.' We're saying, 'This is what local means,'" Robb said. "We have a social media strategy, specifically. We're going to talk about how to communicate with students about this topic and a lot of that comes back to our messaging. One of the things that we are going to recommend is that they focus more on the word 'fresh' and that they create a story and definition for students. 'Buy local' isn't going to work. We think it should be an involvement – having events and partnering with other organizations on campus.
"The purpose of Auburn Foods is to raise awareness about where to find local and the benefits of local food. There will be a logo at the restaurants on campus that serve Auburn Foods. We're also looking at arranging tours to visit the meat labs on campus, and the fisheries, to see where your foods are coming from and create maps to show students the distance between where their food came from and where they are getting it. The logo is more than just branding – it's this whole identity for local, Auburn food."
Auburn offers a number of campus restaurants that serve locally-produced foods, including Plains2Plate, AU Smokehouse, 844 Burger and Terra Nova.
"Tiger Dining is committed to getting more local foods on campus," Robb said. "This is what I love so much about what Tiger Dining is doing. They said – 'we have a concept. We want to do research, create a strategy, and then we're going to move forward with it.' A lot of times in marketing, people jump right in. But they are taking time to say, 'we're going to do this the right way' because they really care about this."