Two Harbert College of Business Marketing Professors, Christopher D. Hopkins and Jeremy Wolter, were recognized at the annual Society for Marketing Advances conference November 6-9 in New Orleans, Louisiana.
Hopkins, the McLain Family Professor of Marketing, was named the 2019 SMA Distinguished Fellow. The Distinguished Fellow honor is bestowed upon individuals with lifetime professional achievement of scholarly excellence and exemplary service to the Society for Marketing Advances. To date, only 29 other recipients have been presented with this honor since 1979. According to the SMA by-laws, "The intent of this designation is to recognize a very limited number of scholars in light of their exemplary service to the Society and their significant scholarly contributions to the advancement of marketing thought over a sustained period of time."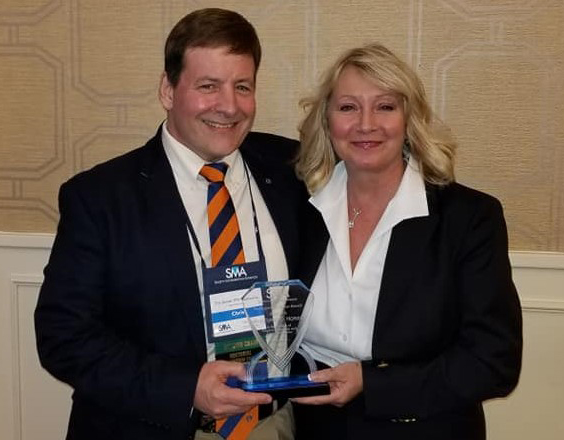 "This is a reward for all of the work one has done to be successful in the organization and profession," said Hopkins (pictured with SMA President Charlene Davis), who came to Auburn in 2017 after 16 years at Clemson University. "This award reflects positively on the Harbert College of Business and the Department of Marketing as it shows that the marketing discipline at large recognizes the fine work being done in the Marketing Department at Auburn.
"It is a statement not only that one has served an organization, but has also achieved a certain position as a scholar in the discipline."
Recently, Hopkins, who has published more than 100 articles and refereed journal and conference proceedings, was named Editor-in-Chief of the Journal of Marketing Theory and Practice.
Hopkins is past President of SMA, and has also served as its Program Chair, Treasurer, Consortium Chair/Faculty, and on its Board of Governors.
O.C. Ferrell, the James T. Pursell Eminent Scholar in Ethics at the Harbert College of Business, was named SMA Distinguished Fellow in 1996.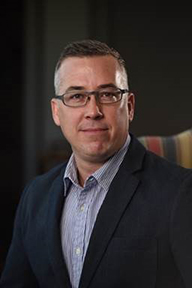 Wolter, Assistant Professor in Marketing, earned the "Sharon Beatty Best Paper in Services Marketing Award" for his co-authored paper, "The Influence of Other Customers in Online Service Recovery."
"It's definitely a validation for our hard work," Wolter said. "Sharon Beatty is an emeritus professor at Alabama and she funded the award. She's excited that we won the award and it's fantastic to know that someone who's extremely established in the field looks at your work and says, 'That's worth recognizing.'"
The paper examined how people's attitudes toward complaints via online message boards or social media effects general feelings toward businesses, particularly when responses are not monitored.
"Some people get really upset if they complain online and somebody says anything about it to them," Wolter added.
"Since it's open comments, people can say whatever they want. We find that it effects how they view the overall exchange with the brand because brands don't do anything about those comments. The people handling these accounts are either social media people or not trained in service elements and not trained in handling conflicts and disputes between consumers."