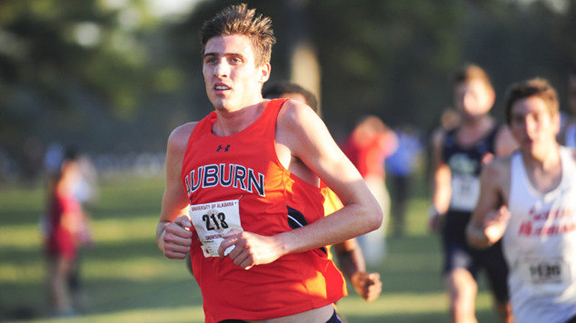 Ty McCormack competes as one of the top cross country runners in the Southeastern Conference, works as a financial planner, and still manages a 3.11 GPA as an MBA/Master of Science in Finance student in the Harbert College of Business. It's no wonder the SEC recently recognized him as its Cross Country Scholar-Athlete of the Year.
"From the time I began playing sports, my parents always stressed to me that academics come first," said McCormack, a Gainesville, Ga., native who earned undergraduate degrees in language and international trade with a concentration in Chinese from Clemson. "Similar to the old NCAA commercial, there are thousands of Division I athletes and most of them will go pro in something other than sports. I like to think of the award as the epitome of what a student-athlete is and feel that it is a testament to my desire to go pro in sometime other than sports."
McCormack, who won the NCAA Men's South Regional Championship Nov. 17 in Tallahassee, Fla., and will compete in the NCAA Championships Nov. 22 in Terre Haute, Ind., balances the everyday rigors of studying and training.
"You have to make sacrifices along the way and know when to go 'all-in'," said McCormack, who has been named SEC Runner of the Week four times. "There are some weeks where I don't spend as much time as I should studying because I have a huge competition and I would rather get those extra hours of sleep. Conversely, there are some weeks where my performance in athletics isn't as good as it should be because I'm staying up until midnight working on projects. The biggest thing is learning where your happy medium is, setting goals and utilizing the resources available to you."
Since he was in high school, McCormack had an interest in learning Chinese. In fact, he spoke fluent Mandarin before attending classes at Clemson in 2010.
"I saw China as an emerging market and felt that learning Chinese would give me an advantage over other business students," he said. "For other students, you must realize that China is a rapidly growing economy and that it will be a part of your future, whether you like it or not."
Harbert College's M.S. Finance program was recently ranked No. 27 nationally by The Financial Engineer. McCormack said the program's combination of classroom learning mixed with real world exposure made it "unique."
"Whether I am attending leadership conferences, networking with AU graduates on Wall Street, traveling to Peru to learn about the business culture of South America or working an internship with a Fortune 200 company, Auburn has given me a plethora of experiences and I couldn't be more thankful for," he said.
"My experience at the college has been incredible. By utilizing the resources at the Office of Professional and Career Development (OPCD), I was able to develop myself professionally. With guidance from a great faculty, I have gone from just simply memorizing information for tests to being able to apply concepts into real world situations. Also, through my experience with the MBA Case Competition Team and placing second in the SEC, I've been able to channel my competitive spirit into academics."
McCormack, who hopes to one day serve as a mentor to Auburn students, said he will become full-time with Atlanta-based Synergy Financial Partners after graduation next spring.
"In America, most people spend more time planning a trip to Disney world than for retirement and I want to change that," he said. "I absolutely love the company and all the support they've given me. It is very unique to have an opportunity to help people by introducing them to newly improved financial products. Going forward, I look to translate what I've learned at Auburn into the workforce."
He is the son of Thad McCormack, a 1982 Harbert College graduate in accounting.
"For me, the biggest goal in my life is to be half the father that my dad was to me," McCormack added. "He is my hero and the definition of success to me."