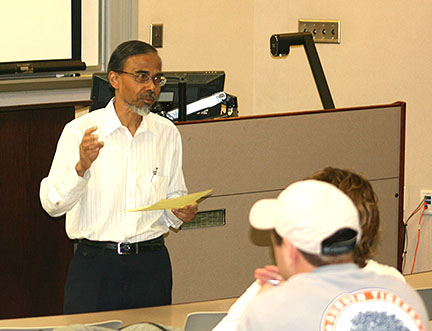 What should managers do to make the most effective decisions? Let data drive those decisions.
That's the point Amit Mitra, professor of Quality and Business Analytics at the Harbert College of Business, will make as he instructs graduate-level students March 20-24 at the prestigious KEDGE Business School in Bordeaux, France.
"People have taken a seat-of-the-pants approach to make business decisions for years," said Mitra. "But that shouldn't be the case now that we have a vast amount of evidence – data."
Mitra was chosen from a large field of world-class educators to present at KEDGE's International Week, where graduate students can experience "a flavor of faculty from around the world."
As for the theme, "They were looking for something related to decision making in the digital world," Mitra said. "My proposal was on 'Data-driven prediction and forecasting in a digital world using regression models.' They were taking competitive proposals from faculty all over the world, so I'm very pleased."
"This is also good for the reputation of the Harbert College of Business because it puts our face out there. How many people in Europe have heard of Auburn University or the Harbert College of Business? This is one way of exposing what we do, our quality, and our faculty. Plus, this could lead to future participation of others."
Mitra, who teaches graduate and undergraduate-level students at Auburn, said he hoped to not only share his expertise at KEDGE, but bring back information that he can use at Harbert College. "The focus, the perspective of KEDGE's master's programs – how is it different than ours?" he asked. "What can we add to ours? It will give me ideas on how to incorporate the good things that exist there into our programs."
Students will continue applying his lessons even after Mitra's five days in France are complete. "The students will complete a project of their own choice," he said. "They will select a data set from an organization of their interest and will use the concepts that they were exposed to in the one-week seminar and submit the project with various details that I outlined: How do you make decisions? How do you identify what the significant predictor variables are? How do you forecast? How do you come up with a confidence interval for the mean value of a response variable, such as company sales, based on chosen levels of the predictor variables?" Such issues are of importance to management and exposure to the tools and techniques covered in the seminar will make better decision-makers of the participants.
Mitra, who teaches a variety of data analytics courses at Harbert College, is the author of Fundamentals of Quality Control and Improvement, Fourth Edition, published by Wiley in 2016. The book is used nationally and internationally.