Morgan Podany started 57 games as an outfielder on Auburn's softball team last season, carried a 3.93 GPA, and balanced a pair of internships – including one overseas.
It's no wonder the senior in marketing from Ponte Vedra Beach, Florida, was All-Academic SEC and is Harbert College's graduation marshal for the Dec. 15 commencement.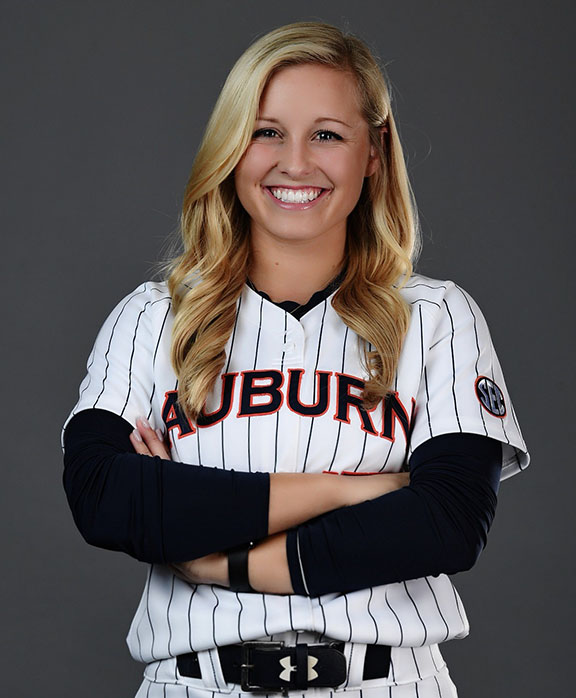 "Trying to balance academics with being a full-time student-athlete will absolutely get the best of you if you don't prioritize your time and make certain sacrifices," said Podany, who was second on the Tigers with nine stolen bases. "Freshman year was full of trials and growth, to say the least, but I learned exactly what I needed to do in order to maintain the level of success I expected from myself on the field and in the classroom.
"I learned very quickly that it is OK and welcomed to ask for help and most professors are more than willing to put in the time if you are attentive and willing to learn. As most athletes will tell you, there is a sacrifice made in our social lives, but that is something I accepted when I decided to pursue this route in college."
Podany spent three months last summer as an intern at Under Armour's Baltimore, Maryland, headquarters. There, she developed a national contract database for 150 Division I colleges and apparel companies, and researched industry-specific information to compare UA's brand to top-level competition and developed a recommendation to incorporate that into collegiate marketing strategy.
"The experience prepared me for any future opportunity in a similar environment as I am now more comfortable and know how to apply myself," she said.
Podany spent the summer of 2017 in Sydney, Australia, as a digital marketing intern at Fourteen Digital. There, she created content strategies, budgeted advertisements and worked with clients. "International experience is something I would recommend to everyone," she said. "Interning abroad taught me so many things about myself as well as so many invaluable experiences that I will take with me everywhere. It is not all easy and glamorous, but adjusting to a new culture and applying yourself outside the box forces you to be independent and make decisions on your own.
"Auburn has provided me with so many resources and opportunities that I will be forever grateful for, especially within the athletic department and the Harbert College of Business. The staff have been there to ensure that we are just as successful in the world as we are on the field, and I am very proud to soon be an Auburn alumnus."