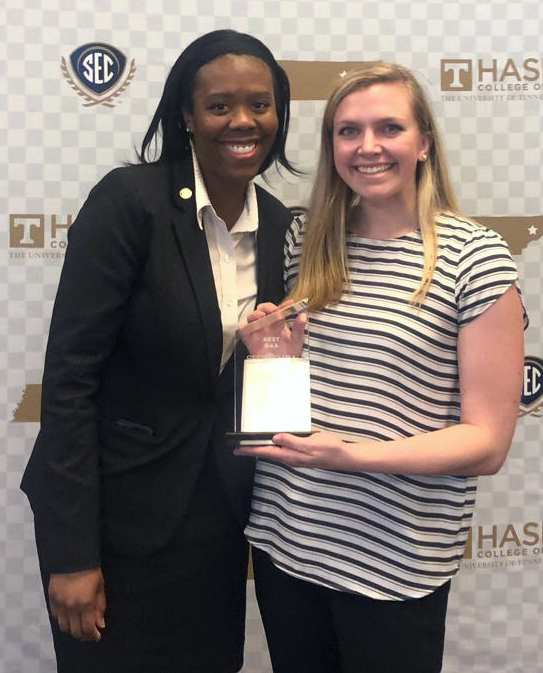 Lucy Mostellar, a first-year MBA student from Mobile, won "Best Q&A" honors at the annual SEC MBA Case Competition April 5-6 in Knoxville, Tennessee. She is pictured far right with Dr. Torie Johnson, SEC Associate Commissioner for Academic Relations.
Mostellar, who earned an undergraduate degree in 2018 in accounting, was part of a four-member Harbert College MBA team that included Francisca Norregaard, Caroline Harrell and Macy Jones, tasked with resolving a real-world industry case presented by FedEx. Hosted by the University of Tennessee's Haslam College of Business, teams made 20-minute presentations (then Q&A) before judges peppered students with questions.
"We had three FedEx executives and they asked us about our financial analysis, logistics, details on how we would implement our ideas and compete with rival firms," said Mostellar, who will intern at Coca-Cola in Atlanta this summer in the North American finance department.
When questioned by industry professional judges, Mostellar said it's best to speak your mind.
"Before I answer, I think what the correct answer to the question is," she said. "I don't want to tell the client what they want to hear. I want to tell them my opinion. It's important to be honest and not just what they want to hear because they can see right through that.
"I think I received the award because I can keep really calm when it comes to questions and answers. You also have to seem confident. Otherwise, you are not taken seriously. If you are not taken seriously, then your ideas will be disregarded."
Peter Stanwick, associate professor in management and faculty advisor for Auburn MBA case competition teams, noted that high-level case competitions "prove to team members how good they are because this is an external evaluation."
"There is a group of executives listening to them, evaluating them and giving them feedback," he said. "For their own careers, this is a great thing to have on a resume. Every single interviewer will zero in on that. Everyone talks about critical thinking and this is a great example."
Harbert College will host the 2020 SEC MBA Case Competition.