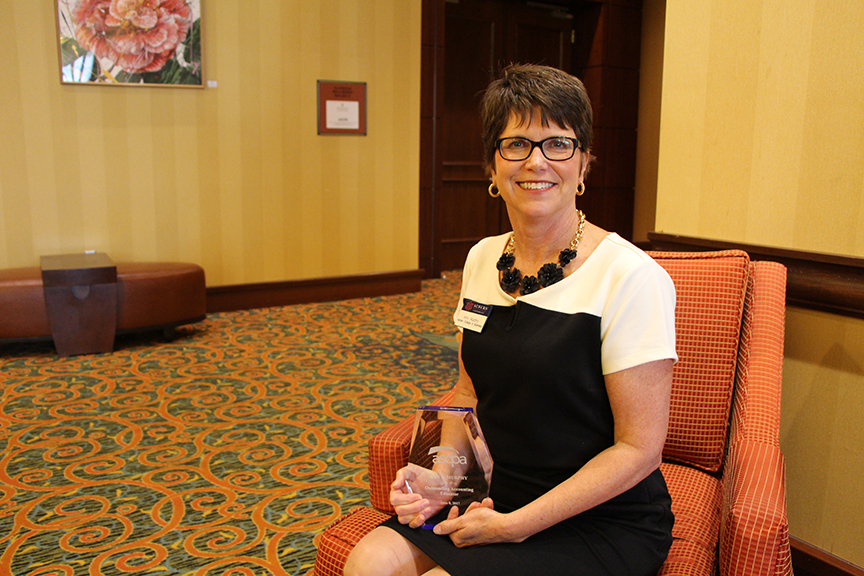 Amy B. Murphy, Director of Accounting Graduate and Online Programs, was recently named the Alabama Society of CPAs 2017 Outstanding Accounting Educator. The Alabama Society of Certified Public Accountants (ASCPA) is the statewide, professional membership organization representing more than 6,500 Alabama CPAs in public practice, industry, government and education.
The recipient of the Outstanding Accounting Educator Award is recognized for excellence in teaching and active involvement in the accounting profession.
According to Murphy, "it is truly an honor to be recognized for the love and passion I have for Auburn's accounting programs and our great profession. Being a part of Auburn University and the accounting profession was made possible by Dr. Gary Waters and Dr. Wayne Alderman. In 1986, Dr. Waters encouraged me to major in accounting, and Alderman offered me the opportunity to return to Auburn in 1994 to serve as the Master of Accountancy (MAcc) Program Director and teach accounting.
"Although I don't have biological children of my own, I have been blessed to teach and mentor many wonderful accounting students who are truly my heart and soul."
In addition to serving as Director of Accounting Graduate and Online Programs, Murphy teaches ACCT 2110 Principles of Financial Accounting, ACCT 3110 Intermediate Accounting I, and ACCT 3810 Professional Development in Accounting while also serving as faculty advisor to the Financial Leadership Society, a student organization for freshmen, sophomores and first-semester juniors in accounting.
Two weeks to the day after being notified about the 2017 Outstanding Accounting Educator Award, Murphy received an email from a 1996 MAcc alumnus who shared a recent connection with a 2014 graduate. Once the alumni made the Auburn connection, they began sharing memories about their involvement with Murphy while enrolled at Auburn. The 1996 graduate ended his email by saying, "Thank you for all you have done for so many, because I am sure there are other Clays and Matts out there. There is no telling how many lives you have impacted through your stewardship. I know you hold a special place for Matt – he said as much – and be assured you hold a special place with me too."
When Murphy read this email on the heels of finding out about her award, she said this was further confirmation that she's in the right profession and had been blessed to have many wonderful children -- her Auburn children.
Late 2015 and early 2016, Murphy was honored by faculty, alumni and friends by the establishment of the Amy B. Murphy Endowed Distinguished Professorship. In April 2017, she was named the Beta Alpha Psi 2017 Outstanding Teacher.