The National Association of State Board of Accountancy (NASBA) Center for the Public Trust (CPT) recently awarded the Campus Being A Difference Award to Beth Davis-Sramek, the Gayle Parks Forehand Associate Professor in Supply Chain Management in the Harbert College of Business at Auburn University. The student Campus Being a Difference award was also given to Catherine Miller, a senior in marketing.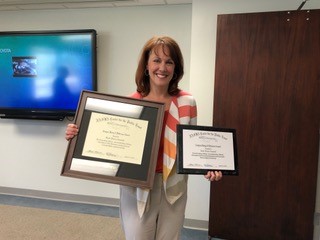 Dr. Davis-Sramek (right) provides students with an interactive environment where ethical business behaviors are addressed. She also creates opportunities for students to network with the business community to develop their professional leadership skills. Her outreach work includes a leadership role in the Elevate Portland Elementary Initiative, which creates productive learning environments for students and provides experiences that encourages a path to higher education and a successful future while embracing the importance of ethics and integrity.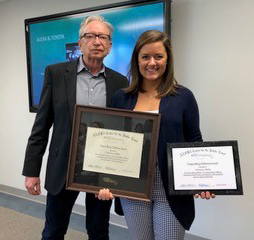 Miller (left, with O.C. Ferrell), from Lake Zurich, Illinois, is pursuing a second major in French. Her leadership roles include membership in the Mortar Board National Honor Society and the Women's Leadership Institute. She is also active in various on-campus activities, including War Eagle Girls, Plainsmen and the Auburn University Housing Department.
These awards were presented at a panel event put on by the Auburn chapter of the Student Center for the Public Trust, which outlined the impact of artificial intelligence on marketing, services and ethics. Dr. Dora Bock, Dr. Jeremy Wolter, Dr. Linda Ferrell and Dr. O.C. Ferrell spoke. "The Student CPT chapter at Auburn is a professional organization that provides students with an opportunity to develop ethical leadership skills that will lead to responsible business conduct. Without this leadership, in today's competitive business environment and with its emphasis on short-term results, there can be ethical challenges," notes O.C. Ferrell, the James T. Pursell, Ethics and Director for The Center of Ethical Organizational Cultures in the Harbert College of Business.
Today, there are 37 student CPT chapters in 18 states. Auburn University is one of only three universities in Alabama to have such a campus organization.
Contact information: Dr. O.C. Ferrell, James T. Pursell, Sr. Eminent Scholar in Ethics and Director, Center for Ethical Organizational Cultures and advisor for the Auburn Student Center for Public Trust, the Harbert College of Business at Auburn University: ocf00003@auburn.edu., Phone: 334-844-2454.