They belittle employees. They take credit for the unit's successes. They are never wrong. They are narcissistic managers, whose ego-driven demeanors often take employee morale and production to dismal levels.
"When you have a narcissistic manager, because of their very strong ego, self-centeredness, and obnoxious behavior, employees are less likely to feel accepted and valued in the work environment," said Lei Huang, assistant professor in management at the Harbert College.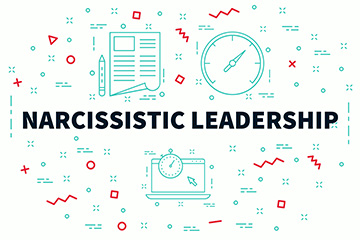 Huang added that employees subject to narcissistic managers feel less valuable to an organization, are less likely to go the extra miles as an organizational citizen, resist requests from managers and poor mouth managers behind their backs. In a co-authored paper, Huang suggested that if narcissistic leaders changed their management tactics and consulted with employees to gain their input on business ideas and strategies, "that can substantially lessen the degree to which employees feel less valuable and accepted," he said.
"Also … we know that narcissistic leaders can be very manipulative," Huang continued. "There are narcissistic leaders who tend to appear nicer in front of employees if they want to take advantage of that relationship. They can deviate from their narcissistic tendencies and instead start to show concerns for their employees."
The paper, "Leader consultation mitigates the harmful effects of leader narcissism: A belongingness perspective," was accepted for publication into the elite management journal "Organizational Behavior and Human Decision Processes." To get a better understanding, Huang and co-authors surveyed employees and managers working at a large technology company in China.
Their findings indicate that when narcissistic leaders deploy consultation tactics, they are likely attempting to present themselves in ways that signal – at least temporarily – acceptance of and concern for their employees. The motivation behind this tactic is that employees are more likely to support and accept leader requests and agendas when they are invited to be a part of the decision-making process.
"As a result, consultation behaviors may motivate employees to somewhat discount their narcissistic leader's typical devaluing and dismissive tendencies," Huang stated. "This whole counter-balancing effect might result in better leadership outcomes, which will subsequently have a positive impact on narcissistic leaders' leadership reputation, or image, in front of others.
"A great example is Steve Jobs. He was consistently considered a narcissistic leader, but not always described in a negative way. When he returned to Apple in 1997, people around him noticed the significant change in Jobs' interpersonal styles at work – from self-centered, authoritarian, and confrontational to more engaging, participative, and conversational. He cared more about his tone. He cared more about involving his people in making decisions. That helped to unleash the talent of Jobs' executive team and eventually transformed the leadership structure at Apple."