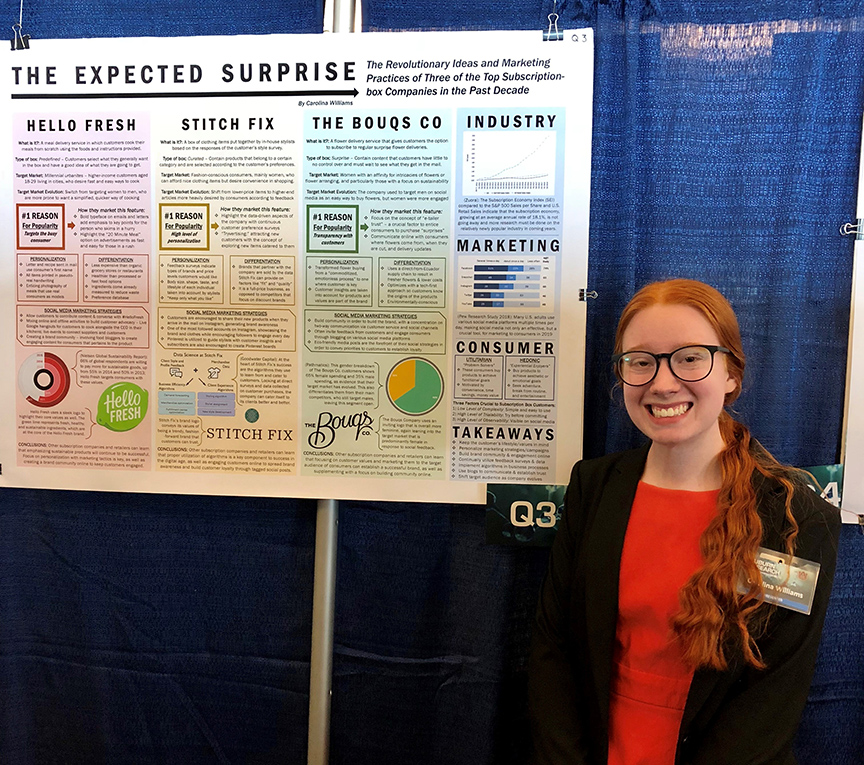 Carolina Williams continued to find advertisements for subscription boxes on social media, but never subscribed to one. The growing marketing tool that pops up on social media feeds and targets consumers based on their e-shopping interests prompted her interest.
"I began to wonder what these companies' marketing strategies looked like," she said.
Williams parlayed that curiosity into award-winning research at Auburn University's 2019 Research Student Symposium. Her work, "The Expected Surprise: Revolutionary Ideas and Marketing Practices of Three of the Top Subscription Box Companies in the Past Decade," suggests that target markets should evolve with a company and that it is important to create a sense of community in marketing strategies so that customers feel connected to the company and remain loyal.
Williams' work was recognized as "Top Poster Presentation" for the Harbert College of Business.
"Dr. (Karen) Hopkins mentioned that not much research has been done on subscription boxes, and that it is a rapidly growing industry so it became the perfect thing for me to research," said Williams, a junior working toward dual degrees in business analytics and marketing at the Harbert College of Business.
Williams began by researching three major companies in the subscription industry (Hello Fresh, Stitch Fix, and The Bouqs Company) and analyzed them from a marketing perspective as to what they have done in this area to contribute to their success in such a competitive environment where customer retention is crucial.
From there, she took a philosophical and psychological approach to consumer behavior, dissecting utilitarian and hedonistic motives of customers and how this contributes toward their likelihood to purchase predefined, curated, or surprise boxes. Williams also examined the companies differentiate themselves, both as a corporation and in marketing practices, as well as detailing the shift in their target markets over time, which she discovered they each had in common upon further research.
"The biggest takeaways from my research were the importance of building a brand community online, continual usage of feedback surveys and data, and the ability to shift the target audience of the product and marketing strategies as the company evolves," Williams said. "The subscription box industry will continue to grow and companies must find a balance between targeting a niche market and trying to appeal to a wide range of ages and genders."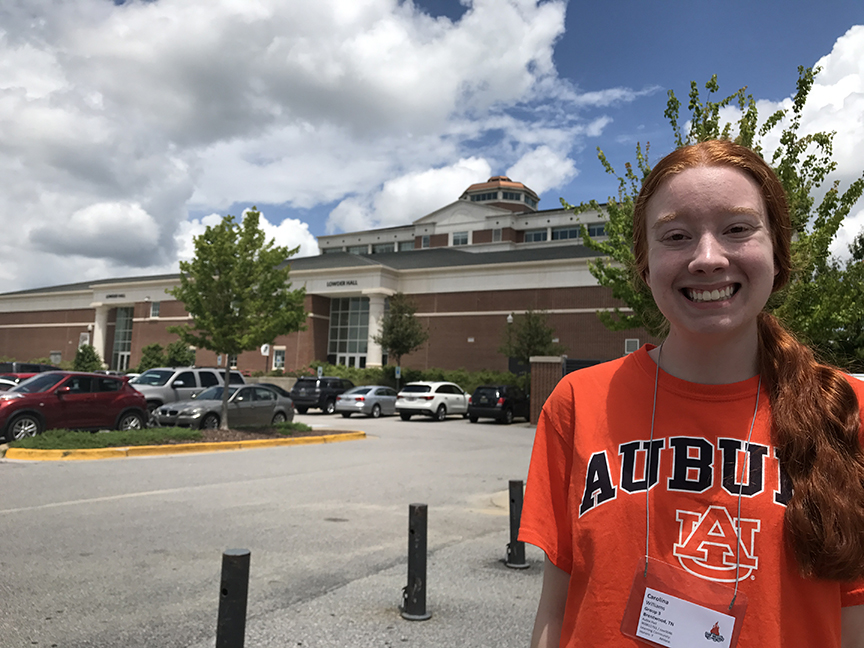 Many won't immediately recognize Williams as the "subscription box research student." However, many will remember her as the incoming freshman from Tennessee that chose the Harbert College of Business over a full scholarship offer from Yale University back in 2017.
Why Auburn? "I liked the freedom in the curriculum," Williams said during a Camp War Eagle visit the summer before her freshman year. "I like that I don't have to choose (a major) immediately, and where I can be pre-business, and have the opportunity to take other classes that interested me."
Williams finds research to be an integral part of a student's education, undergraduate or not.
"I read so many books on new research in fields from science to math to business, but it seems to me that most of the research done by students at Auburn is STEM related," she added. "After hearing comments from people that said they didn't even know what could be researched in business, I absolutely wanted to do research because I know the possibilities are limitless for this field. Changes are happening every day in every industry, and research pushes you to think proactively and make interesting discoveries that anyone can use to help further their work as well. It is an amazing opportunity for an undergrad, and Auburn is a fantastic place to do it.
"I really value the fact that Auburn is such a highly-ranked research university."
The university was given an elite Carnegie R1 research designation in 2018.
Williams, who has sights set on leadership positions at future employers, continues to work toward her degree this summer with an internship at Vehicle Connected Services at the Nissan North American Headquarters focusing on marketing strategies surrounding technology in automobiles and intelligent mobility.
"I am working on several projects this summer that will culminate in a final presentation at the end, and I am so excited to be able to offer insight for and learn so much from this group during my time here," he said. "It is preparing me for my career in the best ways possible by giving me real, concrete projects to work on and allowing me to work 40 hours in an office every week going to meetings, training sessions and projects – all of which have proven to be tremendous resources and learning experiences."