Pei Xu likened big data to an "oil pipe" of information.
"We are overwhelmed with raw data – but we are also starved for knowledge," the Harbert College of Business assistant professor of business analytics said of today's high-volume flow of business trends and statistics. "We have all of that data coming through the oil pipe into your warehouse, but will you make use of it and become more competitive? That's why we need business analytics majors."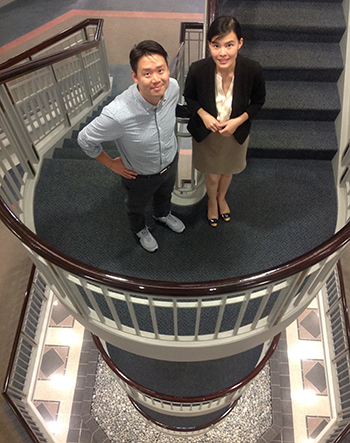 In its second year, the Business Analytics program at Harbert College continues to prepare students for careers that use data to support strategic decision making. Students in the program will master the management of data, discovery of patterns in data, the development of predictive models – then use these models as guides in decision making.
That's why the college made two additions, Kang Lee (left) and Xu (right), to its staff for the fall semester. Lee recently earned a Ph.D. in Business with a concentration on Business Analytics from Tennessee. His research focuses on consumer analysis, market penetration and new product development. Xu, who recently earned her Ph.D. from the University of Kentucky, has focused research on applying analytical techniques to e-commerce and its customers.
"Both bring the ability to effectively evaluate a wide variety of business issues by using data to apply quantitative techniques for decision-making," said Joe Hanna, Associate Dean of Research and Outreach, and Regions Bank Professor of Supply Chain Management. "This is critical not only for building a high quality degree program in Business Analytics but also for equipping all of our students with the necessary quantitative tools and techniques to apply to industry problems."
Lee, a native of Korea who comes from an educator/doctorate-rich family (Ph.Ds from Harvard, New York University, Southern California, Hawaii, and Wisconsin) teaches Business Analytics Part II, of which he says "the material presented in class strikes the right balance of rigorous analysis and strategic relevance."
Xu, originally from southern China, earned her masters at Beijing University and teaches Business Analytics Part II and predictive modeling, which is offered mostly to graduate students and seniors.
"I want them to form a general idea of what business analytics is and eventually form a certain kind of analytical thinking, so when a problem comes to them, they will know how to solve it," Xu said of Business Analytics II. "What kind of method are they going to use? What kind of conclusion are they going to draw? How are they going to interpret the statistical results?"
She believes predictive modeling will allow for more "hands-on practice" and "boost students' competitiveness in the job market."
A recent McKinsey Global Institute study estimated that by 2018, the U.S. will face a potential shortage of 140,000 to 190,000 professionals with sharp analytical skills – as well as another 1.5 million managers and analysts who understand how to apply big data to effective decision-making.
"You (employees) need to have a domain knowledge of business and also you need to be able to communicate your results with your manager," Xu said. "That's the strength of students in business school – they have certain domain knowledge. They understand the business problem and match the problem with the analytics model and communicate."
Lee also warned about the mistakes of misreading the data.
"Big data can become a big problem," he said. "For example -- the risk of false positives. To avoid making such mistakes, understanding the models and checking their assumption (condition and limitation) are critical."
Hanna said the college strives to be engaged with industry and thought leadership in the marketplace, and producing highly sought-after graduates.
"Since we announced the creation of a business analytics program (2013), we have had a number of companies express interest in building a relationship with us, starting analytics internship programs, and hiring graduates of the program," he said. "Recent industry trends indicate that demand for analytics professionals is currently on the rise. Students choosing analytics as a business discipline are likely to have a bright future ahead of them as data proliferation has significantly increased the demand for graduates with good analytical capabilities."
For more information about Harbert College's Business Analytics program, contact Hanna at hannajb@auburn.edu or (334) 844-6848.