It reflects the future of a college that is preparing to soar. It affords a place for our students to gather, to study, and to dream."
Jim and Ann Benoski love their family and they love Auburn.
Both have been a big part of the Cincinnati, Ohio, couple's lives and both are big reasons why the courtyard that bridges Lowder Hall to the new Horton-Hardgrave Hall bears their name.
The Benoski Family Courtyard was officially dedicated on Thursday, September 12, 2019, before family, friends and Harbert College of Business administrators.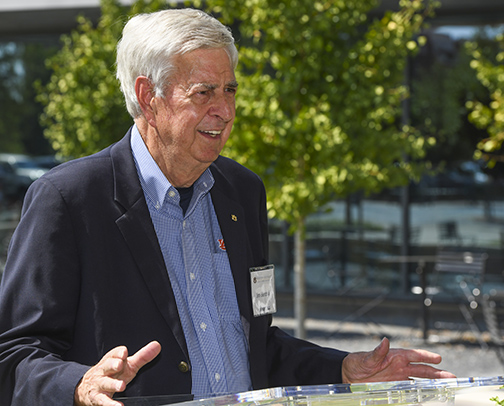 "This courtyard is really beautiful," said Jim Benoski, who earned a degree in business administration in 1960 from Auburn University. "This is really a dedication to my parents, who didn't have the opportunity to go to high school." Jim's parents, Joseph Sr., and Rose Benoski, were children of European immigrants. Though they did not attend high school, they made sure their sons, Jim and the late Joe Benoski (class of 1955), received a college education. Joe Benoski became a lieutenant colonel in the U.S. Army, and was a casualty of the Vietnam conflict.
Jim Benoski enjoyed a long career with the Cincinnati Financial Corporation, a Fortune 500 company. He joined the company in 1971 before retiring in 2008 as President, Chief Operating Officer, and Chief Insurance Officer.
"We love Auburn," Jim Benoski. "When I came down (from Birmingham, Alabama), it was because my brother was already here. We grew to know a lot of people and it became a place that brought us so many great memories that we kept coming back."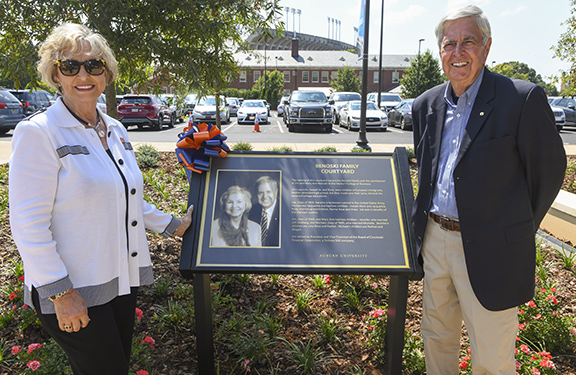 Wanting to get further involved with Auburn University and the Harbert College of Business, Jim Benoski said he wanted to make a difference at a location that involved students. The Benoski Family Courtyard is just that – home to multiple events for students, including the annual Business Bash, Majors Fair, and Back to Business Barbecue.
The courtyard is bordered to the north by a picturesque cascade of concrete steps that are adorned by The Auburn Creed. Four rose bushes, to the south border, share a special purpose. "My mother was Rose, we have a granddaughter Rose, and two great-grand daughters named Rose," Benoski said. "I asked they plant four rose bushes in honor of the Roses in our family."
"This courtyard, which is positioned perfectly between Lowder Hall and our new business building, bridges our past and our present," said Harbert College of Business Dean and Wells Fargo Professor Annette L. Ranft. "It reflects the future of a college that is preparing to soar. It affords a place for our students to gather, to study, and to dream."
Giving is a great opportunity to help people who really don't have the financial wherewithal and help bring in top professors, and top professors will help bring in the top students."
Jim and Mary Ann Benoski, who have enjoyed 58 years of marriage, have two children, Jennifer, who married Jeff Lindberg, and Michael, a 1989 Auburn graduate. They are the proud grandparents of four, Julia Rose, Rachel, Nathan, and Abigail.
"I saw an opportunity to make a little bit of a difference at Auburn," Benoski added. "Giving is a great opportunity to help people who really don't have the financial wherewithal and help bring in top professors, and the top professors will help bring in the top students. It was an opportunity to help the school."