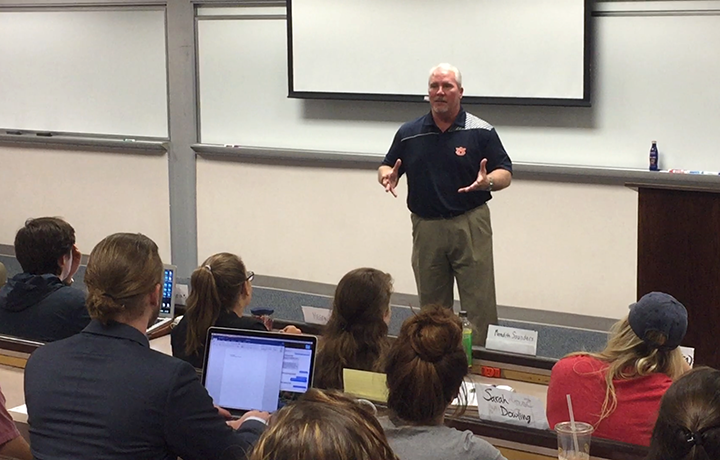 The Atlanta Braves wanted a new stadium. Throw in a mixed-used development with a 10-story office building, 600 high-end residences, a retail plaza and a 16-story hotel on 55 acres. And, oh, by the way, this entire package would need to be complete in 26 months.
Enter Rob Ragan and New South Construction.
"The biggest challenge to this project was the schedule," Ragan, the company's Vice President for Business Development, said of SunTrust Park, scheduled to open in 2017 near the intersection of Interstates 285 and 75 in Cobb County, Ga. "When we started, it was a very fast-paced deal. The design was not 100 percent complete and there was a lot of decision-making that had to happen. It probably wasn't happening as fast as we wanted it to. Those create challenges when you're building. At one point when we were doing deep foundations, we said, 'Ok, you can change anything you want but you can't change the footprint of the building.'"
Today, the concrete outline of the stadium, surrounded by giant cranes, is clearly visible from the adjacent highway.
Ragan took time out of his schedule to speak to Danny Butler's marketing classes at the Harbert College of Business on November 13.
"The biggest thing about marketing is building relationships," said Ragan, whose company is behind the construction of a variety of projects, including buildings for Delta Airlines, Coca-Cola, and Georgia Tech. "Relationships is the number one thing in business. Most of our marketing is on the front end, but we also develop materials (animated models) for the Braves to show the public. You can go on their web site and see."
Ragan said the 41,000-seat stadium will feature 4,000 premium seats, compared to Turner Field's current 400. "The beautiful thing about this stadium is there are basically 10,000 fewer seats and about 6,000 more parking places," he said. "The other thing that's really good is when you go to Turner Field, there is literally only one way to get there. There are 14 different access points to SunTrust Park.
"Every new stadium is a world-class stadium and this is no different. ComCast is moving into the adjacent office building, so they're a partner. Your (WiFi) connectivity speed, the terabyte that they are putting in, will be instant."
But with any major project come challenges.
"There was a group of people in Cobb County who were not excited about it obviously," Ragan noted. "Once people realized that it's not their actual tax money going up, and the amount of revenue that this endeavor is going to bring to Cobb County – the millions and millions of dollars -- it will bring in far outweighs what's going out."