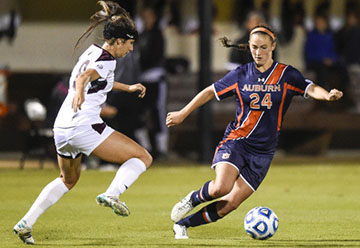 Student-athletes need a plan. Not just to succeed on the playing fields, but to find the perfect balance of studies and workouts. Just ask Casie
Ramsier
.
"I made sure I knew what I had to get done that day, what was due that week, and what my soccer schedule was going to look like," said
Ramsier
, a senior in
accounting
and All-SEC midfielder on the Auburn soccer team. Sometimes it's easier to just want to sleep after practice, but getting your work done first will pay off in the long run."
Ramsier
, who was named an Academic All-American and carries a 3.94 cumulative GPA, will represent the H
arbert College of Business
as its graduation marshal at the August 6 commencement. She blended her academic prowess with a dynamic soccer career, leading the Tigers in goals (12) last season as Auburn went 16-6-1 and reached the third round of the NCAA Tournament.
Ramsier
, who said she wanted to be a veterinarian before she "realized it would require more than just playing with animals," hopes to one day become a chief financial officer or managing director of an investment fund. But first, the plans to further her education within the
School of Accountancy
by pursuing a
Masters in Accountancy
, beginning this fall.
"(To prospective students) I would recommend the Harbert College and School of Accountancy because they offer the best resources and faculty to help students succeed," said Ramsier, who recently completed an internship in risk assurance at PwC in Dallas, her hometown.
"The professors (at Harbert) like what they do, they share their passion with students, they know what they are talking about, but most of all, they care about the success of their students. They are always there to help the students achieve their academic goals."