It's been a long day, you're ridiculously hungry and you can't wait to sink your teeth into some waffle fries. You pull into the drive-thru and a familiar sound chirps through the speaker. "It's a great day at Chick-fil-A! It will be my pleasure to serve you!"
You spent the majority of your afternoon serving others. Suddenly, something as simple as a friendly voice that desires to serve you makes you feel welcome, appreciated and valued. Just like that, your day gets better.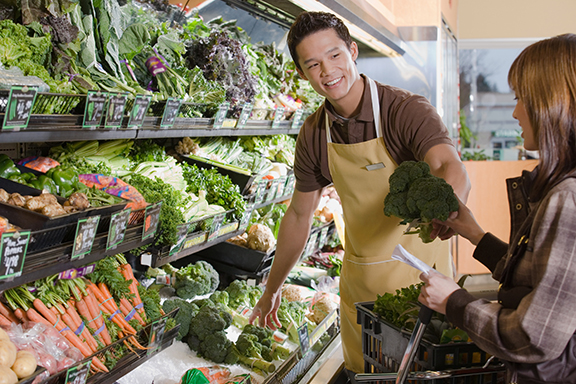 Grocery shopping can be difficult, especially when your arms are already full, you're tired, or you've got three adventurous toddlers pulling at your legs. You make it through the checkout aisle at Publix, your cart is full, you've got a sore foot and an employee smiles and says, "Would you like for me to take these grocery bags to the car for you?"
You didn't ask for help. Valet grocery service was flat-out offered. You are taken care of, appreciated, and you want to go back.
Chick-fil-A and Publix are masters of the art of consumer gratitude. "Gratitude is contagious and it has the pay-it-forward effect," said Dora Bock, associate professor of marketing at the Harbert College of Business. "When somebody feels another has been grateful, they want to reciprocate. Firms need to provide to customers the opportunities to reciprocate."
Her co-authored paper, "Gratitude in service encounters: implications for building loyalty," surveyed 900 consumers and confirmed a theme of reciprocity – "'informants' desire to benefit their benefactor."
"You're encouraging positive employee behaviors to make customers feel appreciated. It's not going to hurt your bottom line. It's going to improve it."
"I think it is the best way to do business because it creates a mutually beneficial, long-term relationship," said Andrew Barnes, who became a Chick-fil-A franchisee in 1992 and earned his MBA from Harbert College in 1997. "I think it is strategic. Founder Truett Cathy probably said it best, 'He who serves best, profits most.'"
"We believe that there are three ways to differentiate: service, quality and price," Publix President Todd Jones told Forbes magazine. "We make service our number one, then quality and then price."
"Being nice" is also cost-free advertising. "It's much more expensive, from a firm's perspective, to try and gain new customers rather than satisfy and keep your current customers happy," Bock said. "Financially, a firm is much better off retaining and using its current customer base. Think about word of mouth. If your current customers tell other customers that … the snowball effect can really help a business grow."
Bock and her co-authors also examined the difference between consumer gratitude and consumer satisfaction, which often go hand-in-hand. "Satisfaction is when the product you purchased met your expectations," she said. "Gratitude is 'they made me feel good about being there.' We found that gratitude affects loyalty just as much as satisfaction does -- if not more."
And loyalty effects the bottom line. Not only was Publix rated "Highest in Customer Satisfaction" for five consecutive years by J.D. Power & Associates, but Publix's net earnings for 2016's first three quarters eclipsed $421 million (compared to $412 million in 2015), making it safely among the nation's most profitable grocery chains.