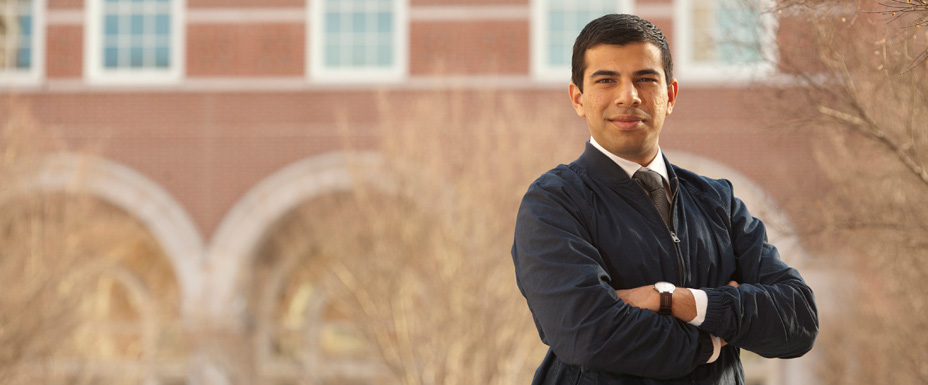 Azeem Ahmed, a 2014 Harbert College graduate in finance, is one of two Rhodes Scholarship finalists from Auburn University.
If chosen, Ahmed and Tofey Leon, a senior in biomedical sciences from Mobile, will be among the 32 U.S. students to have an opportunity to study at the University of Oxford in the United Kingdom.
"These two Auburn students have excelled throughout their academic careers," said Melissa Bauman, Auburn University assistant provost and director of the Honors College. "Through their commitment to their academic studies, their dedication to their athletic and leadership activities, and hard work, they epitomize the Auburn Creed. Their success would not have been possible without the support and guidance of the many Auburn faculty and staff who have taught and mentored these students to help them reach this honor. We are thrilled about the possibility of adding the Rhodes Scholar distinction to their list of accomplishments."
Awards are nothing new for Ahmed, who hopes to one day pursue a career in medicine. Ahmed became a Truman Scholar in 2013, earned the Worldwide Clinton Hunger Leadership Award in March, and accepted the university's President's Award in April.
Ahmed has served as president of the Committee of 19 – Auburn University's War on Hunger Initiative – and has been vice-president for the Campus Kitchens Project. In 2011, Ahmed traveled to Egypt as a U.N. World Food Programme intern, where he conducted more than 40 field visits and helped certify enough mills to produce more than 250,000 tons of vitamin-enriched rice.
If selected, Ahmed plans to read for a double masters of science in medical anthropology and global health sciences.
The Rhodes Scholarship, one of the oldest in the world, is awarded to students with proven intellectual and academic achievement, integrity of character, qualities of leadership and proven respect for their fellow humankind.