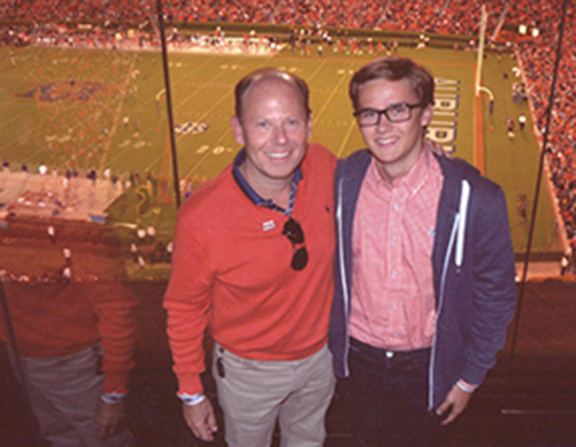 Ron Sanders is President for Warner Bros. Worldwide Home Entertainment Distribution, where he oversees the global distribution of home entertainment products from Warner Bros. Pictures, Warner Bros. Television and Warner Bros. Interactive Entertainment. He is a 1982 graduate of Auburn University with a degree in marketing. Sanders, shown here at the 2014 Auburn vs. LSU football game at Jordan-Hare Stadium with his son, Rob, is a member of the 1856 Society, has served on the Harbert College of Business Advisory Council, established the Ron Sanders Study Abroad Fund and serves on the Business Campaign Committee.
Q: Why did you choose your profession?
A: I have an interesting role at the intersection of the entertainment business, with a foot in both sides of the creative/commercial divide. I have always enjoyed movies and television, and even enjoyed several years of acting (mostly theater) through high school. When I arrived at Auburn, my focus turned to studying business and I ended up joining Procter&Gamble for almost a decade. I got the opportunity to join Warner Bros., and the appeal of combining my business training with the excitement of entertainment was too irresistible. I've been at Warner ever since, and enjoy it immensely (25 years and counting…).
Q: Why do you give back to the Harbert College?
A: Having a business degree from Auburn provided me with the foundation I needed for a successful career and I want to help bring that opportunity to others. I engaged in the campaign because I believe the Harbert College of Business focuses on student success and college affordability, the criteria Forbes used in naming Auburn to its "10 Colleges to Watch" list. Two things motivated me to step up now: 1) The naming gift by the Harbert family with its matching component means everything I give will have an added impact, and 2) I was able to endow a study abroad program that was close to my heart since I've worked internationally for 20 years.
Q: What's the best advice that you ever received?
A: I think one of the biggest challenges of our work lives today is that we are always connected, and that constant access results in constant stress. A boss at Procter&Gamble once told me two rules to follow to stay stress free: 1) Don't sweat the small stuff. 2) It's ALL small stuff…
Q: What was your first job?
A: My real first job was when I was 12 years old, and had a regular job picking up golf balls on the driving range for the country club that my parents belonged to. I ended up working at that club in various jobs all through high school and college, and it was an interesting balance since sometimes I would show up as a member to play golf, and other times I would be there as an employee to serve the members. It was a great lesson in empathy and staying grounded. I think hard work is a wonderful hedge against an entitled attitude.