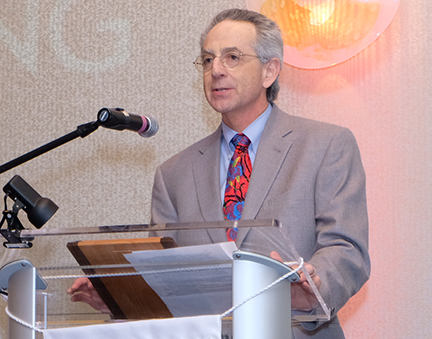 Following a vote of the American Academy of Advertising members, Auburn University Alumni Professor Herbert Jack Rotfeld has been named a Fellow of the international organization. The award recognizes an individual's lifetime achievement in the advancement of advertising scholarship, as well as advertising education and service to the academic discipline.
Rotfeld coined the phrase "misplaced marketing" and turned it into a well-received, scholarly book. His essays and commentaries in journals and business magazines on advertising practice and consumer views are some of the most respected in the discipline. His decade-long service as editor of the Journal of Consumer Affairs is widely acknowledged. But his dedication to the American Academy of Advertising -- leading in a variety of capacities, including terms as president, treasurer, and publications committee chair, plus serving on many committees spanning his 40 years of membership -- is revered by its members.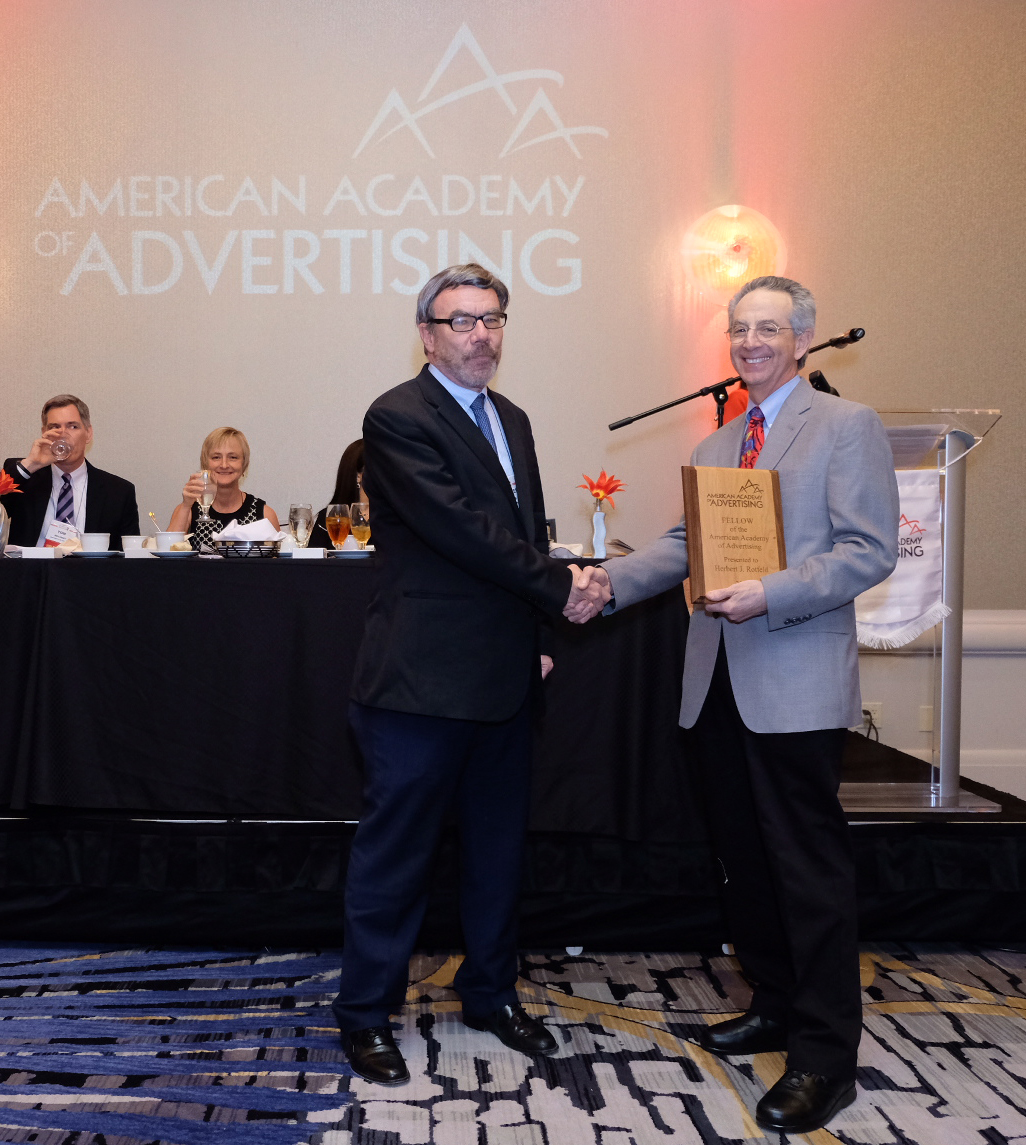 "I know of no one who has rendered more quality service to our field," H. Keith Hunt professor emeritus in business management at Brigham Young University, wrote of Rotfeld.
For his considerable achievements as a marketing and advertising scholar, researcher, author, professor and service to the profession, Rotfeld (pictured with presenter Ray Taylor, a professor of marketing at Villanova) was awarded at the AAA's annual conference on March 17-20 in Seattle.
The AAA regards election as a fellow as its most prestigious honor, based on all of the following criteria:
Research: Principal responsibility for publication of significant contributions to advertising scholarship in recognized journals or in book form
Education: National recognition as having contributed notably to the value and importance of advertising education
Service to the Academic Discipline: Significant service contribution to advertising education at the college, university or professional level.
"This is a great honor and I still don't believe it actually happened," said Rotfeld, who first joined the Harbert College of Business faculty in 1988, having taught more than 5,000 students over the years.
"Prior to the awards luncheon, many people came up to tell me of conversations they had about me during the prior day and morning of the conference: constant praise of how I was an influence that I never knew or realized," Rotfeld said.
Rotfeld's authored book "Adventures in Misplaced Marketing" in 2001, is a collection of analysis and case examples from his research, dealing with the realities of marketing and its limitations, including a chapter on the real reason for bad advertising.
"Professor Rotfeld's research and writing have garnered him the reputation of being a preeminent critic of marketing," wrote Trina Sego, a professor of marketing at Boise State University. "However, he is a critic not because he dislikes marketing, but because he loves it; he wants to make it better."
Previous notable AAA Fellows also include:
Charles Allen, former dean of Northwestern's Medill School of Journalism.
Don Belding (started in 1930s and 1940s with noted advertising agency Lord & Taylor; Lord & Taylor was turned over to its top three managers, who created Foote, Cone & Belding, one of the largest global advertising agency networks)
Sidney R. Bernstein – Senior editor, Advertising Age; defender and supporter of advertising education, attending and participating in all AAA conferences for many years, chastising business press for their failures to report on AAA or advertising education.
Ivan Preston, a late Wisconsin professor emeritus whose work was used to revise part of the Uniform Commercial Code in the 1990s
Charles Sandage, namesake of the Charles H. Sandage Department of Advertising in the University of Illinois' College of Media, where he built the advertising education program in the mid-20th century
Esther Thorson, associate dean for graduate studies/research at the University of Missouri School of Journalism
Rotfeld attributes his success to a pair of mentors along the way.
"The connection to advertising happened with me through the man who was my teacher, advisor and friend, the late Kim Rotzoll (University of Illinois and fellow AAA fellow member)," he said. "Kim referenced me as the most naturally-curious person he ever knew, and since advertising is all around us, it constantly provided me with new questions to try to answer.
"The late Ivan Preston, a Fellow and the AAA's most acclaimed member of modern times, also claimed me as his student, though I was never in his classes or studied on his University of Wisconsin campus. His life always stood as an example of the difference between faculty who just publish research as a job and true scholars who track down interesting questions wherever it might lead."
Rotfeld was awarded the Kim Rotzoll Award for Advertising Ethics and Social Responsibility in 2006 and the Ivan Preston Award for Outstanding Contribution to Advertising Research in 2000. He was also a recipient of Auburn University's American Association of University Professors (AAUP) Glenn Howze Academic Freedom Award in 2011.
"All three are named after the legacy of my friends and mentors in different areas of my work," Rotfeld added.