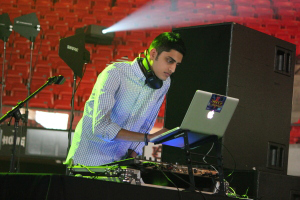 Laptop with Excel software? Check. T1503 calculator? Check. Intermediate Accounting textbook? Check. Turntable with loudspeakers? Check.
Sagar Leva (aka DJ Sagz), a junior in Auburn's School of Accountancy from Monroeville, Ala., is a popular disc jockey – playing gigs from fraternity houses on campus to parties in Los Angeles and Chicago. "It's the energy from DJ'ing that I really like," said Leva, who began his hobby eight years ago as a 13-year-old. "I love being able to play the newest music with the oldest music and seeing a crowd come off of that energy for the night."
DJ Sagz has worked with popular artists Soulja Boy, Wacka Flocka, B.o.B, Jay Sean, and is Director for Major Entertainment for Auburn's University Program Council.
Sagar Leva has a dream of "climbing the corporate ladder," and one day becoming a partner at a firm. He took the first step toward achieving that dream this summer, working as a risk advisory intern at EY in New York City.
"Hopefully, this will be a foundation for me," he said. "I wanted to gain experience and see what it's like being out in the work field. I've learned much in my accounting courses, but it was particularly eye-opening to apply those skills and see how it works day-to-day for a couple of months."
Leva, who is active in the School of Accountancy's Beta Alpha Psi honorary organization, appreciates the opportunities presented to him and other members, particularly through Meet the Firm events, where firm representatives mingle with students and prospective interns, and weekly BAP meetings, where professionals visit and offer advice and direction.
"Every week we have a different firm come in and talk about a different topic," he said. "Not only do you get to interact with a firm, but you also get to see third-views on a certain topic or if they're helping you. They say, 'here's what your resume should look like,' 'here are the processes to get an internship,' or 'here is what the accounting culture looks like.' You really get an in-depth feel on everything before you intern or get your first job – and you meet a new firm every week."
Leva's accounting skills are paying off professionally. "Being able to control my own business and understand my business is valuable," he said. "Instead of showing up and just doing my set, I'm able to understand the business behind it."
DJ Sagz's stage skills help his accounting exploits. "The personable skills have helped -- being able to talk with people, interact with a large crowd, being able to go up to someone and talk -- those are skills that I've picked up as a DJ," he said. "When you're doing a wedding, you don't know anyone but you're able to talk to the bride and groom, understand what they want and deliver that to them. I feel that it would be a transferable skill in the accounting world. It helps me multi-task, organize and prioritize."
Before Leva graduates with a degree in accounting, he must navigate another year as student and professional DJ.
"Typically, I choose not to accept any show requests until I have my syllabus for all of my classes," he noted. "Then I put in my calendar when I have tests, projects and big dates, and then work my shows around that instead of picking my shows and working my school around that."