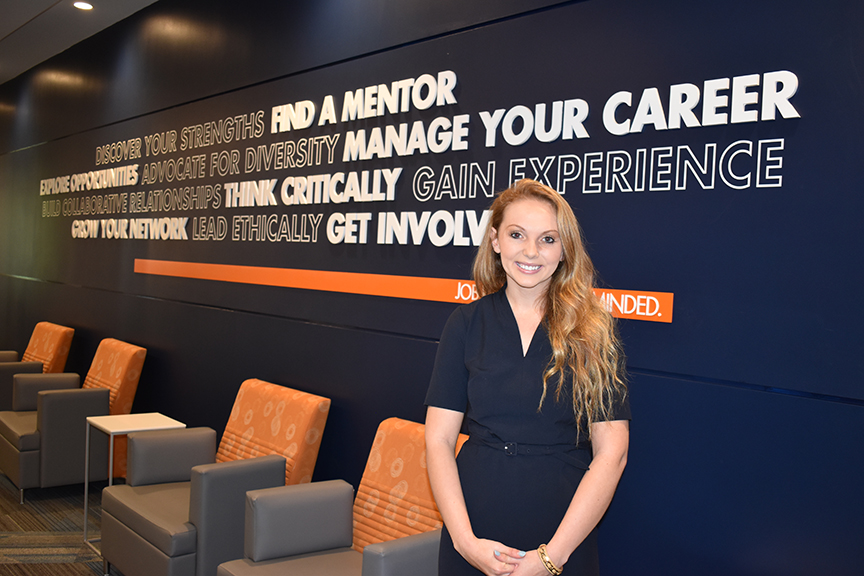 FMA does a really good job of equipping students and giving them all of the resources they could possibly need. If you have the drive and motivation, there's no reason that you shouldn't reach Wall Street."
When Auburn Director of Financial Leadership Programs Tracy Richard was asked to describe Jenny Herrell, a junior in finance, she didn't hesitate. "She's amazing, driven, reliable, and she's loyal," Richard said emphatically. "She gets involved and encourages dedication from every other person she comes in contact with."
Why is Herrell, Chief Investment Officer of the Auburn Student Investment Fund and FMA Vice President, so driven? The Madison, Alabama native couldn't put a finger on it. But give her a financial model to solve, and her interest is piqued. "Figuring out how to solve a model, I know it's super nerdy, but it excites me more than anything," she said. "I could be up until 2 or 3 a.m., but when the answer clicks – it's an amazing feeling. Seeing this happen for younger students -- and knowing that because you sat down with them on a Saturday and grinded through a model -- because of that they get it and love it, too. That's something I'm going to miss the most when I leave Auburn."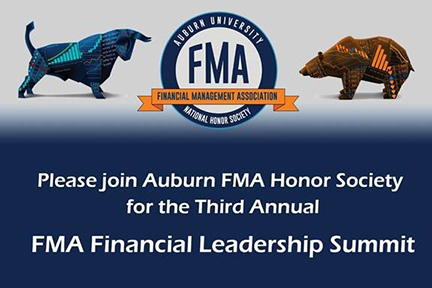 When Herrell graduates next May, she leaves her place in Harbert College of Business history. Not only is Herrell Auburn University's first woman accepted into the nationally acclaimed Girls Who Invest internship program, but was also the first Auburn University student accepted into Point72's hedge fund internship on Wall Street. Less than one percent of all applicants are accepted into the Point72 program.
"The exposure to the financial world, the opportunity to cultivate industry expertise and skills, and the overall learning about the different facets of career opportunities within finance was paramount to my ability to not only further develop my interest, but also realize what I wanted to do," she said of the programs.
Herrell spent the summer of 2018 at Girls Who Invest, including an intensive, four-week asset management training program at the Wharton College of Business (University of Pennsylvania). She was later matched with an internship at PGIM in Atlanta, the investment management agency of Prudential Financial, where she worked as a rotational summer analyst, focused on real estate investing.
"The quantitative skills that I was able to cultivate were huge," said Herrell. "But, more than anything else, it did a lot for my confidence. Being the first woman from an SEC state school to attend Girls Who Invest – I was so sure that I was going to be behind. But being surrounded by people who went to Harvard, Yale or Princeton, and feeling like I was just as capable as they were … was amazing.
FMA offers countless older members, alumni, and industry professionals who serve as mentors and have paved the way for other students' successes – including mine."
"Having this stamp on my resume … I am able to apply for jobs and internships and be able to say, 'I made it through Girls Who Invest. I was good enough for them, and with enough hard work, I can be good enough for you too.' This did a ton for my ability to network and pursue opportunities."
Point72, a discretionary hedge fund in New York City, came calling in 2019. The internship, also called "The Academy," is a pilot project on Wall Street where hedge funds recruit undergraduate students directly out of college, rather than following the typical protocol of recruiting young professionals who have completed two years in investment banking.
"They pay you to learn," she said. "And you're placed on a team to work in an investing environment."
However, none of these opportunities would have been possible without the FMA's preparation. In fact, Herrell's interest in the FMA at Auburn was immediate.
"When I came to Auburn, I heard all of these great things about the Student Investment Fund and FMA, and I got plugged in," she added. "FMA offers countless older members, alumni, and industry professionals who serve as mentors and have paved the way for other students' successes – including mine. More importantly, Tracy has continually served as my biggest advocate and sounding board – she actually sent me the application for Girls Who Invest. If it were not for her, FMA, and the feats so many of its members have reached through its program, would not be possible."
The FMA is celebrating its fifth year, hosting its annual Summit this Friday and Saturday -- a homecoming of sorts for its alums.
"It's so fun whenever the alums come back," Herrell said. "Seeing them and where they have progressed in their careers, that's the coolest part. They are advancing in their careers, earning higher titles and accomplishing things, and all the while, working to give back to the program."
"FMA does a really good job of equipping students and giving them all of the resources they could possibly need. If you have the drive and motivation, there's no reason that you shouldn't reach Wall Street."