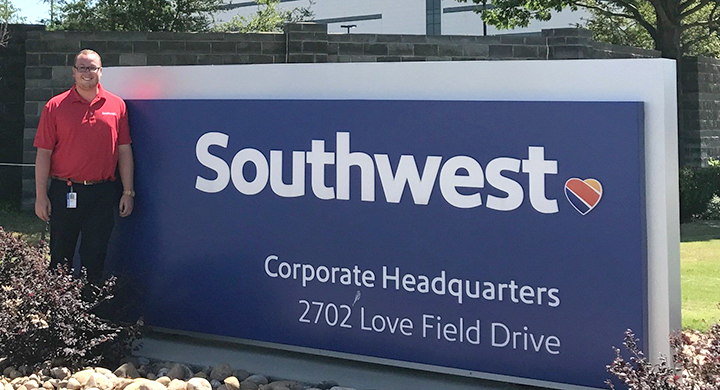 Why should a student participate in multiple internships before they graduate? Let Timothy Strader, a senior in Finance at the Harbert College of Business, explain.
"It is basically doing research on what the perfect career for you will be and the more diversified your experiences are, the better informed you will be when it comes time to decide what you want to do when you enter the business world," said Strader, who interned this past spring at Southwest Airlines in revenue management and is using the summer to intern at J.P. Morgan's Los Angeles office as global wealth management analyst.
"It is important to have multiple internships because it lets you explore different parts of the industry and how different companies work."
Strader learned firsthand from both of these internships. At Southwest, "I was in charge of managing the seat inventory to generate more than $10 million in revenue from four Midwest flight markets," said the Newport Beach, Calif., native. "I also conducted a study to measure the revenue impact from travel of NFL home games on a city."
Before he begins his senior year at Auburn, his summer duties at J.P. Morgan include running performance reports for high and ultra-high net worth clients and assisting bankers with day-to-day activities.
Strader, who said he has an offer from Southwest Airlines after graduation in May of 2018, credits Harbert College's Office of Professional and Career Development (OPCD) for playing a role in him landing these opportunities. The OPCD provides students with resume and cover letter preparation, interview coaching, a number of training opportunities that enhance a student's job prospects, and hosts meet-and-greets with industry professionals, and career fairs.
"The OPCD exists for students to use. It's that simple," said Strader, who initially applied to Auburn University to major in architecture. "Using any and all of their resources are very beneficial and you will get out of it what you put into it. If a student isn't using the OPCD, they are missing out on a resource that makes life so much better. Using the OPCD while applying to jobs and internships takes away some of the stress and helps prepare you for anything that could be thrown your way."