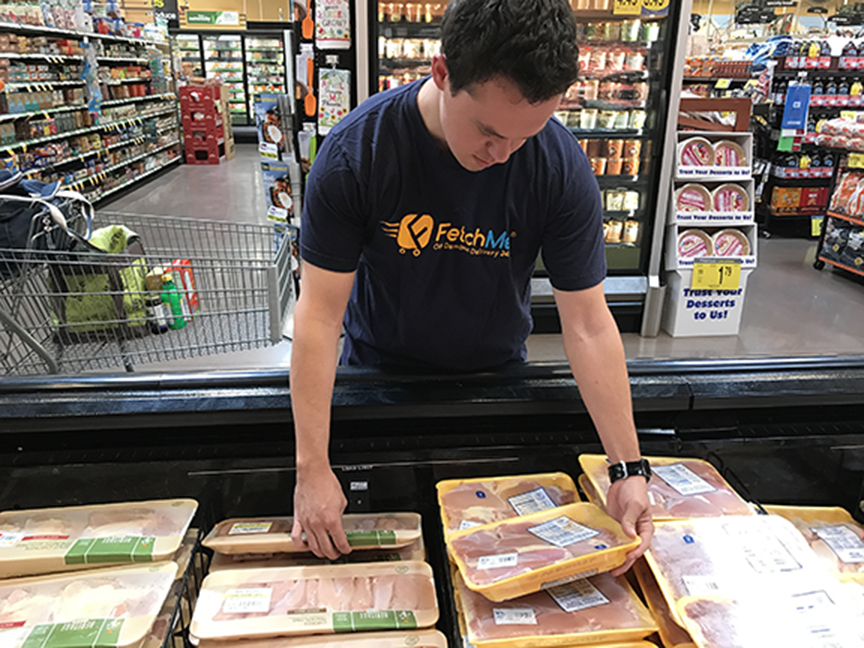 Harrison Evola awakened one Saturday morning in his Oakton, Virginia, home craving a bowl of cereal. The 16-year-old filled a bowl with Cheerios, then opened the family refrigerator in search of milk.
"But there was no milk," he explained. "I was home alone that day and I had no car. I had already poured this bowl of cereal and I was like, 'if only there was a service that could deliver milk, or other goods from the store.' Over the years, I kept finding a need for such a business. Then last year, I decided that I could either act on this dream I've been having or I let it pass me by and ask, 'what if?'"
With that, FetchMe delivery service was born. Evola, now a 22-year-old senior in entrepreneurship and family business in the Harbert College of Business, and his team of seven "fetchers" receive grocery and restaurant orders via the business' web site and mobile app and deliver them to customers in Auburn.
FetchMe provides marketing services to assist local businesses with extending their reach in town. "We've received late night orders from Insomnia Steak & Grill as well as morning coffee from The Bean," Evola said. "Somebody even ordered chicken broth the other day. We also received birthday orders from Gigi's Cupcakes; our courier service allows for deliveries from anywhere provided the items are relatively small in size and we can get it."
FetchMe already has delivery relationships with a number of Partnerships in Auburn, including Ming House, Zoe's Kitchen, The Bean Coffee Shop, Bizilia's Cafe, Insomnia Steak & Grill, and more. But grocery shopping is also a big seller, whether it's Kroger, Publix, Wal-Mart or Winn-Dixie.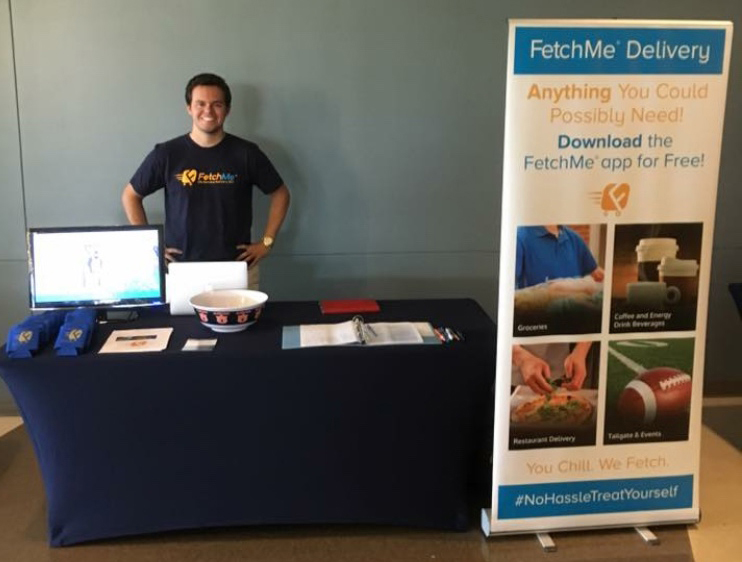 Evola said he has marketed heavily toward college students, who are often busy with studies and/or projects. But students aren't the only ones with their hands full on a daily basis. "FetchMe has helped families who were at work," Evola said. "There were times when a family can't stop to get lunch. Or our customer was at work and you thought, 'oh, I've got to get groceries before I go home.' Now, they were able to order them through our web site while they were at work and it delivered their order to either their workplace or home. It really benefits anybody who is short on time and allows our customers to do their everyday activities without being interrupted."
How does it work? Fetch makes the initial purchase through the respective merchants and that total – plus a $3.99 delivery fee – is recovered upon delivery. Deliveries made outside a three-mile radius of Samford Hall increase by $1 per mile.
"Our average delivery time is 34 minutes," Evola said. "Customer service and speedy deliveries are some things that we pride ourselves on."
These were some of the principles Evola learned while working under Papa John's Pizza franchisee Andy Freitas in the Washington, D.C. area before moving to Auburn.
"Working at Papa John's, I enjoyed connecting with the customers," he said. "They were getting a good product and I was being genuine. I worked my way through Andy's corporate office and now I know how corporate franchise offices are run. I've seen how it works, what the strategies are, the culture – I take care of my employees and I take care of my customers. Those are things I learned from my time working with Andy."
Evola said he is also in a very unique position to immediately apply what he learns in the classroom. "Because I'm a student learning how to grow a business, scale it, and manage employees, I can take something I learn today and apply it to my immediate business," he said. "I surround myself with good, like-minded people who see the vision for my business."
He credited Harbert College Dean Bill Hardgrave, Lakami Baker, management professor and Managing Director of the Lowder Center for Family Business and Entrepreneurship, and Michael Kincaid, lecturer in the Department of Marketing, for reaching out and offering advice. "Everybody has been helpful and supportive in my endeavors," he added. "That's what the Auburn spirit is all about."