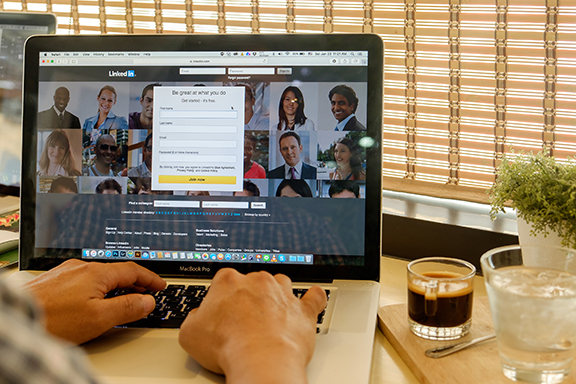 Adam Blair bemoaned his displeasure about advertisements on apps and encouraged brands to find more effective ways to reach consumers and received more than 14,000 views. Chase Alvord brought attention to the rise of pop-up shops and their impact on the commercial scene – earning not just more than 11,000 views but also 3,197 likes, 101 comments and 554 shares. Rachel Knight discussed why people should use Instagram to pursue passions and received nearly 1,800 likes.
These aren't stories found on mainstream media web sites. They are long form-posts written by Harbert College students on LinkedIn.
"Hiring managers see that you are engaged in the industry, and that you are sharing content that might be beneficial to them," said Emory Serviss, Program Champion in Harbert College's Department of Marketing. "When they bring you in for an interview, you don't just say 'here are the different things that I've done,' or 'here are the internships that I've had,' they see that you've written a post about how a personal experience shaped you to be a better salesperson or marketing professional. Then they ask, 'tell me about that.' LinkedIn is more than your resume."
Each semester, Serviss requires all of his classes to create their own LinkedIn profiles. This semester, Serviss added a new twist to the LinkedIn profile assignment. Students were asked to identify LinkedIn's best practices and incorporate these practices into their respective profiles.
"LinkedIn is not just an online version of your resume – you can do so much more with it," Serviss said. "Why that's so critical and so important – all of these things that you do, the status updates you share and the activity in your groups, the long form posts that you write. This is where you can begin developing expertise that excites future employers."
The number of views, shares and comments were surprising – and even drew the praise of a LinkedIn editor. "I started seeing a bunch of students from Auburn publishing long form posts and was wondering how they originated," she wrote to Serviss. "I did some research and found that it was you! Thanks so much for sharing the opportunity with students! I've been promoting them where possible. I think there may be 100-plus posts from your students."
But don't just take LinkedIn's word for it.
"People actually do want to hear our opinions as college students," said Lily Bowron, a senior in marketing. "I had more than 250 likes and seven comments, plus I've had multiple people reach out to me since. And here I thought that no one would read my posts …"
Cynthia Klinger, a senior in marketing, said, "I learned how to market myself in a way that will hopefully set me apart from some of my peers, mostly through long-form posts. Not only did I learn how to write a long-form post, but I learned the importance of it and how to get myself noticed by future employers."
Serviss elicited the assistance of Dr. James Truman, Director of Auburn University's Miller Writing Center, who provided student help. "That's one thing that I was very proud of – this project was multi-disciplinary," he added. "They came over and did a workshop on how to effectively leverage the Miller Writing Center and to write these long-form posts, which ultimately are like reflection papers. Writing a reflection paper is challenging because you're thinking about your experience and how it shaped you to be a great future employee.
"If you can't market or sell yourself, then how are you going to market or sell a good or product or service or brand?"