Students in two Supply Chain Management classes at Harbert College were tasked to research issues and recommend solutions for Georgia-Pacific and Target in separate case competitions this fall.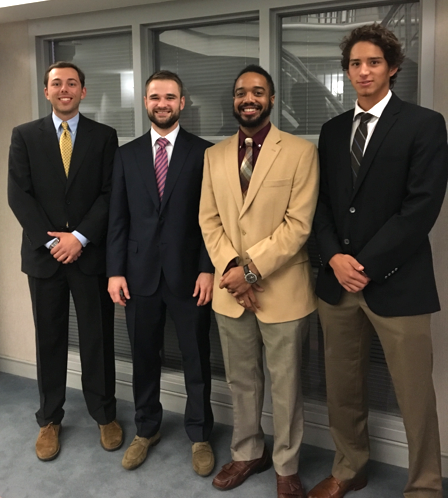 Gary Page's Sourcing and Supply Management class (SCMN 3730) developed and recommended a spare parts inventory management and sourcing strategy at Georgia-Pacific's Savannah River Mill plant for the company's upgraded Quilted Northern Ultra Plush production line. Teams were given assignments on August 25 and made presentations before corporate representatives on November 15.
Winners were: first place – James Carmichael, Conner Huertas del Pino, Torrin Matthews, Eugene Sharapov and Asa Winchester; second place – Cam Adams, Sydney Eiland, John Headlee, Ted Mackay, and Remington Pitmann; and third place – Chance Carter-Cox, Jordan Johnson, MK Matus, Jackson Simmons and Harris Woodward.
Properly balancing brick and mortar store consumers with those who shop online can by a logistics challenge for any merchandiser. Target is no exception. How can a store create a more integrated and interactive experience for omnichannel shoppers who want the freedom to surf the web for best values, combined with the personal guest experience at a physical location?
Page's Integrated Logistics Strategy class (SCM 4780) was asked to research, analyze and recommend best-practice solutions that can be considered by Target management in successfully addressing these challenges.
Winners were: first place – Ryan Karam, Jake Ledford and Cody Snoddy; second place – Daniel Lane, Daniel Stokes and Alex Watkins; and third place – Robert Rau and Hunter Snyder.