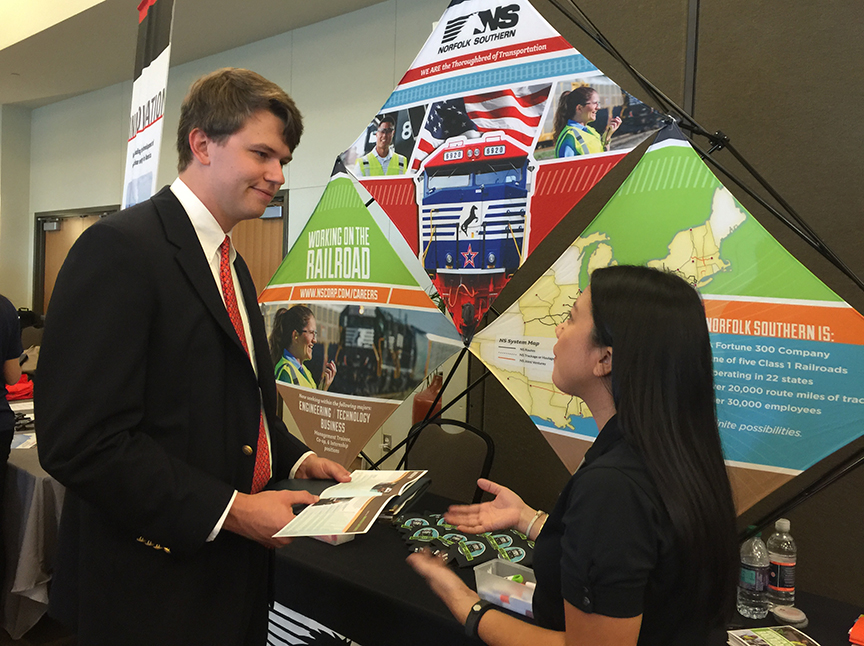 Mac Lindstrom was struggling to find career interests. Then the Harbert College junior met Supply Chain Management Professional Experience program coordinator Marcia Gibson. Together, they crafted an attractive resume and sharpened his interview skills. She taught him how to take his past job experiences and relate them to supply chain.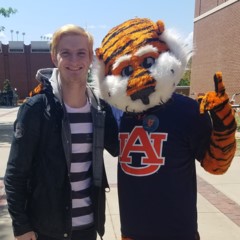 "Once we did that, Mac was free to effectively communicate with employers," Gibson said. Lindstrom (right) ultimately landed an internship in global sourcing at Char-Broil in Columbus, Ga., and earned a degree in supply chain management last fall. But Mac's story gets better.
"Just this morning, Mac came into my office and told me that he had just accepted full-time employment with Amazon!" Gibson beamed. "I asked him, 'How did your Char-Broil experience relate to this opportunity?' He said, 'There was no way he could have gotten the opportunity without his internship.' The internship is the key to the opportunity and that is universal for our students."
At Harbert College's Supply Chain Management program, not only is the internship "key to the opportunity" but it is also essential for graduation. Harbert College's supply chain program is one of two nationally to require an internship. Two career fairs specific to Supply Chain Management take place each year.
"There are colleges that say they require internships, but what is unique about our program is the internships are vetted," Gibson said. "Every single internship that comes across my desk – I'm going to look at the job description that tells me if it meets the qualifications to earn credit for this experience. Are you going to get the right tools in your professional tool belt for this experience?"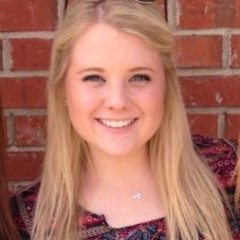 "When I first learned that there was a required internship, I was like, 'Ugh! You are taking away my summer!'" said Abby Hubbs (left), a senior from Athens, Ala., who interned last summer as an account specialist at Schneider Logistics in Dallas, Texas. "It ended up being beneficial because I got to see actual industry and what I could be doing. Employers always tell you, 'We want you to have experience.' This gives you that leg up – we get to see into industry and it sets you up for success."
Thomas Campbell, a senior who interned last summer at Amazon as an area manager of inbound operations in Chattanooga, Tenn., said the required internship provided "vital, real-world experience."
"When an employer looks at my resume, they see that I am not just a student with a degree, but a student with industry skills and experience," he said.
Parker Bentley, a senior from Helena, Ala., served as a strategic sourcing intern last summer at Club Car in Augusta, Ga., said he hadn't "taken a ton of supply chain classes" before beginning his assignment. "I thought I was going to be thrown into the wild," he said. "But once I got there, they showed me a lot of things that weren't taught in classes, and getting to see them applied in the business world was better than getting to see it in the classroom."
Harbert College's Supply Chain Management Professional Experience program – which connects students to internships and beyond – is only five years old but has grown exponentially since its birth. Since 2012, the program has grown from 194 to 344 students. In that time, students have interned at 265 unique firms.
"I started this program from scratch," said Gibson. "The professional experience program covers a multi-step plan of teaching and basic skills that students need in order for them to step into the marketplace. We help them to make solid decisions on how to connect the dots between who they are right now as a sophomore or junior, and who they want to be when they walk across that stage at graduation."
Gibson credits Harbert College's students for the program's growth. "At Auburn, we have students who come into this program who, by in large, are kids who are willing to roll up their sleeves and get down to work," she said. "From the work they perform in industry, we create new relationships. If you give the students a long runway and support them on all of the steps to accomplish their journey, they will rise to the occasion and perform."
Campbell, who graduated in December, agrees.
"When we return (from internships) we are confident," he said. "We have succeeded at a high level. We are ready to take on the world."