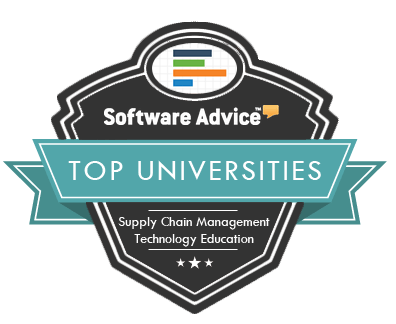 A special emphasis on software and technology recently earned Harbert College's Supply Chain Management undergraduate program a No. 7 national ranking from Software Advice, a company that analyzes and reviews supply chain management software.
The company ranked programs based on "the extent to which they emphasized the teaching of technology, software and quantitative tools used by supply chain professionals, as well as the variety and depth of coursework."
Software Advice researcher Forrest Burnson, who conducted the study, weighed in on Auburn's strength.
"We also liked how supply chain management students at Auburn are able to take elective courses in information systems and information management to fulfill the program's requirements," he said. "That cross-pollination of academic programs is critical for preparing the next generation of supply chain professionals."
Harbert College's Supply Chain Management program -- ranked No. 8 globally last year by Gartner -- prepares its students for their careers via required internships, case competitions and analytical projects.
Starting salaries for Spring 2014 Harbert College Supply Chain Program graduates were roughly $53,000.
"I believe Auburn's SCMN program offers students a tremendous, high quality educational opportunity at an exceptional value," said Joe Hanna, Harbert College Associate Dean for Research and Outreach. "Faculty in the program are conducting cutting-edge research and participating in numerous professional activities while remaining actively engaged with students in the classroom. This combination creates a supportive atmosphere for students to prepare themselves for a successful and fulfilling career in the supply chain management field."
Undergraduate programs earning spots in Software Advice's Top 15 included Penn State, Western Michigan, North Texas, Georgia Tech, Tennessee, Rutgers, Auburn, Michigan State, Arizona State, Texas, Purdue, Ohio State, Maryland, Carnegie Mellon and Brigham Young.
For more information on Harbert College's Supply Chain Management program, contact Brian Gibson at (334) 844-2460.