A.J. D'Antonio packs a lot into his weeks. He coaches youth baseball in Auburn, is involved in Auburn's Supply Chain Management Association and has worked as a cashier at Publix. Not only that, but he served as an ambassador at the National Grocer's Association conference last February in Las Vegas and holds a cumulative 3.81 GPA.
One more thing – he's a U.S. Marine.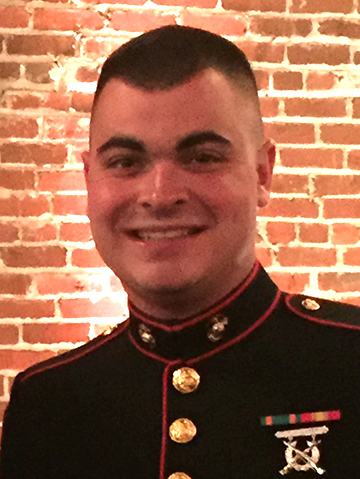 When nominations were taken by Supply Chain Management faculty to identify Harbert College's 2017 President's Award recipient, D'Antonio was the unanimous selection. The senior from Decatur, Ala., will be honored at a special luncheon, April 20 at the Student Center Ballroom, that also recognizes the recipients of Auburn University's most coveted scholarships and student awards.
"I have made so many close friends within the Supply Chain Management Department that are more qualified for this award," D'Antonio said. "I am very honored and truly blessed to be given this opportunity to accept such a prestigious award. If someone would have said 10 years ago that I would be an ammo chief for my unit in the Marine Corps, a cashier at Publix, and a President's Award winner at Auburn University, I would have broken down and laughed at you"
In addition to his studies, volunteer work and campus activities, D'Antonio has driven to Chattanooga, Tenn., each month for the past five years to participate in drills while serving in the U.S. Marine Corps Reserves, where he was the recipient of the Navy and Marine Corps Achievement Medal in 2014 and promoted to the rank of E-4 after only three and a half years of service.
"My service in the U.S. Marine Corps is honestly the achievement that I am the most proud of," he said. "I truly love serving this country and wouldn't change a single second or thing I have done. My time working within an artillery unit in the Corps and loading, transporting, and unleashing high-powered explosives set my sights on supply chain at Auburn. Once I learned supply chain from that side, it only seemed natural to continue it at Auburn."
Marcia Gibson, Coordinator for Harbert College's Supply Chain Management Professional Experience Program, considered D'Antonio to be one of Auburn's supply chain "rock stars."
"Anthony is the consummate Auburn Man," she said. "He is a standout in the classroom. His classmates respect and admire him."
D'Antonio, who said he grew up hoping to be a professional baseball player, will begin a position with International Paper after graduating in May. He credits Harbert College's Supply Chain Management Department for molding him into a young professional.
"Through team case studies, class projects and real-world application with data, I have been able to develop my personal and professional skills to further my knowledge and abilities as a professional," he said. "The past two years of curriculum have helped me gain a broader view of what supply chain actually is and what I can look forward to."
D'Antonio offered a pair of reasons why prospective students should consider Supply Chain Management at Harbert College.
"The opportunities, once you graduate, are incredible," he noted. "You can take the skills and knowledge you gain and enter almost any industry in the world. Also, our professors truly want us to succeed. They are here to help us not only learn, but guide us and help us choose what path we want to take. The present is bright for our graduates, and the future is even brighter."