Two teams of Auburn students are among 11 startup companies to advance to the second round of the $250,000 Alabama Launchpad competition in Birmingham. Both teams, however, share a common denominator.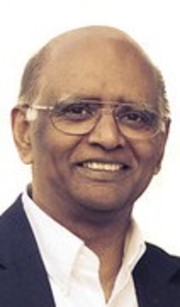 Paul Swamidass, Thomas Walter Professor at the Harbert College of Business and former Director of the Thomas Walter Center for Technology Management, trains business and engineering students to become entrepreneurs. "On the first day of class, in the Engineer-Entrepreneur class, I challenge my students – 'if you don't want to be an entrepreneur, you may leave,'" Swamidass said.
Swamidass spearheaded Auburn's annual Business Plan Contests and business-plan development workshops for contestants in 2013 and 2014. Harbert College MBA alum and civil engineering doctoral student Haitham Eletrabi, who designed an application for smart phones that uses sensors to monitor tennis players' performance and digital feedback to improve the user's tennis game, won the $6,000 first-place award. As part of the award, he also received complementary space in the Auburn Business Incubator of the Auburn Research and Technology Foundation. This year, using skills learned since last year, Eletrabi – along with teammates Shane Tucker, Mondather Suliman and Xuemei Yuan – advanced to Alabama Launchpad's Aug. 27 finals, pitching a robotic tennis ball collector called the "Tennibot."
Sharan Kalva, an industrial and systems engineering student, was among Swamidass' pupils in his Engineer-Entrepreneur class. Kalva and teammates Jake Wright (finance) and Cole Kinchler (supply chain management) created SimplyProse – a social media platform designed to help writers -- and also advanced to the Launchpad finals in Birmingham. SimplyProse received advice from Harbert College Eminent Scholar in Management Dave Ketchen and Jim Corman, management instructor at Harbert College and managing partner at the Angel Investment Group.
Both teams competed in the recent Tiger Cage student entrepreneurship competition hosted by the Harbert College of Business and Auburn Research and Technology Foundation. SimplyProse reached the Tiger Cage finals.
"Kalva was in my class and learned what Haitham and others learned in the workshops associated with the business plan contests of 2013 and 2014," Swamidass said. "In my class, students learn to take an idea and turn it into a product with customer demand and prepare the business model as well as the business plan to launch it as a business. If they win, I won't be surprised."
Swamidass recently penned "Engineers and Scientists: Value Creators in the Seven-Phased Model of Technological Innovation," published in the Technology and Innovation, the journal of the National Academy of Inventors, where he identified how student startups can create value during the planning phases that consist of the idea, product development, business model and business plan development. The paper stresses that engineer-entrepreneurs may need help from investors and business professionals during the execution phases which include, securing investment capital, creation of a functioning startup, growth phase and beyond.
"It takes effort to make the average engineer believe that, once an engineer starts with an idea and creates a product, the value in the product can cascade upward into something substantial," Swamidass said. "Engineers and scientists can generate considerable value for themselves and for potential investors if they can move their ideas to a viable product without worrying about their lack of ability to start and run a business. The seven-phased view of technological innovation is a tool the enables engineer-entrepreneurs to appreciate this truth. Students who grasp this truth are more willing to plunge into new product development to create value for themselves and wealthy investors. They understand the truth behind this statement: 'to create value for investors, create a viable product first.'"
Further, "they are motivated by clips from 'Shark Tank,' where billionaires invest hundreds of thousands of dollars because they are able to see value in simple products developed by the average person on the street," Swamidass said.