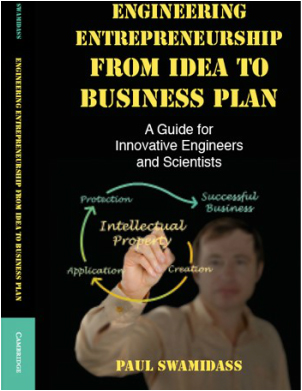 Wealthy investors tend to look for inventors with strong, patented ideas that can lead to the production of commercially-viable products. Unfortunately, many inventors do not understand this, or the fact that the shortest path to success of their invention goes through the pocket book of wealthy investors.
Paul Swamidass' new book, "Engineering Entrepreneurship From Idea to Business Plan: A Guide for Innovative Engineers and Scientists," provides the roadmap inventors need.
"This book is invaluable to inventive engineers/scientists, who can learn to apply themselves to inventing new products from their ideas using the technical skills they learn in their engineering or science professions," said Swamidass, Professor Emeritus at the Harbert College of Business and the former Director of the Thomas Walter Center for Technology Management. "They learn how their invention/patent lays the foundation for business models, business plans, investments and startups--none of them matter if they do not invent new products from new ideas and apply for affordable patent protection as described in the book."
Swamidass said he found that most engineers and students stop themselves from inventing under the mistaken understanding that they will need business skills and lots of cash beyond their means to make their inventions successful businesses.
"If you take a good idea and reduce it to a commercial product that is desired by paying customers – and protect it with patent application – you have laid a strong foundation for a new and likely successful business," he added.
The book, published by Cambridge University Press, can be purchased online at Amazon.com. The book explains how to create value, how to turn ideas into products, where to find ideas, how to assess the market potential, the power of patents, how to develop a business model, what angel investors look for, and more.
Swamidass, who has taught and mentored several student teams that have succeeded in the Tiger Cage and Alabama Launchpad entrepreneurship competitions, explained the importance of putting together a business plan for inventors.
"A business plan gives engineers an objective basis for the valuation of their businesses based on their product," he said. "Such a valuation will promote meaningful conversation between the inventor and potential investors and/or licensors."
But going from 'idea to business plan' isn't easy. Mistakes along the way should be expected.
"The book demystifies crucial business issues to embolden engineers to attempt their first business plan," Swamidass said. "They learn that the dreaded business plan has many inputs, and most are not set in stone. The book guides the first-time business plan developer to make dozens of unfamiliar decisions relating to customers, sales, production, costs and price. While the book teaches them how to reduce the uncertainties surrounding these unfamiliar inputs to the business plan, the reader gains confidence to keep moving ahead when he or she understands that even individuals with business experience must make several estimates in a business plan that are very crude, or approximate, or may prove to be wrong.
"With this realization, engineers are emboldened to attempt their first business plan. To minimize errors, they are also encouraged to seek mentors while preparing a business plan for the commercially-viable product they have developed.
"The book seeks to convince engineers and students that if they have a sound product based on a good idea that is protected by patents, wealthy investors with business skills will seek them out."