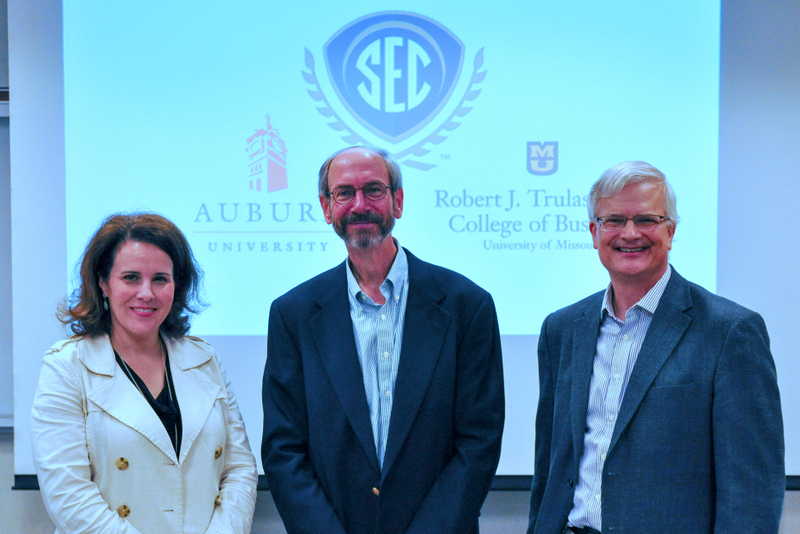 Should homeowners hedge equity in their homes? That's a question Steve Swidler, J. Stanley Mackin Professor of Finance at the Harbert College of Business, posed to faculty and graduate students during a recent visit to the Trulaske College of Business (Missouri-Columbia).
Swidler, pictured between Trulaske Dean Joan Gabel and Finance Department Chair Dan French, visited the college as part of a Southeastern Conference-sponsored event that brings together business school colleagues from peer institutions. He was asked to lecture on his paper, "Hedging House Price Risk: A Nobel Idea with Ignoble Results." There, Swidler challenged the idea of hedging equity.
"It's a nice idea, but it doesn't work," he said. "The idea was that we should be able to buy some sort of price insurance so, if prices do go down, we will be compensated for whatever losses are incurred. My finding is it's impractical to do that."
The recent housing market crash – littered with foreclosures – highlighted the financial risks of home ownership. Home values in Florida, California and Nevada saw price declines of 40 percent or more, according to Swidler's research.
"A lot of people in the first part of the last decade were getting loans with little or no money down," Swidler said. "Let's say it's a $300,000 home. If they put 5 percent down, they were borrowing $285,000 and had only $15,000 of their own money in the house itself. When home prices went down more than 5 percent, then they had negative equity. At that point, the bank had a note for more than what the house was worth. That's not a position the homeowner or bank likes."
Swidler contends that most homeowners are "naturally hedged" anyway.
"If the value of their home declines, when it's time to purchase their next house the new home will presumably also have a lower price," he said. "This is especially true for owners looking to move into a new home in the same local real estate market where housing prices are likely highly correlated. For many homeowners, the need to hedge using some type of derivative or price insurance plan is diminished."
Swidler's trip wasn't just about hedging equity risks. He had the opportunity to network with Trulaske faculty and gauge their research and classroom teaching interests. Swidler said he was particularly interested in Trulaske-offered courses in risk analysis and one on financial magnate Warren Buffett.
"These would be interesting courses to add here at the right time," said Swidler, who added that a conversation with a business school counterpart could "lead to future research about real estate investment trusts (REITs)."