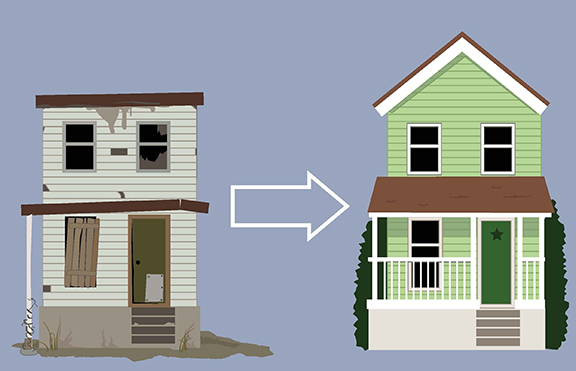 Television's Property Brothers make it look easy. So do Chip and Joanna Gaines of HGTV "Fixer Upper" fame. But flipping property requires much more than buying low and selling high. It's what happens in between that makes all the difference.
"To be a professional (house) flipper, you need to have an extensive knowledge of the local market, you need to have construction expertise, and you need to have expertise in real estate sales as well," says Steve Swidler, J. Stanley Mackin Professor in Finance at Harbert College. But perhaps the most important tool is evaluating what should, or should not, be flipped.
"Flippers must be good at identifying undervalued homes and purchasing them," says Swidler, who co-authored "An Empirical Analysis of Residential Property Flipping," published by The Journal of Real Estate Finance and Economics. "But there gets to be a point where – if everyone is doing this activity – then it will be more and more difficult to identify the so-called undervalued homes and the flipping profits will start going away."
Swidler notes that identifying undervalued properties is like rolling dice. "You can think of this as a lot like bidding on stocks and finding the undervalued company. Professional flippers rely on experience to tell them which homes are priced to sell, which are priced too high and which might be bargains. If experience is the key, then trying to explain which homes are undervalued is a bit like trying to explain which pitches batters swing at and which pitches they don't.
"Hopefully, you find a gem in the rough and make the right purchase."
According to a web article published last June by RealtyTrac, home flipping increased by 20 percent in the first quarter of 2016 – a two-year high. In fact, 6.6 percent of single-family homes sold in the first quarter of 2016 were flips.
"Home flipping has been gaining steam for the last year and a half thanks to falling interest rates and a dearth of housing inventory for flippers to compete against," Daren Blomquist, senior vice president of RealtyTrac, says in the article. "While responsible home flipping is helpful for a housing market, excessive and irresponsible flipping activity can contribute to a home price pressure cooker that overheats a housing market, and we are starting to see evidence of that pressure cooker environment in a handful of markets."
Flippers aren't restoring property for their own entertainment. Turning a profit is the motivation. But Swidler points out that flippers should weigh the risks. A flipper can invest time and financial resources into a home, but the longer the property remains unsold, the less of a flip or even more of a financial loss it becomes.
"The flipper can set a high listing price, but that will take longer to sell," Swidler says. "If it's on the market too long, the flipper will be forced to lower the asking price. Time is money. The bottom line: the flipper wants to sell as soon as possible at a good price.
"In our study, we considered anything less than two years between transactions as a flip as that's when tax rules change for capital gains purposes."
Swidler, who notes that sales in some markets are stronger than others, said there was no guarantee that once a property is rehabilitated and put on the market that a flipper will get the selling price desired to turn a profit.
"One should never begrudge some fair rate of return to a business individual, recognizing the fact that he or she is taking on some risks and is just being compensated for those risks," he added.
Flippers can sometimes face unanticipated problems such as contractor/material delays or issues with building permits, higher than anticipated taxes charged to the sale, and difficulty reselling the property even after it has been restored. Though flipping has increased in volume, it has not increased in profit. RealtyTrac reported that in 28 percent of national flips during the first quarter of 2016, the gross profit was less than 20 percent of the original purchase price.
"The real issue going forward is going to be where interest rates are," Swidler says. "If they remain at these historical lows of 3.5 to 4 percent, then I think the housing market will continue with a fair amount of traction, especially if the economy percolates along at some reasonable level. Historically, any time interest rates start going up in any dramatic fashion, the housing market begins to cool off."