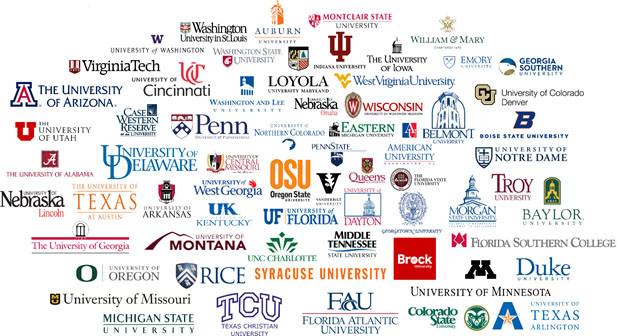 Representatives from some of the nation's highest-ranked colleges and schools of business will visit the Harbert College of Business May 12-15 to better understand how to apply technology through a variety of professionally-led sessions at the 12th Technology in Business Schools Roundtable (TBSr).
"We can put our name up there with Wharton (University of Penn), and Smeal (Penn State)," said Jack Lawton, Information Technology Manager at the Harbert College of Business. "It's awesome that these aspirant colleges of business are coming here. I take a great amount of pride in that accomplishment."
Lawton said an estimated 85 representatives from 65 AACSB-accredited colleges and business schools from across the nation are expected to attend.
"This conference gets back to the whole idea of what the Technology in Business Schools Roundtable is all about," Lawton said. "TBSr covers the entire gambit of technology in business schools. This can go anywhere from how are we dealing with the latest accreditation standards on how to report impact, to what digital signage are we using within our building. This consortium gets into all aspects of technology used within our business schools."
Lawton said that being conference's host school, gave him the ability to design educational sessions that would "be beneficial to the group as a whole."
Sessions are as follows:
Wednesday, May 13
9:15 a.m. – "Breach Protocol" FBI Special Agent Brian White
10:45 a.m. – "Contract Review and General Guidelines" Tyler Adams, Auburn University Contract Office
1 p.m. – "Helping faculty support students with special needs" Tracy Donald, Director, Auburn University Office of Accessibility
2:15 p.m. – "The Future of Audio/Visual" Jon Ottesen, Crestron Technician
3:45 p.m. – "Wharton Research Data Services and the future" Bob Zarazowski, Wharton Research Data Services Director
Thursday, May 14
9 a.m. – "Classroom Pedagogy -- Layouts and their effects" Dr. Victoria Cardulio, Assistant Reading Professor at Auburn University
10:45 a.m. – "New construction and avoiding hidden overruns" Dan King, Auburn University Associate Vice-President for Facilities
1 p.m. – "Oh No! My Project just hit the fan!" Group interaction led by Jack Lawton, IT Manager, Harbert College of Business
2:15 p.m. – "Negotiation" Dr. Daniel Butler, Thomas Walter Professor in Marketing, Harbert College of Business
3:45 p.m. – "Big Data and Your Faculty" Dr. William Turner, Presidio, Vice-President of Data Center Architecture
Friday, May 15
9:15 a.m. – Engaging A Large Group of Students: Dr. Raj Chaudhury, Auburn University, International Programs and Auburn Online, Office of the Provost
10:45 a.m. – Making Executive Education No. 1: Dr. Stan Harris, Associate Dean for Graduate and International Programs, Harbert College of Business
"We have such a broad topic base, there should be some topic of interest to anyone attending," Lawton added.
The conference is sponsored Panopto, AMX by Hartman, Tegile, Splashtop, Education and Business Systems, Crestron, Epson, Absolute Client-Focused Solutions, Extron, WRDS, Presidio and Mersive.