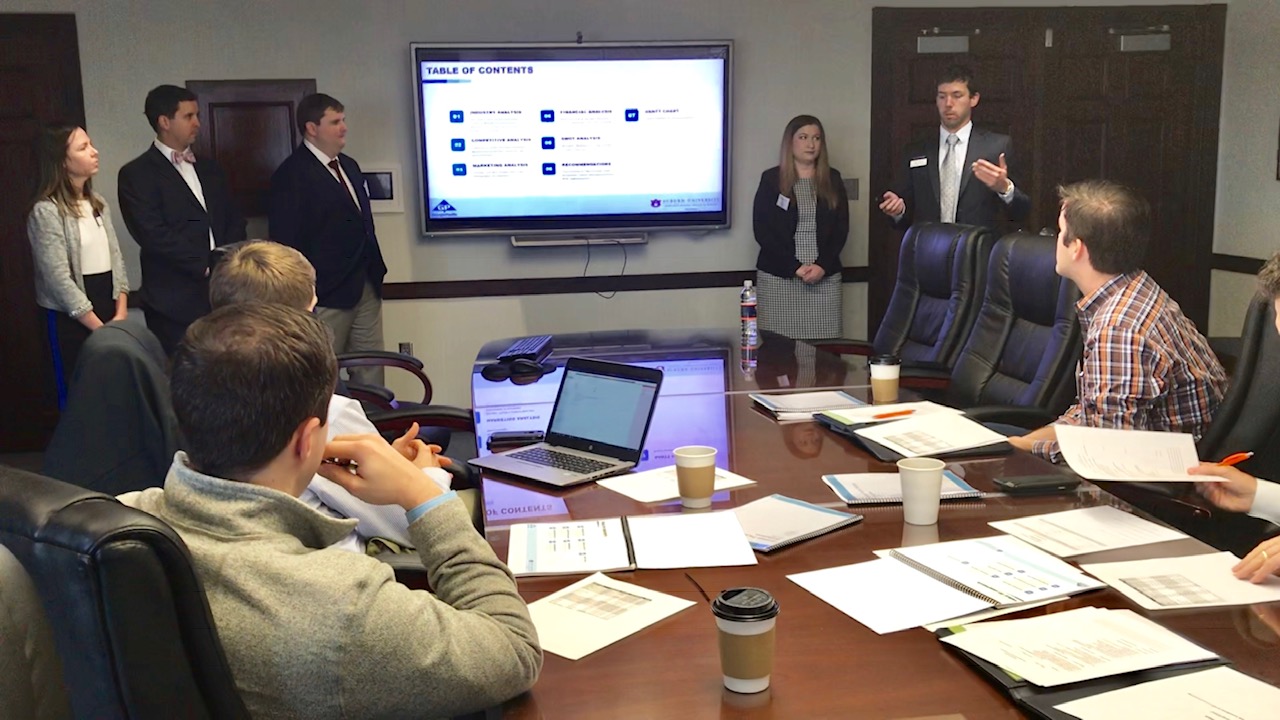 Auburn Athletics' has an excellent brand perception across the Southeast, but how can that brand raise national visibility?
Craft beer giant Back Forty Beer wants to increase its footprint with additional retail locations. What is the smartest strategic business model and financial structure to make this a success?
Buffalo Peak Outfitters in Jackson, Mississippi, is facing multi-faceted competition like never before. How can this retailer differentiate itself to consumers, and if relocation is an option, where?
These companies and five other organizations, including manufacturing and supply chain giant Georgia-Pacific, sought the help of 129 Auburn MBA students, who after four months of crunching data, formulating business plans, identifying consumer trends, and comparing peer organization strengths/weaknesses, presented their findings before company executives – who took their recommendations to heart.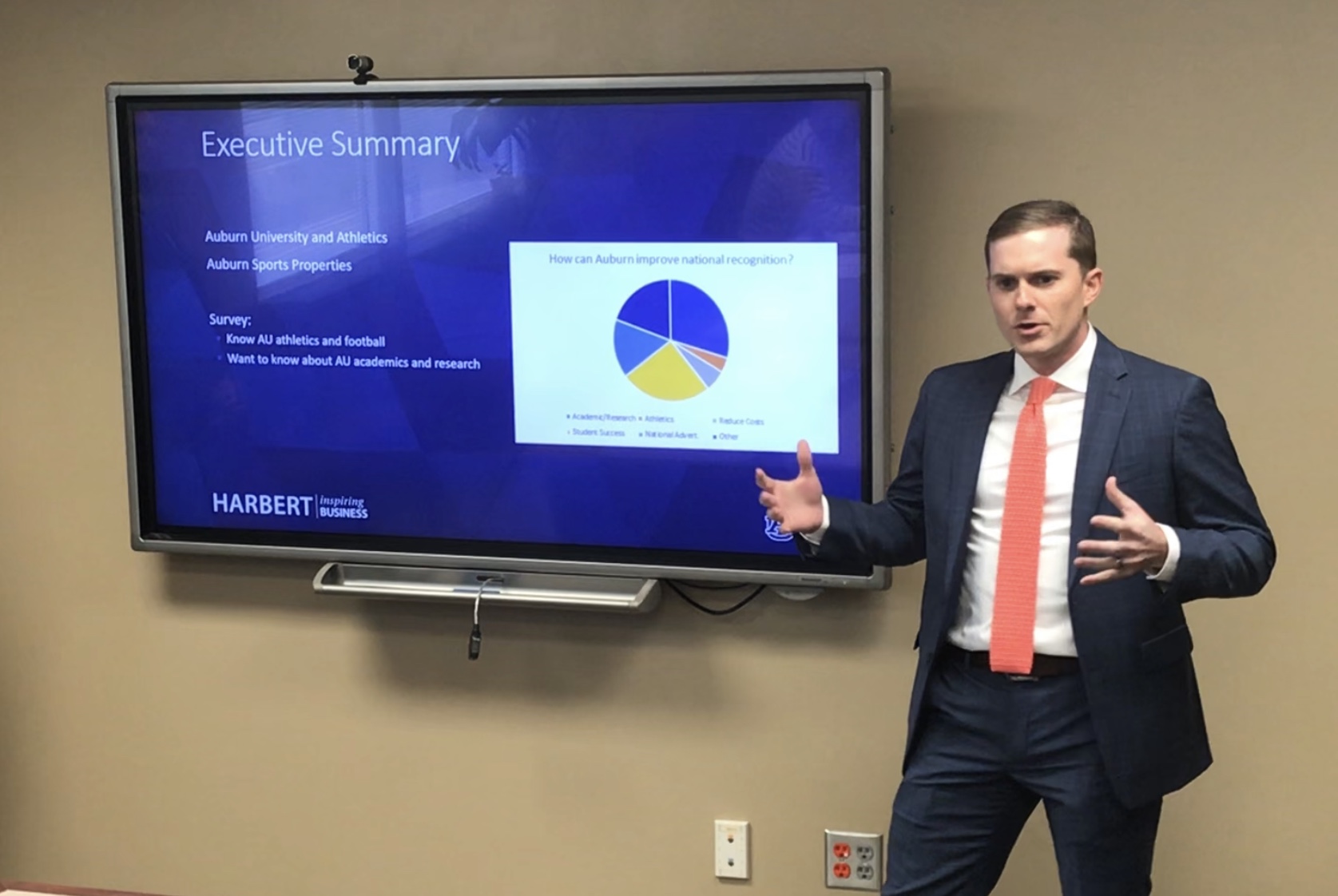 Formerly known as the Capstone, Auburn MBA's Team Resource and Applied Consulting (TRAC) Program tasks teams of students to tackle real-world business problems similar to what they might encounter later in their careers.
"The students are expected to deliver the companies value, identify where they can save costs and increase efficiencies," said Gary Page, Executive in Residence at the Harbert College of Business who identifies and recruits companies to participate in the TRAC program. "The students benefit from real-world experience. That's the underlying objective."
Peter Stanwick, Associate Professor in Management who teaches the TRAC program, said the benefits to the program were numerous. "Students get exposed to an actual corporation and actually get to take a snapshot of time to see what's going on," he said. "What they are able to do is apply the knowledge they have learned throughout our program and then take on the role of a consultant – an external third party – to come in there with a completely objective viewpoint."
That viewpoint didn't go unnoticed, either.
"What we receive is an external perspective as opposed to a perspective from within the company," said Eric Tanguay, Vice President for Projects and Services at Georgia-Pacific, who noted that hearing from student teams offered diverse ideas and "a different way of thinking about certain things."
"My team jotted probably three or four things that said, 'Wow! Maybe we wouldn't have thought about it this way, whether it's a consultant who's going to be biased and tell us what we want to hear versus maybe somebody who doesn't know a lot about us.' Not knowing a lot about us actually helps."
Not knowing about Auburn Athletics, on the other hand, does not help. In this case, it was all about increasing brand identity.
"What we wanted to do was take a look holistically at (Auburn President) Dr. Stephen Leath's vision and (Athletics Director) Allen Greene's vision, and align those thought processes to how it effects corporate sponsorships, Auburn Athletics, Auburn University, and how we are able to connect brands to fans," said Chris Davis, Vice President and General Manager of Auburn Sports Properties. "The information the students provided was awesome and sometimes that extra nugget gives us an opportunity to develop something unique to the Auburn Family.
"The students' work speaks volumes to the (MBA) program. Every single group had great nuggets. They were able to identify all of the different stakeholders outside our university sector and developed key ideas from that."
Originally from nearby Opelika, Alabama, Kent Hagan is a resident physician at Penn University in Philadelphia. Not only did he praise the program's necessity to pull together lessons learned through a variety of MBA classes, but he considered the TRAC to be "eye-opening."
"It opened my eyes to why management does certain things, why finance departments do certain things, and it opened my eyes to ask the right questions – not only point out problems but to have the skills to identify solutions," the former high school football kicker said. "This can help push my organization forward wherever I might end up in the future."
One aspect of the TRAC program isn't just the boardroom-style presentations before corporate executives or the professional-style, multi-page business proposals that dwarf the size of term papers. It's working in a team environment. Some students are resident students. Some are distance students. In this program, they must work together regardless of geography.
"This is the first time that I was on conference calls and had to coordinate with people that I wasn't face-to-face with," said Evan Katz, from Lexington, S.C., who plans to graduate from the program in May. "That was challenging, but I developed a lot in how I can work with people and I feel like I'm going to have to do that through my career."
Julie Jacobs, who has interned within Auburn Athletics and at the Country Music Association in Nashville, Tennessee, and will graduate December 15, said the TRAC program equipped her professionally and personally for the next phase of her career.
"This project allowed me to not only add value to my client through in depth research and analysis, but also for value to be added to me, as I honed communication skills, grew my network and learned more about my client's industry," she said. "The TRAC program paired students with clients in a way that allowed each student to utilize their existing skills and further develop the concepts we have been taught throughout our MBA experience."
If your organization is interested in teaming with Auburn MBA's TRAC program as a project client in the future, contact Gary Page at gjp0001@auburn.edu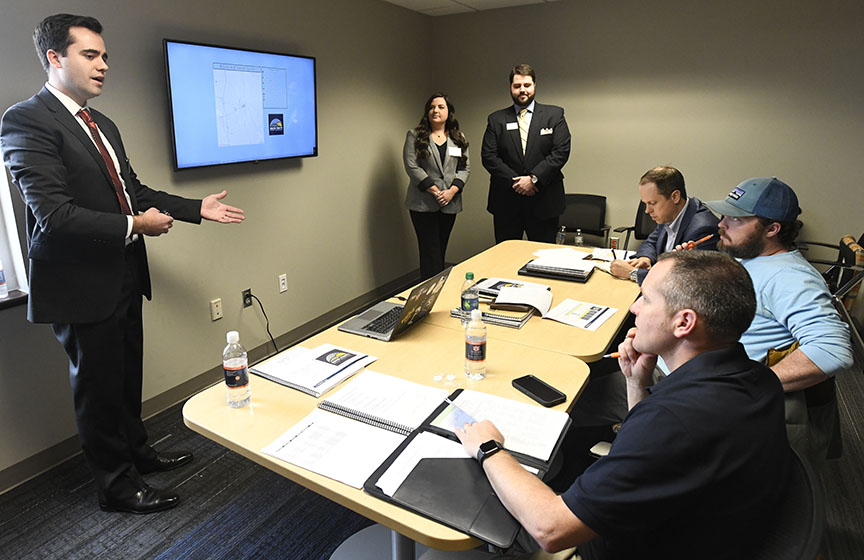 Auburn MBA TRAC Program Team/Individual Winners
Back Forty Beer
Best Q&A: Bill Thompson
Best Presenter: Francisca Norregaard
Team: Alex Cain, Nathan Furtado, Anna Perry, Madison Rolling, Bill Thompson
Buffalo Peak Outfitters
Best Q&A: Adam Chirhart
Best Presenter: J.B. Phillips
Team: Kerissa Hobstetter, T.J. Vines, Ryan Collazo
FOX Sports
Best Q&A: George Hirner
Best Presenter: Laura James
Team: Chris Denney, Veronica Eder, George Hirner, Hillary Keltner, Allison Sole
HomeLink Realty
Best Q&A: Derek Davis
Best Presenter: Kevin O'Brien
Team: Garrett Gil de Rubio, Stephen Orebaugh, Jacob Varner
Montessori School
Best Q&A: Chelsea Wilson
Best Presenter: Jesse Lund
Team: Shannon Cassidy, Macy Holmes, Akia Middlebrooks
Georgia-Pacific
Best Q&A: William Herbert
Best Presenter: Caroline Harrell
Team: Callie Cooke, William Herbert, Andrew Nevins, Nathan Westbrook, Sai Rohan Yedagiri
MBA TRAC
Best Q&A: Mark Zekoff
Best Presenter: Jessica Hunt
Team: Jessica Hunt, Chris Marino, Patrick Ortiz
Generational Systems
Best Q&A: Ryan Lewis
Best Presenter: Kevin Elliott
Team: Kevin Elliott, Halley Granitz, Kullen Hlawek, Alexandre Jassoud, Matthew Tamcsin