Sam Christopher and Devin Hart seniors in supply chain management at the Harbert College of Business, recently won the Target Distribution Case Competition in Gary Page's logistics strategy class and pocketed $500 each.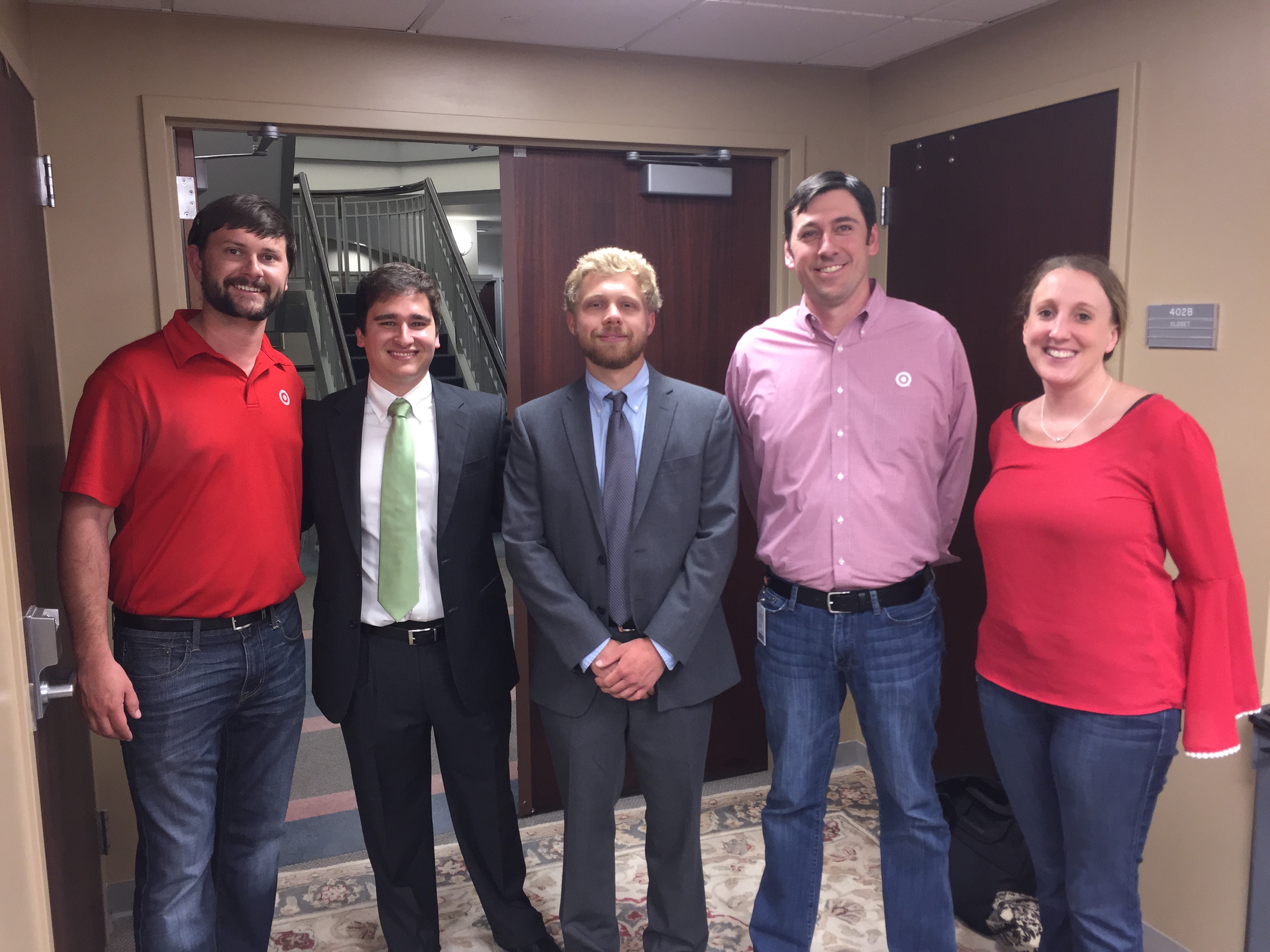 The objective: Recommend to Target where it should locate its seventh food distribution center. The proposal should consider that the site must be a minimum of 130 acres and within 550 miles of stores it serves to allow for same-day service. Research requirements included geographical analysis, site staffing, government regulations, competition analysis, supplier analysis, community analysis, environmental analysis and economic analysis.
"My overriding objective is for the students to first understand the business objectives and then, consistent with those business objectives, recommend a logistics solution," said Page, Supply Chain Management Lecturer at Harbert College. "When students graduate, they often begin their career thinking in functional silos or are tunnel-focused. What I repeatedly stress to them in lectures, in-class discussions and in case assignments, is that to be successful, a recommended solution must be supportive of what the business is trying to accomplish. In this case, why and how is Target focused on growing its retail food business? What's the retail giant's competition? What are the expectations of a logistics solution in support of this growth strategy? In that context, you then develop your recommendation."
Teams were judged by Target representatives Spencer Haydel, team leader Chris Parks, and Kelly Hewlett and Page on their development of a new distribution network model and the impact on the system's finances and service levels, an evaluation of alternative site options (why that site was chosen), the preparation of a formal report identifying the respective proposed site along with an action plan for its implementation, and the presentation itself.
Page said Christopher and Hart recommended Nashville, Tennessee as the location of the next food distribution center. "They were very thorough in their analysis and demonstrated an innovative thought process that balanced both cost and service," Page said. That service: same-day delivery to the stores.
Preparing a detailed report is one thing. Showcasing your findings before judges is another. Page hailed the winners' presentation.
"Devin and Sam were prepared for their presentation and were comfortable with the content. Their handoffs (trading speakers) were clean," he noted. "That's the proficiency that is expected in industry – you are confident in that your have fully analyzed and developed your recommendation and you speak from the heart. You know your material."
"Students had to condense a semester's worth of work down to 15 to 20 minutes, present their premises, findings, and recommendations in that period of time. For Sam and Devin, it flowed logically and easily and they kept eye contact with the judges."
Other winning teams were Ethan Bradshaw and Carlo Dieguez ($325 each for second place); and Tyler Richardson and Victor Stephens ($175 each for third place).